Netflix's 'IRL: In Real Love' is an Indian reality TV show, the first of its kind, which is a unique social experiment that seeks to compare and contrast the effectiveness of traditional dating and online dating. The show brings together four singles from different parts of the world and puts them through a series of challenges and situations in both the virtual and real world. The goal of the show is to highlight the complexities of dating in today's world, where technology has transformed the dating landscape. In Real Love forces the two worlds of online dating and real-life situations to collide, allowing the participants to see firsthand the benefits and drawbacks of each approach. The show promises to be a thought-provoking and entertaining exploration of the intricacies of modern-day dating. Let's dive into the personal lives of the pairs and find out who is still together.
Where Are Chiragg and Vidushi Kaul Now?
Despite the fact that Chiragg Katri and Vidushi had an amazing connection between them where they completely opened up to each other, and everyone thought that they were perfect for each, however, both reality Tv stars have not revealed anything about the status of their relationship. Chiragg and Vidushi are both currently single and are doing absolutely great in their lives.
As a CrossFit athlete, Chiragg has also gained a reputation for his dedication and perseverance in the sport. He has participated in several competitions and has even won a few of them, earning the respect of his peers and followers. Along with his passion for fitness, Chiragg has also showcased his acting skills in the 2018 film 'Rajma Chawal,' where he played a supporting role. Chiragg's appearance on the show sparked a lot of media attention, further solidifying his status as a rising star in the Indian entertainment industry. Overall, Chiragg Khatri's multifaceted career has made him a force to be reckoned with in the Indian entertainment industry. His dedication to fitness, modelling, and acting has earned him a loyal following, and it seems that his star will only continue to rise in the years to come.
Vidushi is an actor and fashion designer. She has been serving as a Creative Director at HOUSE OF RIQUEZA since January 2020, a company based in New Delhi that specializes in bejeweled accessories. As Creative Director, she is responsible for overseeing the creative aspects of the company, such as branding, marketing, and product design. The National Institute of Fashion Technology alum has experience in both the entertainment and fashion industries and is versatile in different creative fields. The actor has made appearances in 'On My Own,' 'Made in Heaven,' 'TVF Pitchers', and 'Free Fire.'
Where Are Rohan and Shimona Now?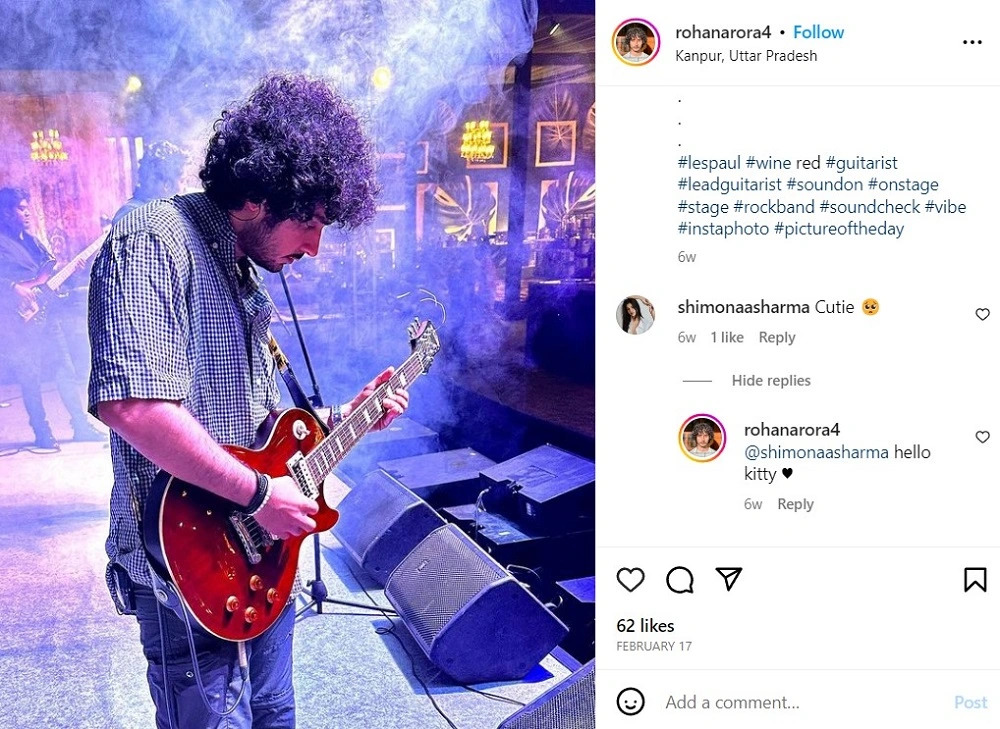 After choosing his online connection Shimona over Jagriti, his offline and real-life connection, Rohan broke many stereotypes about the concept of dating. There is no official statement from either Rohan or Shimona regarding the current status of their relationship. However, their online activities suggest that they may still be together. They follow each other on Instagram and often leave affectionate comments on each other's posts. Rohan is a talented musician who plays the guitar and also works as a writer and producer for various entertainment projects. Shimona is primarily an artist but has also worked as a model and was recently featured in 6XMagazine. Based on their social media interactions, it's possible that they will announce the continuation of their relationship soon.
Where Are Ananya and Dhruv Now?
Ananya and Dhruv developed a strong connection after meeting during the speed dating rounds, and their chemistry was evident. However, there is no official statement from either of them about the current status of their relationship. Nonetheless, given the strength of their bond, they may still be together. Dhruv is a successful professional basketball player who has achieved the status of the top International Basketball Federation 3×3 player in India and is currently associated with Machine Plans. On the other hand, Ananya seems to be thriving in her career as a dancer and is associated with Lotus365. While their relationship status remains unclear, their individual careers seem to be progressing well.
Where Are Pratham and Sifat Now?
Though initially, Pratham was Shakshi Gupta's online connection, and Sifat was Chiragg's connection, both reality Tv stars felt alienated by their connection and truly found solace in each other. While trying to build a connection with their chosen connections, the two felt something deeper for each on the side. Currently, Sifat earns a living through modeling and has established a strong reputation in the fashion industry. She has modeled for several renowned brands and has also participated in numerous pageants, including Femina Miss India.
Ever since she was a child, Sifat has had a strong desire to make a positive impact in the world, particularly for women. Her project 'Code Green' aims to empower women by educating them on how to create organic fertilizer from household waste, thereby promoting environmental sustainability and financial independence. She is working at Suffderma. She was also the Miss Face of Humanity India and the Brand Ambassador of the Brand in 2021. Pratham, on the other hand, is a budding model and actor. He is a fitness enthusiast and has worked closely with the popular dancer and director Farah Khan Khunder.