Directed by Kelly Fremon Craig, 'Are You There God? It's Me, Margaret.' is a coming-of-age movie revolving around a young girl named Margaret Simon. Growing up alongside parents of two different religions, she has no inclination towards one particular form of faith. Living in the New Jersey suburbs, she tried to connect with God in her own way while navigating the various woes that often surround girls during their pre-teen years.
Starring Rachel McAdams, Abby Ryder Fortson, and Kathy Bates, the movie provides a heart-touching insight into the lives of pre-teen girls and the struggles they go through when it comes to puberty and peer pressure. The added concept of faith and how it can often influence life in multiple ways adds to just why viewers cannot help but praise the storyline. However, the realistic emotions depicted in the movie have compelled many to wonder if it is based on real-life events. If you are wondering about the same things, we have just the answers you need!
Is Are You There God? It's Me, Margaret a True Story?
No, 'Are You There God? It's Me, Margaret' is not based on a true story. The movie is an adaptation of Judy Blume's eponymous 1970 novel that follows similar characters and storylines. While the iconic author has confessed to feeling kinship with the lead character of Margaret, she has frankly stated the book is not autobiographical in nature, though it does reflect some of her own struggles with pre-teen issues and faith.
"The story isn't autobiographical, but the character of Margaret, both physically and emotionally, is pretty close to the girl I was. The first draft came out quickly and spontaneously in about six weeks," Judy stated on the book's 50th anniversary. The relationship that the protagonist has with God also mirrors how Judy's own actions. "We had regular discussions, so I don't know that he or she, or whoever it was, told me what to do. I don't think it was that kind of situation. It wasn't me saying, "What do I do now?" the author told Entertainment Weekly.
She added, "It was more asking for help in keeping my father safe and well while I was separated from him." Due to its frank discussions surrounding topics like faith and sexuality, the book was often banned by various organizations. In fact, the novel was the 60th most banned book in the 1990s, according to the American Library Association (ALA), ranking at the 99th position in the next decade. Interstingly, Judy was quite reluctant to have 'Are You There God? It's Me, Margaret' be adapted for the big screen for the longest time, even though many of her other stories have been told via movies.
The reason behind Judy finally agreeing to the film project was her faith in the people working behind it. "It was definitely the right team for it. That's what it was more than the time. You can't get a better team than Kelly Fremon Craig and James L. Brooks working together. I saw a movie that they did, [The Edge of Seventeen], and I loved that movie. Kelly came with credentials. I don't think anyone else had ever come to me with that kind of credential," she explained.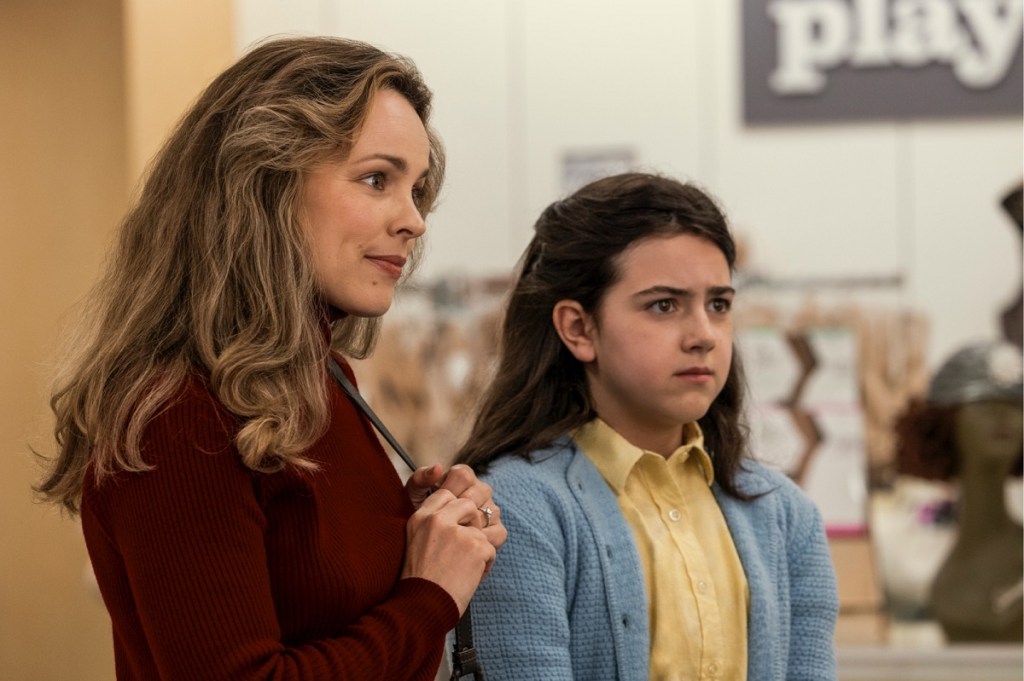 Since the conception of the movie, the project has become quite dear to Judy, who has especially fallen in love with Rachel McAdams' portrayal of Barabara Simon, Margaret's mother. "Kelly wrote the mother. Kelly wrote Barbara Simon, and then Rachel McAdams plays her in such a way that is so wonderful that I say I want to come back in my next life and be a mother like the mother that Kelly wrote and Rachel plays in this movie," the author excitedly elaborated to Collider.
Judy added, "So there's so much about that because a movie is different than a book, even if it's the whole book, and it is. But you get to see these characters. You get to see them as real people."
There are indeed certain differences in the movie's portal of events that take place in the book. While the novel in question mostly centers around Margaret, the film also delves a bit into the lives of other characters like Barabra. Both the author and the director have confessed that there were multiple drafts written for the script that would truly do justice to the novel as well as the creative vision of everyone involved in the making of the film.
Even though 'Are You There God? It's Me, Margaret.' is not a retelling of real-life events, it does address some very realistic elements from life that remain just as crucial in the 2020s as they were in the 1970s. The frank but genuine issues that the movie sheds light on open up a discussion surrounding how one perceives faith and whether or not a particular form of organized religion is the only way for a child to seek the divine.
Read More: Where Was Are You There God? It's Me, Margaret. Filmed?