'Beautiful Disaster' revolves around Travis Maddox, who spends his nights in an underground boxing ring fighting people for money, and his days mostly flirting on the college campus. But when the prim and proper Abby Abernathy walks onto the campus and instantly rebukes his every effort to take her out on a date, Alex is intrigued. In a bid to get close to Abby, Alex offers her a dangerous bet, not knowing that he might have met his match in the feisty freshman.
Directed by Roger Kumble, the romance film stars Dylan Sprouse and Virginia Gardner in the lead roles. Joining them are Autumn Reeser, Libe Barer, Michael Cudlitz, and Brian Austin Green, amongst others. With the aid of a brilliant cast and a compelling script, 'Beautiful Disaster' tells the tale of young love, its intensity, and all the complications that come with it. While watching the film, some of you might be curious as to the origins of the story itself. Well, look no further, for here's everything you need to know!
Is Beautiful Disaster a True Story?
No, 'Beautiful Disaster' is not a true story. The film has been adapted for the big screen from the eponymous book written by Jamie McGuire. In fact, the author and the film's director, Roger Kumble, penned the screenplay together. Having said that, while the characters and premise of the story are the same as the book, a lot of heavy changes have been made by Kumble while penning the screenplay.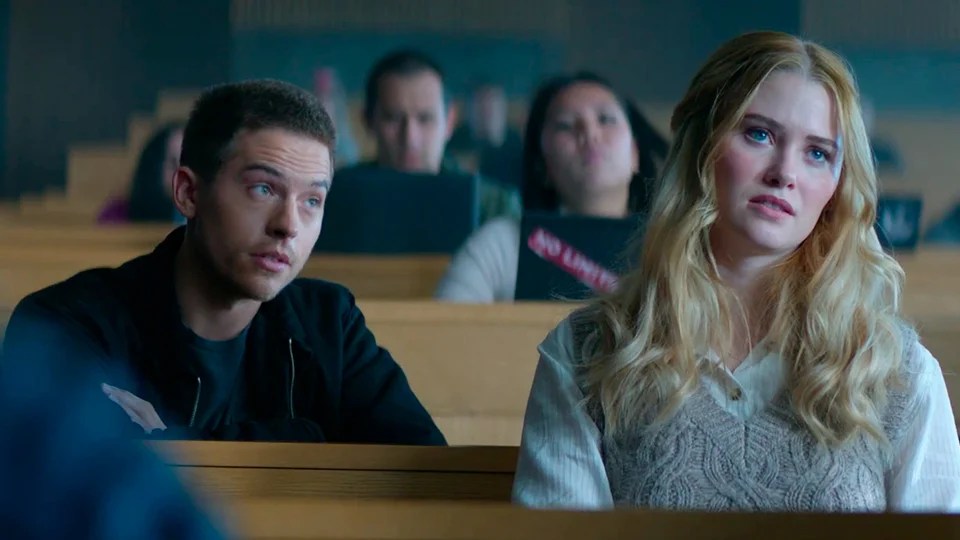 The original book, while popular, showcases and romanticizes a highly toxic relationship between Travis and Abby. Travis is controlling, bordering on stalking, to the point where he's practically telling Abby what she can and can't wear. Abby, for her part, is accepting and enabling of his behavior, going so far as to get "Mrs. Maddox" tattooed on her body. While their relationships and personalities eventually improve for the better, these parts stand out from the rest of the novel.
"I was intrigued by this-this story, um, not so aware of the fan base but I was attracted to the material," said the director in an interview. The rights for the film adaptation for the novel were with Warner Brothers, apparently, and it had been stuck there for a while when Kumble discovered it. He further revealed that it was too expensive to create in today's time with streaming services, but since he was interested in the story, he wrote a speculative script for it.
"I wrote it for myself, you know, [about] what attracted me to it," Kumble continued. "Which was 'Fight Club' and a girl with a past, and I'm like 'this is kind of intriguing,'…but I didn't want to do it so toxic a story; [because] I have daughters. So I wasn't writing for a fan base necessarily, I was writing for myself." Taking on the difficult role of Travis Maddox as it was originally written and then making him likable on-screen based on the new character arc that was created for the film was the most challenging part of 'Beautiful Disaster' for actor Dylan Sprouse.
Dylan told ScreenSlam, "…This was translating from a book that was written quite a while ago, and I think the social sentiment behind a character like that has changed quite drastically in the modern day. Um, so we were walking a fine line between trying to make him [Travis Maddox] lovable and independent, but not neuter him at the same time." Sprouse also spoke about the harsh physical training regimen that he had to go through to prepare for the underground boxer side of his character while appearing as a guest on 'Today.'
"It was two hours of boxing, stunt work, and then two hours of body building," he explained. However, the worst part of it that the actor found was the diet he had to go through, which included lots and lots of unsalted sea bass and rice. Focusing on the actors themselves, Dylan and Virginia's on-screen chemistry is palpable. This is owing to the fact that the two of them have known been friends with each other since their days at New York University.
When asked what attracted her to the role, Virginia said, "I've never done comedy before and I'd also never done, like a-a, romance really of any sorts, so it was two new things for me which I was really excited about, and also the only thing I knew about the project at the time was that Roger Kumble was directing, and I was a fan of Roger's work…and he's been part of so many iconic projects that I was really excited to work with him."
Though not a true story, 'Beautiful Disaster' brings a different spin to the classic tale of boy meets girl. The presentation of a somewhat toxic and volatile relationship on-screen both acts as a warning sign for the audience, as well as adds a depth to the otherwise comedic film.
Read More: Where Was Beautiful Disaster Filmed?