Paramount+'s 'Mayor of Kingstown' is a crime drama series created by Taylor Sheridan and Hugh Dillon that takes place in the titular company town where prisons are the business. In the series, Mike McLusky (Jeremy Renner) serves as the town's unofficial mayor, a power broker who manages several criminals and conflicts that could affect peace and safety. The dangerous criminals Mike deals with often jeopardize his family life, and a similar scenario unfolds in the second season finale. The finale ends with Mike's mother, Miriam McLusky (Dianne West), in a near-death situation. If you are wondering if Miriam dies and whether Dianne West is leaving 'Mayor of Kingstown,' here is everything you need to know! SPOILERS AHEAD!
Is Miriam McLusky Dead?
Miriam McLusky is the patriarch of the McLusky family and the mother of Mitch McLusky (Kyle Chandler), Mike McLusky (Jeremy Renner), and Kyle McLusky (Taylor Handley). Miriam is a highly moral woman who works as a college professor. She also volunteers to teach inmates in the female prison of Kingstown, Michigan. In the second season, Miriam comes in contact with a teenager named Jacob, who is in a juvenile detention center. Miriam tries to help Jacob, but he dies by suicide, deeply affecting Miriam. In the second season finale, titled 'Little Green Ant,' Iris (Emma Laird) appears at the McLusky family's house searching for a place to hide after killing Joseph, Milo's right-hand man. However, it allows Milo to hold Miriam hostage and force Mike to hand over the bonds.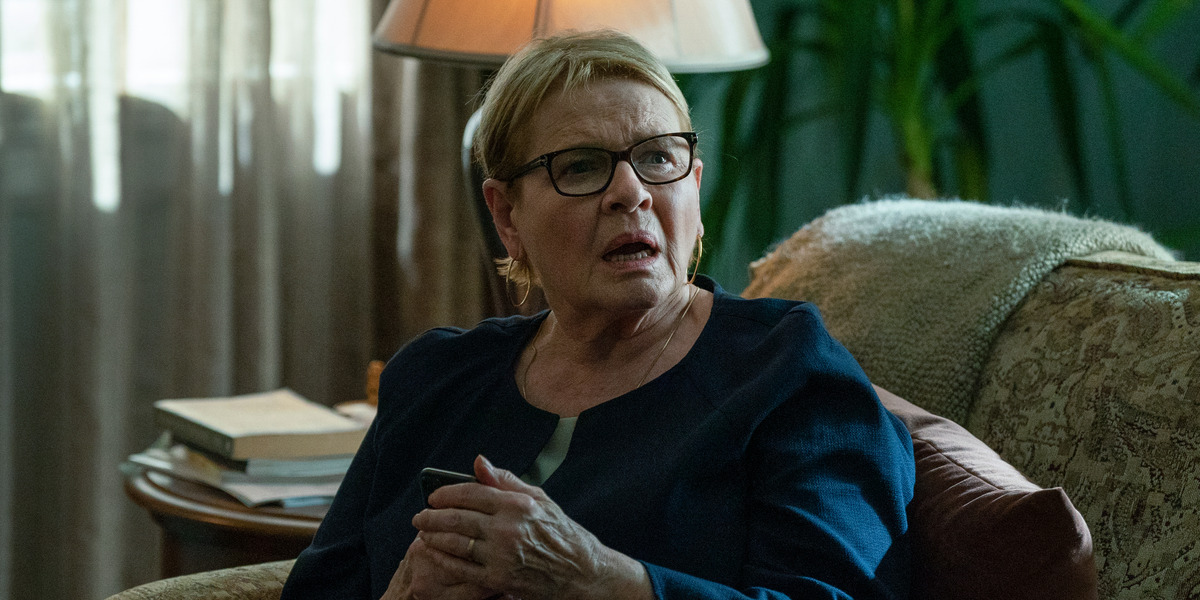 Mike informs Kyle and Ian of the situation and arrives outside the house to resolve the situation. However, he forgets to collect the bonds. As a result, Mike has only one option – to take out Milo and his men. After entering the house and checking up on Miriam and Iris, Mike starts a gunfight with Kyle and Ian providing backup fire. Milo escapes with Iris while Mike succeeds in saving Miriam. However, a ricocheted bullet from Kyle's gun hits Miriam, and she is injured. The season finale ends with Miriam hospitalized and in a comatose condition. Nonetheless, she is still alive and has a chance of surviving.
Is Dianne West Leaving Mayor of Kingstown?
Actress Dianne West made her screen debut in 19754 with a small part in a television film. She rose to prominence with supporting roles in the 1980s movies such as 'Independence Day' and 'Footloose.' West won the Academy Awards for Best Supporting Actress for her role in director Woody Allen's 1986 film 'Hannah and Her Sisters' and the 1994 film 'Bullets over Broadway.' West is also known for her performance in television shows such as the police procedural drama 'Law & Order' and the sitcom 'Life in Pieces.' In 'Mayor of Kingstown,' West portrays the role of Miriam McClusky and is credited as a series regular.
The show's second season finale leaves Miriam McLusky's fate in the air and raises questions about actress Dianne West's future. With the character in a critical condition, it is possible that the writers might choose to write off West's characters if the actress desires to exit the hit crime drama. However, at present, neither West nor the show's makers have hinted at the possibility of the actress departing the series. As a result, it is possible that Miriam survives the injury but faces dire consequences. She could be paralyzed or face other permanent damage, profoundly affecting her, Mike, and Kyle's story arcs.
Moreover, we are yet to learn more about Miriam's animosity towards Mike, which is likely related to Mike's time in prison and is an important plot thread. Hence, it seems unlikely that Miriam will be killed off. Ultimately, the chances of West reprising her role will depend on the show securing a second-season renewal. At the time of this writing, 'Mayor of Kingstown' is yet to be renewed for a third season. Nonetheless, West will likely continue as a main cast member if a third season is announced.
Read More: Is Milo Dead or Alive? Is Aiden Gillen Leaving Mayor of Kingstown?