Created by Zakiya Dalila Harris and Rashida Jones, 'The Other Black Girl' is a Hulu mystery drama show that tells an intriguing tale laced with socially relevant themes and messages. The show follows Nella Rogers, the only African-American employee at a predominantly white. bigshot Publishing company, Wagner Books. Driven by her ambition to tell diverse stories, Nella continues to stick it out amongst a sea of ignorance and microaggressions she faces at work. Therefore, when Hazel May-McCall joins the team, Nella is excited to have another black woman in the office to share her experiences.
However, Nella wonders whether or not her new co-worker is really the supportive friend she claims to be when the time comes, and Hazel throws Nella under the bus in self-preservation. With an intriguing set-up and an exciting pay-off, 'The Other Black Girl' tackles a socially relevant topic through a riveting story. However, given the show's social commentary, viewers must wonder if reality inspired the events depicted within the narrative. Let's find out!
Is The Other Black Girl a True Story?
No, 'The Other Black Girl' is not based on a true story. Instead, the show is an on-screen adaptation of creator Zakiya Dalila Harris' 2021 eponymously named thriller novel. The show carries over most of the book's authenticity and strives to provide an accurate and exciting adaptation of the novel. While transitioning from pages to the screen, 'The Other Black Girl' adapted its story accordingly, assuming the required changes. Still, for the most part, it remains faithful to the source material.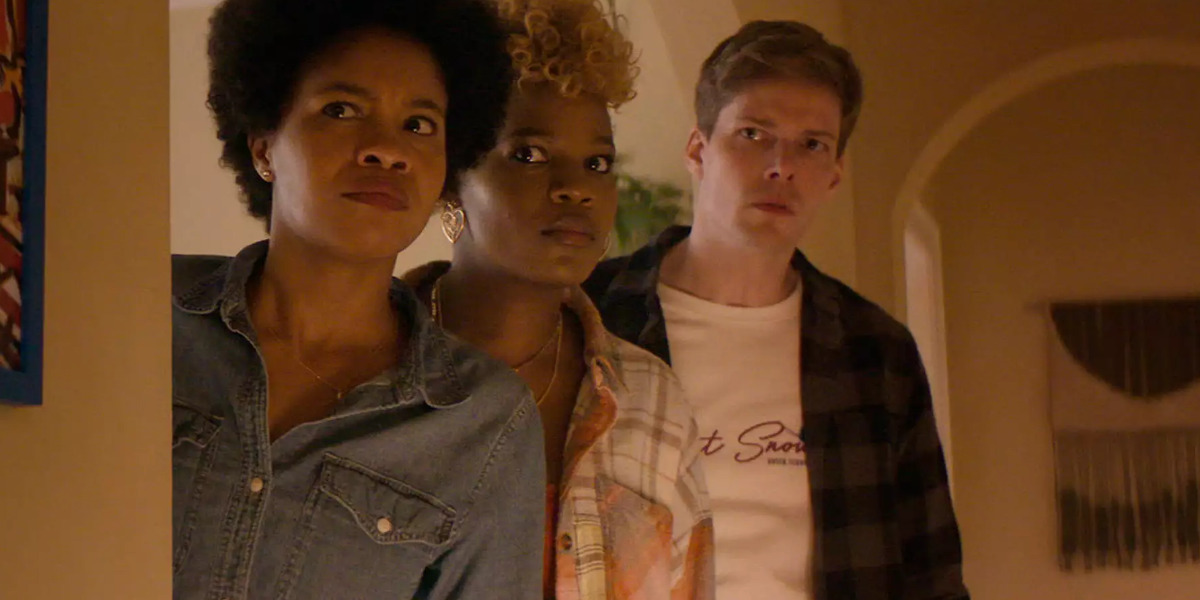 Besides Harris' role as an executive producer on the show, she also served as a writer for a few episodes. As such, Harris was involved in the show's making within a certain capacity. Thus ensuring an authentic connection remained between her story and its adaptation without sacrificing the latter's originality.
Since Harris worked at a publishing house for two and a half years, much of her own experiences ended up informing the story's outline, inspired in part by her own experiences. Likewise, although Nella's character is entirely fictitious, the author based some of the former's story on her own life experiences. In fact, the story's base premise was directly inspired by a specific event in Harris' life.
Harris worked as an assistant editor before beginning her journey as a professional author. On the 13th bathroom of Knopf Doubleday, Harris encountered another black woman, which served as a pleasant surprise for her as one of the only two African-American people working on the floor at the time. "I remember being so excited," said Harris. "And then being like, Oh, ok, we — we're not having a moment. Cool. I don't think she noticed any of this."
After scrutinizing the interaction and the emotions/memories it brought up, Harris began her journey into writing her debut novel. As a social satire of sorts, the story's narrative explores several different layers of being a minority, especially a black woman, in a disproportionately represented professional environment.
Concepts like code-switching, microaggressions, and tokenization are depicted in depth as a commentary on their real-life prevalence. Harris' real-life experiences with these issues directly informed their authentic representation and discussion. As such, the story's overall narrative remains relatable since many individuals might be able to see their own lives reflected in Nella's experiences. Nonetheless, even though the author/show writer Harris drew a lot of inspiration from her own life, Nella's character and storyline aren't a recreation of the former woman.
While discussing inspirations, Harris cited several recognizable literature, like Octavia E. Butler's 'Kindred,' Toni Morrison's 'Sula,' and Nella Larsen's 'Passing,' with the last one serving as the inspiration behind the protagonist's name in Harris' book. Similarly, the storyteller also divulged her fascination with the film 'Get Out' by Jordan Peele and its influence on her writing. "Talking about white liberals in this way seemed so new to me at the time, and I really wanted to do something similar with the book," she said. Ultimately, 'The Other Black Girl,' based on a book, is a fictional account of relatable experiences.
Read More: Best African American Movies on Netflix Right Now