Netflix's 'You Are So Not Invited to My Bat Mitzvah' is a comedy-drama film that follows the story of Stacy Friedman. Her bat mitzvah is approaching, and she wants it to be the best day of her life. She has huge plans for the day because she believes how the bat mitzvah turns out will decide how she is perceived in school and for the rest of her life. It is a make-or-break thing for her, and a crucial part of it is to finally start dating Andy Goldfarb, the boy she has a crush on. Things go downhill when Stacy has a fallout with her best friend, Lydia.
Directed by Sammi Cohen, the film focuses on the ups and downs in Stacy's life and how she learns what it means to be an adult. Through her experience, the audience gets a realistic depiction of what it means to be a teenager and how turbulent this time can be. If you relate to the film and are wondering if it's based on a true story, here's what you need to know.
Is You Are So Not Invited to My Bat Mitzvah a True Story?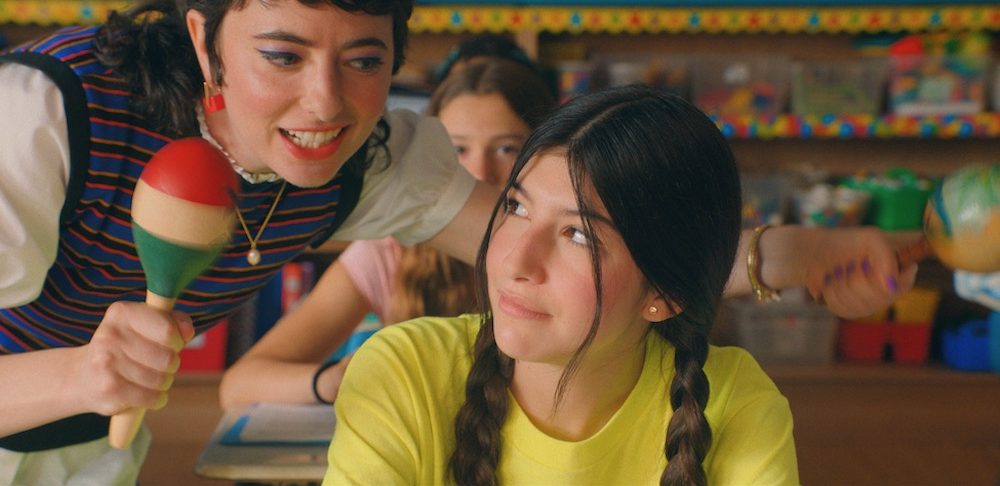 'You Are So Not Invited to My Bat Mitzvah' is based on the book of the same name by Fiona Rosenbloom (pseudonym for Amanda Stern). Published in 2005, the book focuses on Stacy and her quest to have a perfect bat mitzvah while dealing with her traitorous best friend, Lydia. Being adapted about two decades later, the book's themes are still relevant. However, the filmmakers made a few changes to make it more relatable to the teenagers of the current generation.
In an interview, Rosenbloom revealed that she didn't have a bat mitzvah. "I grew up secular Jewish. We didn't have any sort of faith or, religion or spirituality in my house at all. So I grew up going to bat mitzvahs and bar mitzvahs, but I didn't have one," she said. She added that while writing the book, she had to do some research, referring to the bat mitzvahs and bar mitzvahs she had attended to give a realistic touch to Stacy's story.
She mainly referred to her best friend at the time, who grew up in a "fairly religious household." "Her parents had kept all of her preparation and everything. So we flew to Arizona so that I could talk to her parents and I could go look through her bat mitzvah notebooks and folders and a box of sentimental things from that time. That was really helpful because I didn't even go to Hebrew school. It really helped me flesh out some of the gaps," the author added.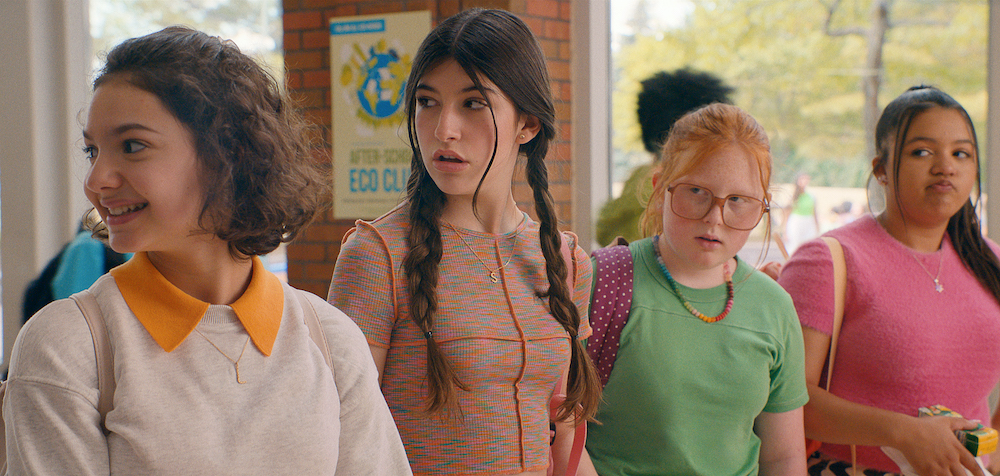 When crafting the lead character, Rosenbloom said that some parts of Stacy were based on how she was as a teenager. She mentioned that while she was not as confident as Stacy, she did have the same self-centeredness that teens and tweens have because they "don't have perspective or concept of a world from any other point of view than their own." "I constructed her out of parts of me, parts of my nieces, parts of my imagination. I really wanted her to just be her own character and her own imaginary being separate from me or anyone recognizable in my life. I think it was much easier for me to do that with the kids than it is with adult characters," Rosenbloom said.
While the themes of Rosenbloom's book still ring true, Sammi Cohen wanted to update the story for the current audience. "It was important for me to make the movie feel a little more inclusive and queer, body positive, progressive, Gen Z when it came to things like social issues and family dynamics, gender and all that," Cohen said. The film's crew attended a few bar and bat mitzvahs to get a sense of what kids are into these days. Cohen revealed that the Netflix movie was also influenced by films and artists like 'Waves,' Petra Collins, John Hughes, 'Tomboy,' 'Stand by Me' and 'Ferris Bueller's Day Off.'
While Stacy's bat mitzvah is at the center of the story, Cohen said that the story is more about the exploration of "formative female friendships and self-discovery in a real, messy, authentic way." While it's about a Jewish family, they believe the themes would resonate with any viewer, regardless of their religious beliefs. With all this in mind, we can say that while 'You Are So Not Invited to My Bat Mitzvah' is not based on a true story, the author and filmmakers tried to keep it rooted in reality as much as possible.
Read More: Where Was You Are So Not Invited to My Bat Mitzvah Filmed?