Hosted by Ingrid Guimarães, 'Written in the Stars,' AKA 'Match nas Estrelas,' is an Amazon Prime Brazilian reality series in which each episode follows a member of a specific zodiac sign. The person in question goes on dates with four chosen suitors who have been picked due to astrological compatibility. For Virgo Letícia Silverio, the decision was not as simple as she might have liked, given her organized nature, but, in the end, she listened to her heart and the astrological numbers in order to choose Eduardo "Duda" Roque. However, people are curious if the two are still together, and we are here to explore the same!
Letícia Silverio and Eduardo Roque's Written in the Stars Journey
When Letícia Silverio first met Eduardo "Duda" Roque, the sparks between them were certainly instantaneous. The latter is a Cancer, according to astrological calculations, and was one of Letícia's four suitors in the dating show. Initially, the two stood talking to each other for a long time as they bonded over their survival stories, with Duda sharing how his outlook on life completely changed following his car accident about two years before the production of the Brazilian series.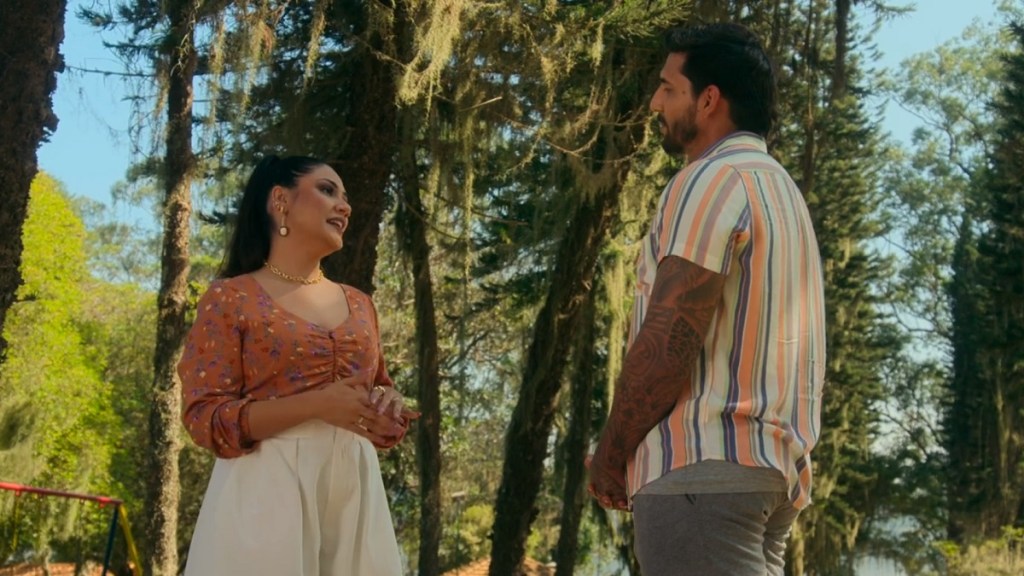 Not long afterward, Letícia and Duda climbed aboard a private boat, where they enjoyed cruising on the water while sharing life stories, including their family history. Their ability to become comfortable in each other's presence and the ease with which they could talk about their past certainly helped them gravitate toward each other more. Given such a romantic setting, Letícia's decision to start a grape-throwing game that would lead them to kiss was certainly welcome. When Duda cheekily decided to drop a grape in a glass by proclaiming that there were no rules against it, Letícia could not help but join in the mirth.
As dictated by the rules of the game that Letícia had started, she and Duda shared her first kiss, which both of them certainly seemed to enjoy. As the day went on, they continued swapping stories and exchanging kisses, with Duda asking Letícia to call him after the date. After they were off the boat, the two continued to spend time with each other, expressing how much they enjoyed the other's company. However, Letícia still had to make a tough decision.
After her four dates, Letícia met up with Ingrid Guimarães, who first asked her to eliminate someone she didn't think would be a match, for which she chose Franco Serguelli Sampaio, her fellow Virgo. Following the session with astrologist Papisa, Alexandre Lima Ferreira was also eliminated as he was least compatible with Letícia out of the remaining three. It was then revealed to Letícia that her compatibility with Higor "Trigo" Guilherme was 90%, while Duda and her matched at 81%. However, despite her belief in the stars, Letícia chose to partner up with Duda over Trigo as she had felt more of a chemistry with him.
Are Letícia Silverio and Eduardo Roque Still Together?
No, Letícia Silverio and Eduardo "Duda" Roque are not still together. In fact, the former is in a very happy relationship with Murilo Fidalgo Orsolini. The two have apparently been dating each other since September of 2022 and got engaged sometime in January of 2023. Presently, Letícia is pregnant with her first child and is looking forward to welcoming the new life into this world. Being a mother has been a long-held dream of hers, and she is certainly ecstatic to be able to live it. As for Duda, he does not seem to be dating anyone, though his work certainly gives him much joy. The author also works as a social worker and has gained many opportunities to work with children, and he seems to cherish every moment of the same. We wish every party involved the best and hope that their future is full of happiness.
Read More: Are Pablyne Noleto and Adriana Wilians From Written in the Stars Still Together?