With Netflix's 'The Ultimatum: Queer Love' delving into the question of "Is adoration as well as intimacy enough?" we get a true insight into the complexities of romance, relationships, and rights. After all, it revolves around a group of LGBTQ+ couples as they attempt to navigate the crossroads they have reached on the way to attaining their future aspirations of tying the knot for good. Amongst them were actually Lexi Goldberg (she/her) and Raelyn "Rae" Cheung-Sutton (she/her) — so now, if you simply wish to learn more about them, we've got the necessary details for you.
Lexi and Rae's The Ultimatum: Queer Love Journey
Although Lexi was merely 21 when she first came across Rae on Bumble before meeting her on a fateful night out a short while later in West Hollywood, she quickly knew she had found the one. In fact, their two-year age gap or the latter having initially reached out for a mere "booty call" did not matter to her either because the only thing it did in her mind was underscore her authenticity. "I love Rae more than I think I ever will love another person," the former elucidated in the series (filmed in 2021). "We've been together for over 3 years now, and I really want to marry this girl."
However, with Rae's admitted tendency to overanalyze every little thing and her doubt over whether a picturesque marriage or happily ever after even exists for her, they just couldn't move on. That's why Lexi issued an ultimatum — she didn't want her then 27-year-old girlfriend to feel like she was "pushed against a wall," but she did need her to gain some "clarity" through exploration. Thus began their time in the experience, only for it to soon come to light that they were both initially drawn towards self-proclaimed influencer Vanessa Papa (originally Xander Boger's partner).
Though things soon changed for Lexi as an intimate date with Vanessa revealed she wasn't sure if she even wanted to get married and if her original partner would find other potential matches. This obviously infuriated the former, not just owing to her disregard for the core purpose behind the entire experiment but also her unclear motives toward Rae, driving her to turn quite protective. It was actually to such an extent the then-24-year-old made sure to call her out during "The Choice," yet her "ex" still went ahead with her gut feeling and picked her as her three-week trial wife.
That's when Lexi and Rae's connection started to turn rockier than ever before, especially since the youngster herself decided to focus only upon her own incredibly caring trial wife, Mal Wright. The fact Rae and Vanessa engaged physically despite having no real attachment didn't help matters either — Lexi didn't trust the latter and couldn't understand how her ex let things get this far. There was a small silver lining in the fact it was Rae who honestly let her know everything to have transpired the morning after itself because of guilt, but that's about it due to the consequences of it all.
"You come into this process, right?" Lexi said in the production. "And you give each other the room. You give each other the space to explore everything this is. I didn't ask [Rae] to tell me she wasn't going to sleep with Vanessa. I didn't ask that of her. I tried to tell her to just be careful. The type of person Vanessa is, I don't think she's here for the right reasons." She then broke down and added, "The person I thought loved me came here and then slept with that person. It feels like a betrayal. I'm sick to my stomach about it… Why would I ever want to marry someone like that?"
Are Lexi and Rae Still Together?
From what we can tell, yes — surprisingly, Lexi and Rae do still seem to be blissfully together — in fact, it appears as if they have since taken the next steps to have settled down for good. This much is actually apparent through the way they can both be seen wearing gold bands on their ring fingers in their recent Instagram posts, plus they often interact through likes and comments as well, as seen below.
As if this isn't enough to clear any doubts, you can also check out this January 2023 post by fellow cast member Yoly Rojus, where you can see both Lexi and Rae hanging out with her. Then there's this Halloween 2022 post by Rae with the caption "Looking for my Pam Anderson," which is significant because Lexi's Instagram bio reads, in part, "Was once called 'Our generation's Pam Anderson.'"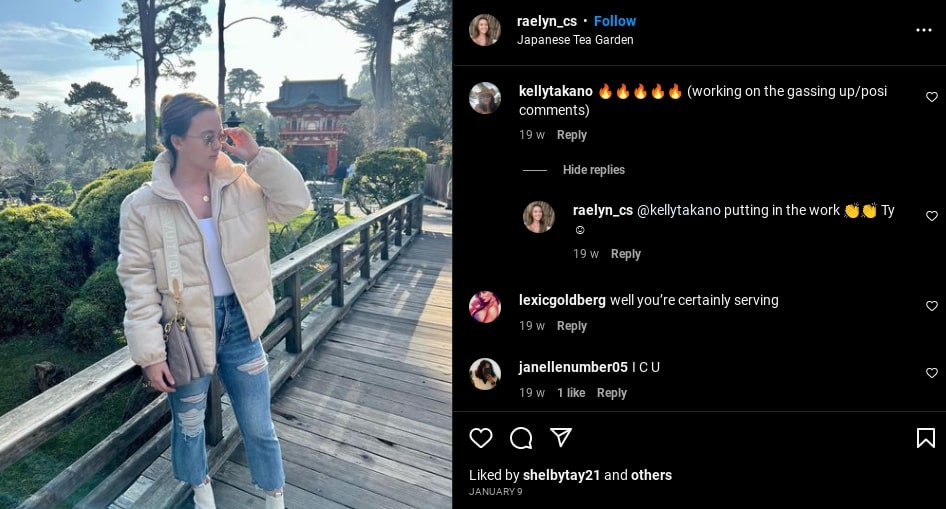 Read More: Are Tiff and Mildred From The Ultimatum: Queer Love Still Together?