Netflix's 'In the Name of God' is a gripping documentary series that sheds light on just convoluted some web of lies can be. The show focuses on some of South Korea's most infamous religious leaders who became known for their actions that impacted many people within and outside their community. One of the most compelling stories told in the series is that of Maple Yip, AKA Jeong Soo-Jeong, who talks about her involvement with Jeong Myeong-Seok's JMS Church and how the man treated her. This has also led people to wonder just who the young woman is and her current whereabouts. So, let's explore this together, shall we?
Who is Maple Yip?
Born in Canada at the end of the month of March, Maple Yip grew up in Hong Kong, China. When she was in the second year of high school, the teenager was going through some tough times since she was heavily bullied in school, and her parents seemed to be fighting all the time. According to Maple, one day, when she was in a mall with her sister and a friend when some people approached her group, claiming to be from college.
One of the women from the group apparently kept calling Maple, who was struggling to find meaning in her life and craved love in any form. Frustrated, Maple stated that she asked the woman on the phone about life and love, and the person on the other end took the opportunity to explain more about love and life in terms of religion and introduced Maple to JMS. The young woman admitted that she was moved by the words of Jeong Myeong-Seok and started craving the type of love that the religious leader was talking about. When Maple apparently confessed to him that her lifestyle included having drinks, smoking, and meeting with different guys, Myeong-Seok told her to love God with her heart because she was "God's Bride."
Following Myeong-Seok's arrest in 2008, the religious leader's followers stated that he was being unfairly treated, and Maple self-admittedly believed them and thought the JMS president to be innocent. During the time that Myeong-Seok's imprisonment, many of his female followers were apparently photographed in bikinis, including Maple, and the pictures were sent to him. Any woman that he liked was allegedly asked to visit him, and they considered it to be an honor to be chosen by their "Lord."
Maple was one of the women who was apparently selected by Myeong-Seok, much to her excitement. According to her, whenever he was out exercising, the young woman had to give the pre-assigned signal in order to indicate that she was in the designated spot. Upon the release of the JMS President in 2018, he was asked to wear an electronic anklet, much to his displeasure. Meanwhile, Maple had seemingly risen to prominence in the JMS community and was happy with his release. She apparently first became a singer and then a news host as Jeong Soo-Jeong, a name that the religious leader came up with.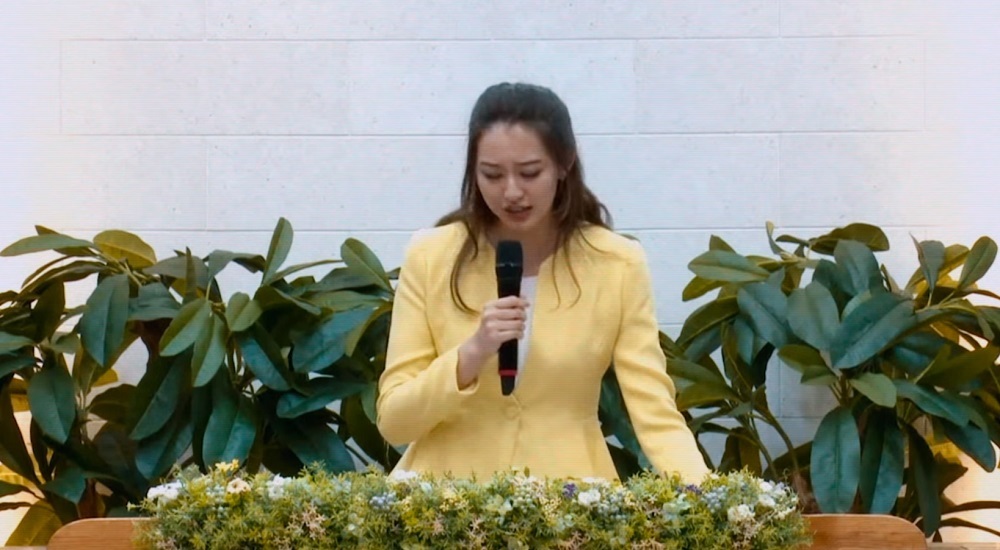 According to Maple's own words, she was one day called to Myeong-Seok's room, where he forcefully touched her private parts and harassed her. Confused, Maple shared about her attempts to talk to one of the handlers, who insisted that she was chosen by the Lord to show his love and that she should feel grateful. The pattern apparently continued, and the religious leader allegedly sexually assaulted Maple multiple times. Following the doctrine that she was taught, Maple stated that she tried her level best to assimilate herself into the process and even ended up acting as an enabler when the same thing happened to others, believing Myeong-Seok to be the Messiah.
The events seemed to have led Maple to harm herself a lot of times as she believed that her being unhappy with the situation was wrong. Apparently, at the prompting of one of the victims of the religious leader, the young woman ultimately decided to leave. She admitted to telling the people in JMS that she wanted to meet her parents, whom she hadn't seen in over a year. Just before leaving, she was allegedly visited by Myeong-Seok, who assaulted her multiple times. She stated that she had been vaccinated earlier in the day and was running a fever, but the religious leader seemed to not have cared. However, Maple apparently ended up recording the audio of this particular incident and shared it with the authorities and the public.
Where is Maple Yip Now?
Following her escape, Maple Yip decided to act and reveal Myeong-Seok's actions. The decision was hard for Maple to make, and she chose to share her story in the Netflix documentary in March 2022 at the age of 28. In the show itself, we can see that Maple was being followed by people whom she believed to be members of JMS who were trying to stop her from speaking. On March 16, 2022, she returned to Korea and attended a press conference to share her story.
Even though she was sick with stomach flu, Maple was determined to attend the event and expose Jeong Myeong-Seok. The statement was instrumental in building a case against the religious leader. In October 2022, the JMS president was arrested and now awaits trial for his actions. Maple did receive some backlash, especially from the existing members of JMS, for her statements. However, her father seems proud of her actions, much to her happiness.
Presently, Maple seems to found solace in drawing. It's a talent she seemingly discovered after her time in the religious group. She uses that art form to express her emotions as well. In recent news, Maple has also been romantically linked with Alex Fong, a former Olympic swimmer who has since become a well-known actor and is also based in Hong Kong. Neither Maple nor Alex has yet confirmed their relationship.
Read More: Where Are Sun Yeong-Re and Sun Bok-Re Now?