'42' is an American biographical sports drama based on the life of baseball legend Jackie Robinson, who wore jersey number 42 through his major league career. The film is set in the mid-1940s, when, in the times of racial segregation, Branch Rickey (played by Harrison Ford) broke the color barrier by drafting Robinson (played by Chadwick Boseman), an African-American, into his all-white baseball team, the Brooklyn Dodgers (forerunners of the L.A. Dodgers). The 2013 film was a commercial and critical success upon its release. Sentimental and inspiring, it is a forever favorite of cinema-lovers who also love sports but hate racism. We've compiled a list of similar biographical sports movies that have a racial angle. In these revolutionary times of the anti-racism movement, the following movies will make for a heartwarming watch. You can watch most of the films on Netflix, Hulu, or Amazon Prime.
6. Woodlawn (2015)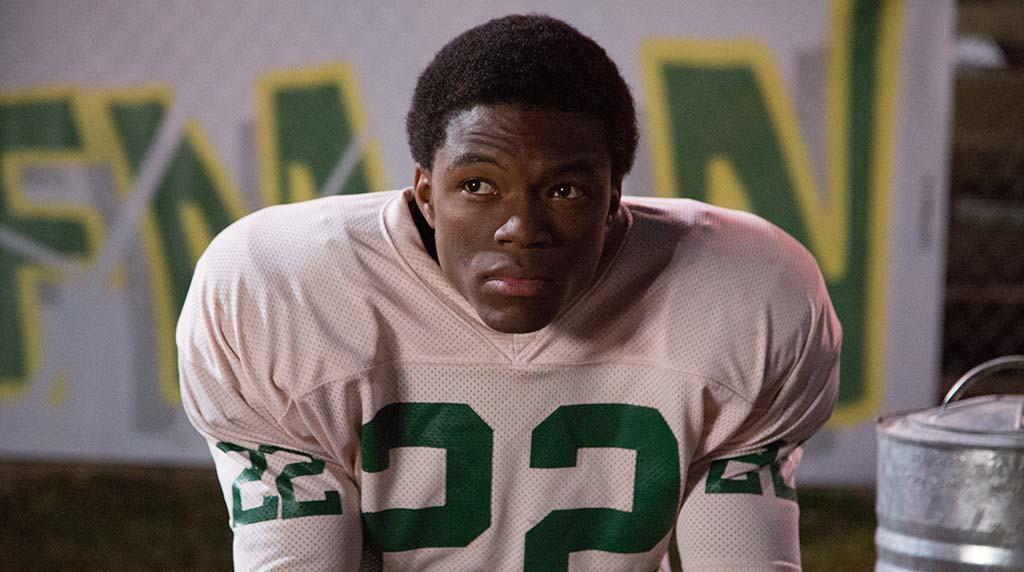 Amidst the racial tensions of 1973, a recently desegregated school torn apart by hate learns to embrace love and God when a talented high school football player, Tony Nathan, joins the predominantly white team along with few other black players. The film focuses on their spiritual awakening and how they unite through faith and football. Directed by the Erwin brothers Andrew and Jon, 'Woodlawn' stars Caleb Castille, Sean Astin, Jon Voight, C. Thomas Howell in key roles.
5. Race (2016)
'Race' is a biopic about African-American athlete Jesse Owens, who overcame racism at home and abroad to win a record-breaking four gold medals at the 1936 Berlin Olympic Games held in Nazi Germany. This inspiring sports drama is based on the life of Jesse Owens who had to fight to show the world that he was the fastest man alive. Directed by Stephen Hopkins, this film stars Stephan James as the titular character, along with Jason Sudeikis, Carice van Houten, and Eli Goree.
4. The Blind Side (2009)
'The Blind Side' is an incredibly heartwarming movie that follows the story of Michael, a homeless African-American teenager who is adopted by a Caucasian family. His family helps him overcome his learning difficulties and achieve excellence in American football. Directed by John Lee Hancock, starring Quinton Aaron, Sandra Bullock, Tim McGraw, and Jae Head, this film is inspired by the life of Michael Oher, an offensive lineman who was drafted by the Baltimore Ravens of the National Football League (NFL). Sandra Bullock's towering presence stands out in a bunch of power-packed performances.
3. Remember The Titans (2000)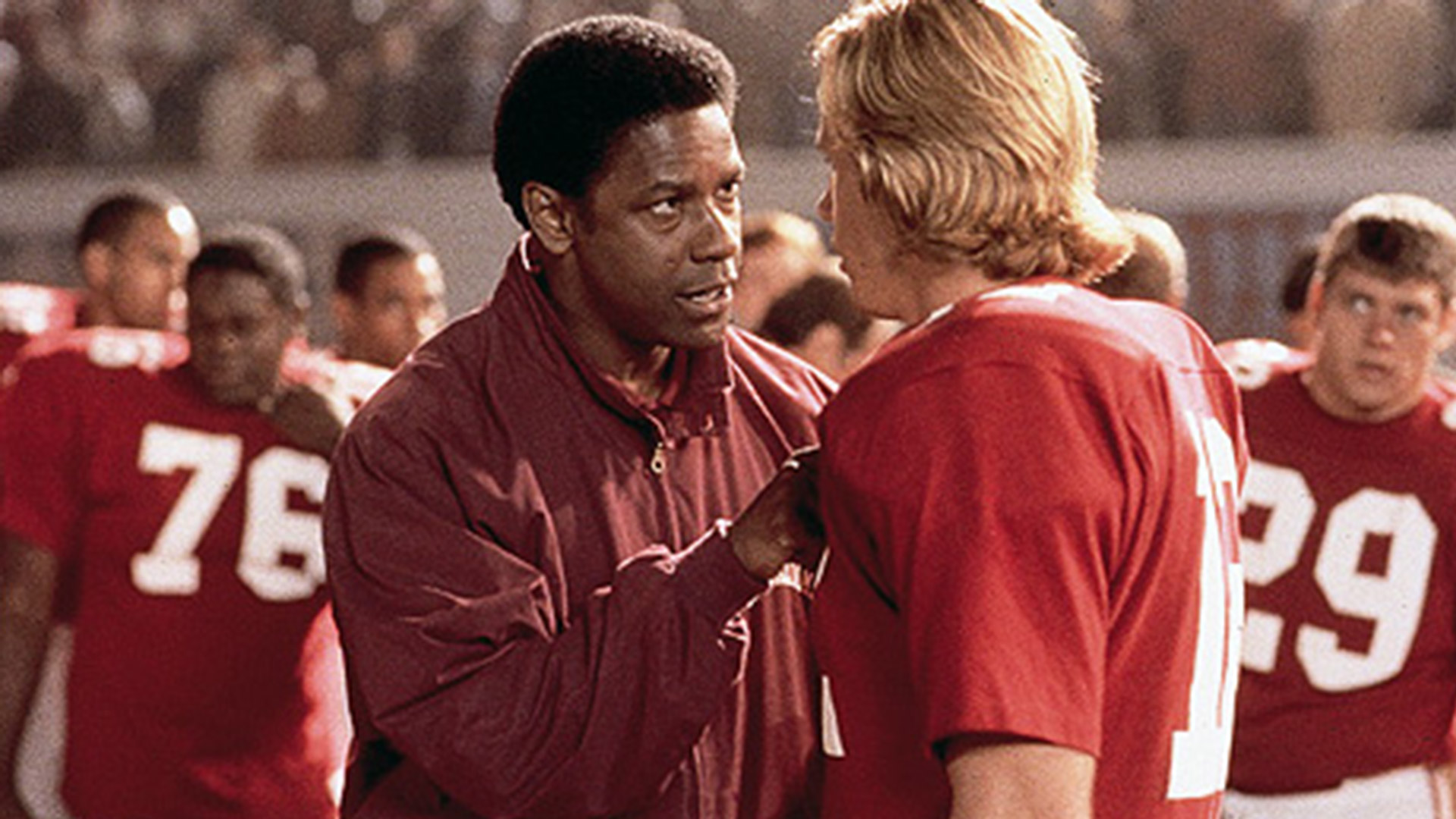 'Remember The Titans' is an inspirational crowd-pleaser of a movie that's based on the real-life forced racial integration of a high school football team. Denzel Washington plays Herman Boone, an African-American man who is appointed as the new coach of a high school team in small-town Virginia. He has the tough task of teaching the students to rise above racial prejudices and focus on winning ball games together. Directed by Boaz Yakin, the film also stars Will Patton, Wood Harris, Ryan Hurst, and Ryan Gosling.
2. The Hurricane (1999)
'The Hurricane' is a biographical drama based on the life of Rubin 'Hurricane' Carter, an African-American boxer who was framed by a white cop for a triple-murder he did not commit and wrongly convicted to three life terms in prison. He was ultimately exonerated after a lot of struggle to prove his innocence and the film is a moving account of that. Directed by Norman Jewison, the movie stars Denzel Washington as the middle-weight boxing champion Carter.
1. Malcolm X (1992)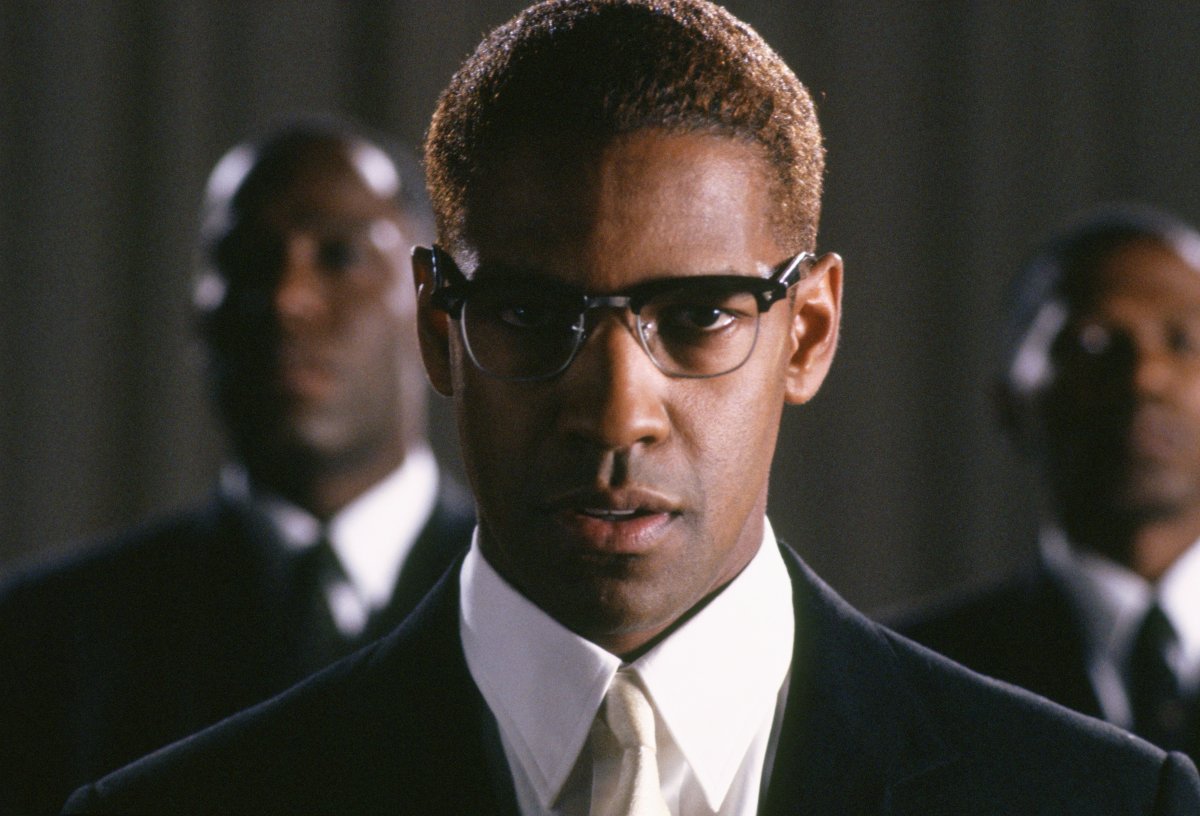 This film is a biographical tribute to the controversial black activist and leader of the struggle for black liberation, Malcolm X. The movie follows his life and dramatizes key events such as his criminal career, his incarceration, his conversion to Islam, his marriage to Betty X, his pilgrimage to Mecca, and reevaluation of his views concerning whites, and his assassination on February 21, 1965. 'Malcolm X' the movie is as powerful and complex as the man it is based on. Directed by Spike Lee, it stars Denzel Washington in the titular role.
Read More: Best Black Movies of the 90s