On July 24, 1998, legendary filmmaker Steven Spielberg introduced the world to 'Saving Private Ryan', an American war epic set during the bitter harshness of World War II. The film was a masterpiece, an instant classic that was heralded by both critics and viewers alike as one of the greatest films of all time. With a star-studded cast led by the peerless Tom Hanks, Saving Private Ryan took audiences on a graphic and jaw-dropping journey through the hardships of war, and has essentially redefined the action-war-drama genre of movies ever since its launch.
Such was 'Saving Private Ryan's impact and popularity that it was nominated for 11 Oscars at the 71st Academy Awards, including Best Actor, Best Picture and Best Original Screenplay. The movie managed to win 5 of those awards that year. A testament to its accomplishment of being both a critical success and a commercial blockbuster, it was also the second highest grossing film of 1998, raking in $481.8 million from theaters across the globe.
The film follows the efforts of a United States Army Rangers Captain named John H. Miller (played by Tom Hanks), as he guides his band of soldiers (including Vin Diesel, Barry Pepper, Tom Sizemore and Edward Burns, among others) through the perils of the Invasion of Normandy in their attempts to execute a search and rescue operation for a paratrooper (played by Matt Damon) who is the only surviving member of four brother servicemen.
With its ultra-realistic battle sequences, historical accuracy, mesmerizing cinematography, incredible screenplay, and tremendous personnel, 'Saving Private Ryan' ranks high in the lists of anyone who considers themselves to be fans of good cinema, let alone fans of war films. The impression it left resonated throughout the film industry long after its debut, inspiring scores of people to rekindle their passion for not only war films, but war-themed books and video games as well.
Whether the world will ever be blessed with another war film that can match or exceed the monumental milestones set by 'Saving Private Ryan' remains to be seen. Until such a time comes, if you are looking for recommendations on films to watch if you love 'Saving Private Ryan', then look no further. Here's the list of best movies similar to 'Saving Private Ryan' that are our recommendations. You can watch several of these movies like 'Saving Private Ryan' on Netflix, Hulu or Amazon Prime.
12. Apocalypse Now (1979)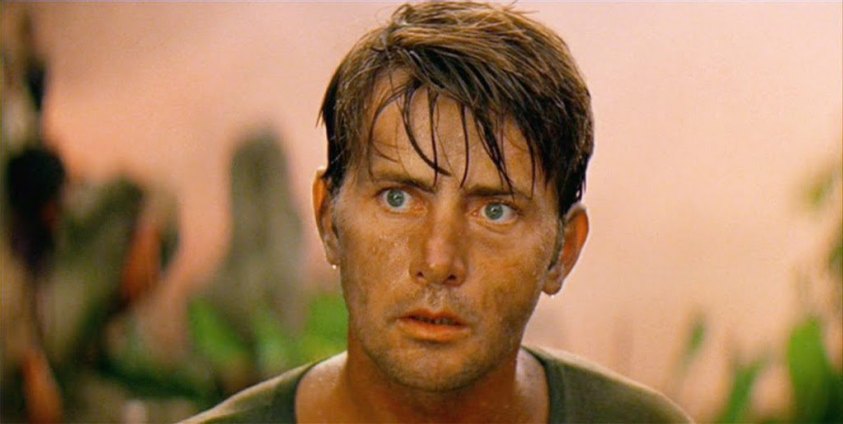 Francis Ford Coppola's 'Apocalypse Now' is a Vietnam War epic, which has American cinema at its most daring and inspiring. The movie was released on 15th August, 1979, with an astounding cast comprising the likes of Marlon Brando (whose performance as Colonel Walter E. Kurtz was highly acclaimed) and Robert Duvall (who received multiple awards as Best Actor in a Supporting Role for portraying Lieutenant Colonel William "Bill" Kilgore), to name a few. In 'Apocalypse Now', Captain Benjamin L. Willard (played by Martin Sheen) is sent to Cambodia on a mission fraught with tremendous danger to assassinate the mutinous Colonel Kurtz, who has won the trust and respect of the local people. The horrifying effects of war and violence visualized in this movie continue to leave audiences in utter shock and despair to this day.
11. Black Hawk Down (2001)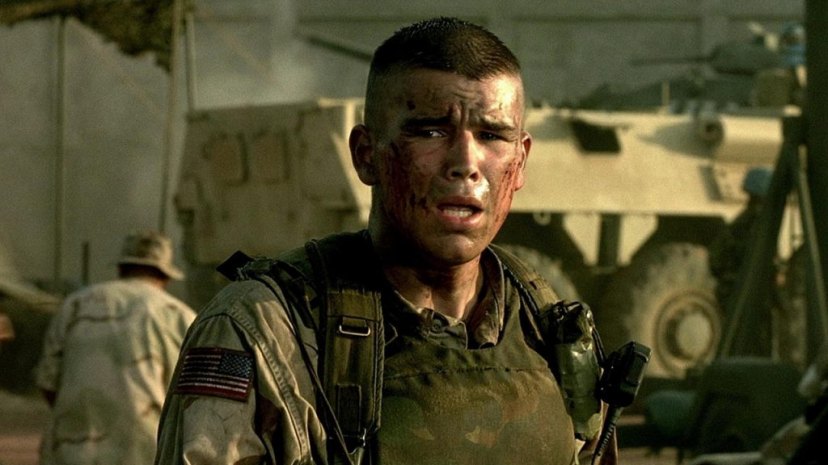 Released in 2001, 'Black Hawk Down' is an intense, action-packed depiction of the US military's raid in Mogadishu as they attempt to capture a rebel faction leader. With visionary director Ridley Scott at the helm, and with an all-star cast featuring Ewan McGregor, Eric Bana and Josh Hartnett among others, 'Black Hawk Down' will keep any war film enthusiast utterly engaged right till the very end. The movie was awarded two Oscars at the 74th Academy Awards, for Best Film Editing and Best Sound Mixing.
10. Inglorious Basterds (2009)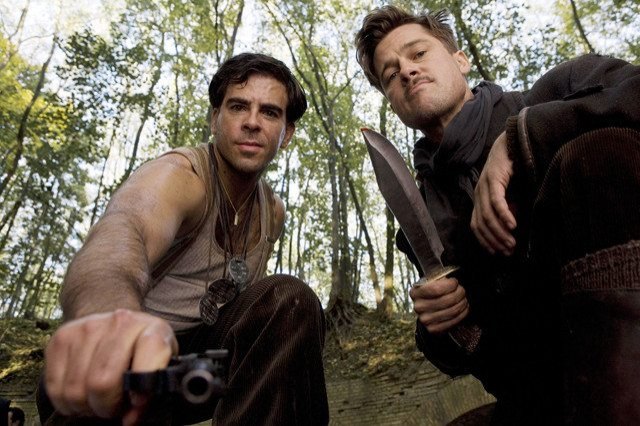 When it comes to war films, 'Inglourious Basterds' is a must-watch. The ingenious and ever-enigmatic Quentin Tarantino flexes his unique imagination, both in terms of writing and directing, to reach new heights in this near two-and-a-half-hour war epic. Set amidst the backdrop of a war-torn Europe, 'Inglourious Basterds' follows a fictional history premise of two elaborate plots to assassinate the Nazi hierarchy, one led by a group of Jewish-American soldiers, and the other by a French-Jewish refugee.
The film is armed with an incredible cast, with Brad Pitt, Christoph Waltz, Michael Fassbender and Eli Roth the standout members, each playing their respective roles to sublime perfection. Christoph Waltz, in particular, should be singled out for his portrayal of Hans Landa. 'Inglourious Basterds' hit global cinemas in August 2009 to critical and commercial acclaim. It has grossed about $320 million in theaters worldwide, and has received an avalanche of awards and nominations for its cinematic accomplishments.
9. Platoon (1986)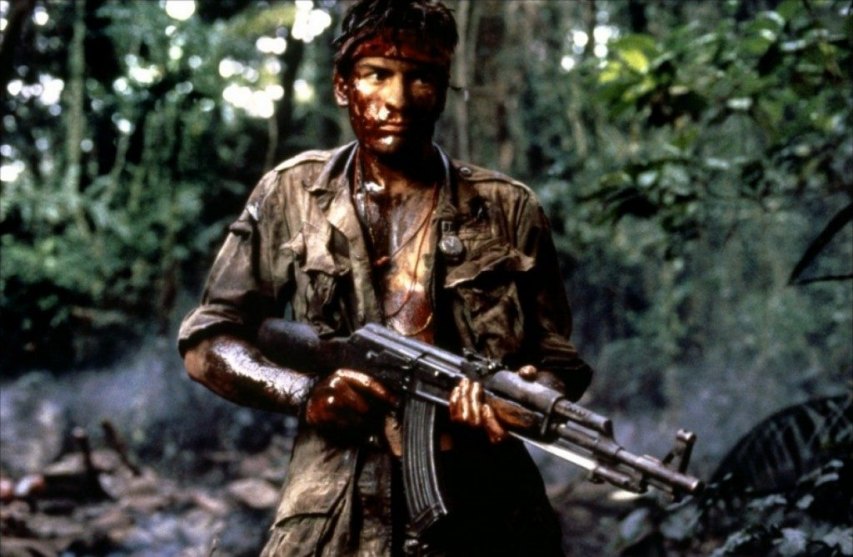 Having won 15 of the 23 awards that it was nominated for, including best picture at the 59th Academy Awards, writer and director Oliver Stone submerges his viewers into the vivid nightmare of Vietnam War in many powerful and captivating scenes from start to end with 'Platoon'. It was released on 19th December, 1986, and stars Tom Berenger, Willem Dafoe, Charlie Sheen, Keith David, Kevin Dillon, John C. McGinley, Forest Whitaker and Johnny Depp. Based on Stone's personal experience as a US infantryman in Vietnam, 'Platoon' highlights the horrors of the fights, the endless patrols, and the loss of life that a troop of American soldiers endure in the jungles of Vietnam, in addition to the nightmares of violent combat and the lack of mercy from their politically motivated superiors. 'Platoon' is undoubtedly a must-watch for any war film aficionado.
8. The Hurt Locker (2008)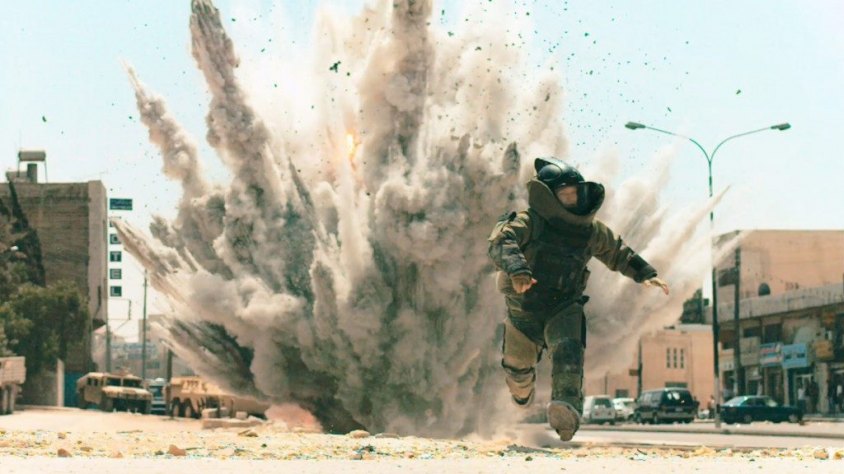 In 2009, 'The Hurt Locker' hit international theaters and gave us a gripping insight into the Iraq war. It follows the story of an American bomb disposal unit in Iraq which becomes the target of insurgents. Led by the extremely carefree and unorthodox Sergeant William James, the team has to muster every ounce of courage and mental strength they can manage in order to navigate through the treacherous conditions of the Iraq war. Directed by Kathryn Bigelow, 'The Hurt Locker' has a cast comprising of Jeremy Renner, Anthony Mackie, Ralph Fiennes, David Morse and Guy Pearce. The film was a resounding critical success, having been nominated for 9 Oscars and winning 5 of them.
7. Enemy At The Gates (2001)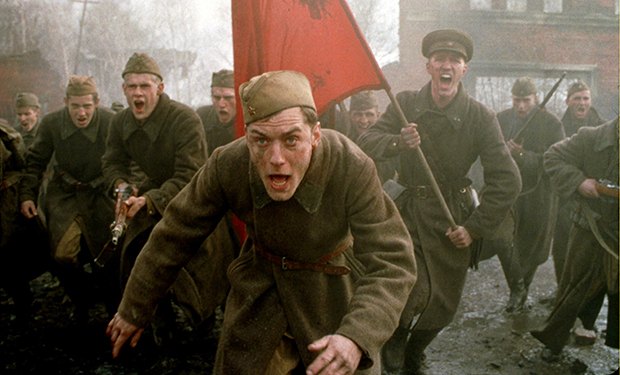 This historic war drama is centered around the Battle of Stalingrad, with Jude Law and Ed Harris playing the roles of two snipers on the opposing sides of a brutal war, desperately trying to outwit one another in a game of high stakes with severe consequences for the loser. 'Enemy At The Gates' was released to global audiences in 2001, and was written and directed by renowned filmmaker Jean-Jacques Annaud. Be sure to watch it if you are a war film fan and are browsing for something you haven't seen yet.
6. American Sniper (2014)
Sticking to the theme of snipers, the 2014 war film 'American Sniper' is another fascinating prospect for anyone who is yet to see it. This riveting introspection into the incredibly hard decisions an elite snipe has to make in times of war is beautifully directed and captivatingly played out. With Clint Eastwood calling the shots behind the cameras, and Bradley Cooper taking charge of the lead role, it is easy to see why. The film was an unprecedented success in the box office while it was being shown in theaters, with $547 million accrued in the form of ticket sales during that time, making 'American Sniper' one of the highest-grossing war films of all time. It comes as no surprise that the movie was also prominent during the 87th Academy Awards, receiving 6 nominations in total, thereby highlighting its billing as a great film.
Read More: Movies Like American Sniper
5. Tigerland (2000)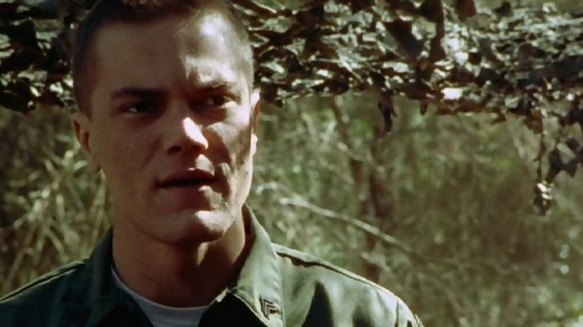 A wonderful movie which may not be on the radar of many war film enthusiasts, 'Tigerland' is definitely worth watching in case you haven't heard of it yet. Released in 2000, this American war-based drama is set in a training camp designed to prepare US soldiers for the Vietnam war, and sees Colin Farrell adopt the lead role of Private Roland Bozz. A cold, hard look into the lives of young soldiers who have never been to war, 'Tigerland' is as moving an experience as it is eye-opening.
4. Fury (2014)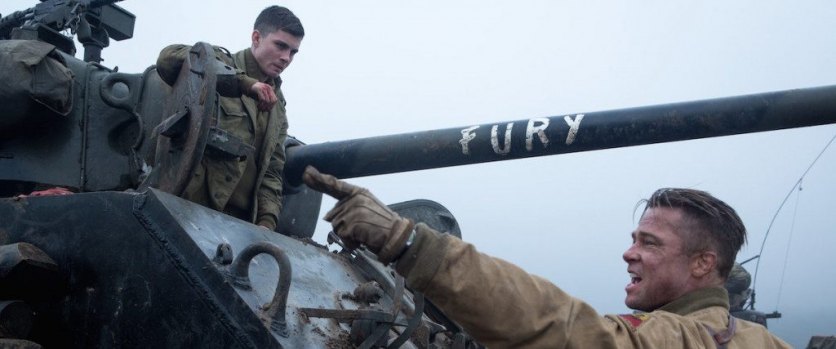 Another truly captivating movie, 2014's 'Fury' tells the tale of a battle-hardened military tank commander, played by Brad Pitt, and his ragtag crew as they resort to questionable actions and fight their way through Nazi Germany during World War II. Directed by David Ayer, 'Fury' has been glowingly received by critics, and has amassed over $210 million in theaters worldwide. It goes without saying that this two-hour-and-fifteen-minute long epic is well deserving of any true war film fan's attention.
Read More: Movies Like Braveheart
3. Full Metal Jacket (1987)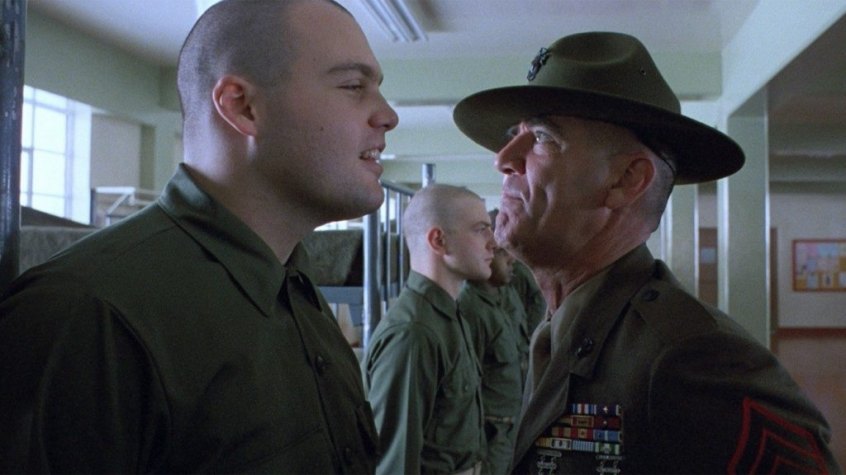 'Full Metal Jacket', in reference to the bullet casings used by soldiers, is a brilliant film on war that portrays the immensely difficult training regime that a new recruit endures, both physically and mentally, at a boot camp for the Marine Corps. Directed, co-written and produced by the great Stanley Kubrick, it was based on the 1979 novel 'The Short-Timers' by Gustav Hasford, and was the last film to be released by him in his lifetime. It was screened in US cinemas on 26th June, 1987.
The film follows the challenging experiences and struggles of a unit of the U.S. Marines in their training, Privates Joker (Matthew Modine) and Pyle being the focal point. The learning is tremendously unpleasant and gruelling under their extremely offensive and insulting drill instructor, Gunnery Sergeant Hartman, and visibly takes its toll on the sanity of the lead characters throughout the length of the movie. This undoubtedly makes for compelling viewing for any war film enthusiast.
Read More: Movies Like Dunkirk
2. Lone Survivor (2013)
Based on real-life events, 'Lone Survivor' is an elite US sniper's account of how he, and him alone, lived to tell the tale of his unit's gruelling and deadly gunfight against the Taliban in Afghanistan during an ultimately unsuccessful counter-terrorism mission known as Operation Red Wings. Chief Writer and Director Peter Berg manages to perfectly capture the essence of Marcus Luttrell's unit's heroics in the face of daunting danger, while transferring the plot's high intensity via the screen to audiences that are left deeply immersed throughout the entirety of the two-hour film. Starring Mark Wahlberg, Emile Hirsch, Ben Foster, Taylor Kitsch and Eric Bana, 'Lone Survivor' has gotten rave reviews from critics, and has received two Academy Award nominations for Best Sound Editing and Best Sound Mixing.
1. We Were Soldiers (2002)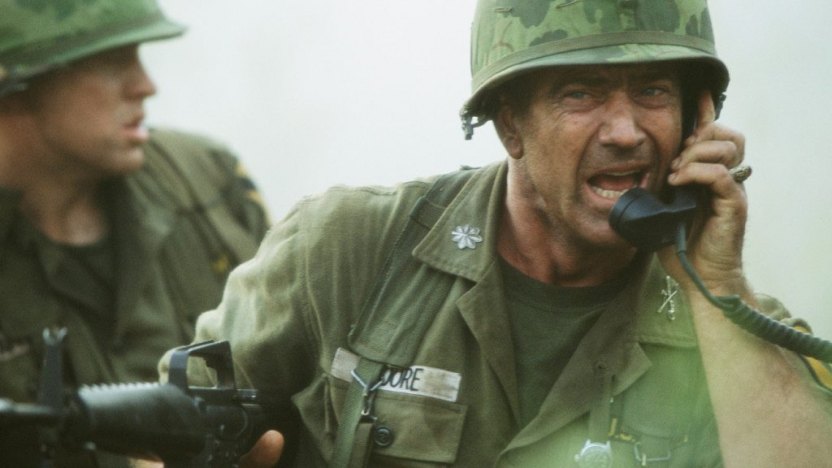 'We Were Soldiers', an American war film starring Mel Gibson, was released in 2002 to much fanfare and positive responses from critics who heaped praises on the movie's direction, acting and accurate depiction of the Battle of la Drang during the Vietnam War. If you want to watch a dramatic portrayal of war played out by an adept cast, and have about two-and-a-half hours to spare, 'We Were Soldiers' definitely comes recommended.
Read More: Movies Like Apocalypse Now