"The Graduate", a film that has marked its place in history's filmography with its excellent coming-of-age story starring Dustin Hoffman as Benjamin Braddock and Anne Bancroft as the famous Mrs. Robinson. Winning the Academy Award for Best Director, it's a film that won't make us forget the nervousness and innocence of the 21-year-old and the confidence and seduction of the married woman twice his age. In the midst of the intriguing infidelity and romantic conflicts that ensue because of it, we have a character questioning society, in a film following the changing sexual conventions of an era, where two generations face a societal shift of attitude towards life.
With that said, "The Graduate" is truly unique, however when looking for similar themes, characters or settings these are the movies like The Graduate that are our recommendations. You can watch several of these movies like The Graduate on Netflix, Hulu or Amazon Prime.
12. Kramer vs Kramer (1979)
12 years later, Dustin Hoffman did not play a teenager conflicted with his future anymore. Instead, he landed himself in "Kramer vs Kramer", depicting a middle-aged father conflicted in a divorce battle and the rekindling of his relationship with his young son. In an incredible role that gave him the pleasure of winning an Academy Award for Best Actor, he graciously portrayed the evolution of a man in a film that shows the mother's and father's opinion and perspective with an equal weight of importance. Let's also give a round of applause to the incredible performance of Meryl Streep as the mother, which landed her an Academy Award and Golden Globe.
Read More: Movies Like Sicario
11. Annie Hall (1977)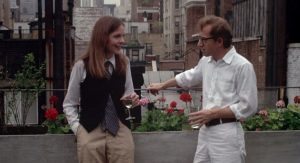 Woody Allen's famous film "Annie Hall" depicts subjects about sexuality, love, relationships and stereotypes amongst intricate explorations in each character and the connection to the other ones involved. It focuses on neurotic 40-year-old New York comedian Alvy Singer, played by the director himself of course, who reflects on the cause and explanation of his one-year-old breakup with Annie Hall. Going back to the ups and downs of the relationship, much is taken into consideration and a psychological analysis is found to be elemental in this romantic comedy "à la Woody".
Read More: Movies Like The DUFF
10. Rumour Has It (2005)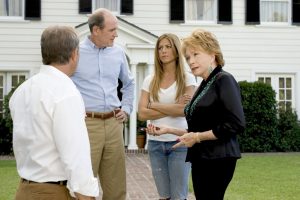 40 years after "The Graduate" somebody had the idea of bringing the iconic story back to the surface, through a completely different approach and style. Although it isn't set in the 60's and doesn't necessarily comprise similar themes, moods or technical resemblances, we can not but feel intrigued to hear about Mrs. Robinson once more. Starring a handful of great actors, "Rumour Has It" is a light-weighted comedy with enough laughs in the pocket to entertain its audience. It tells the story of Sarah, who discovers that her mother and grandmother are the inspiration for the book and film about the Braddock teen. Naturally, she immediately wants to find out who the man was.
Read More: Movies Like Marley And Me
9. Rain Man (1988)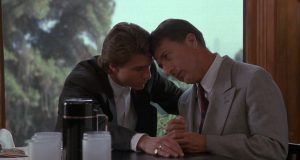 In order to perceive the immensity of Dustin Hoffman's talent, "Rain Man" is a must-watch for every film-lover in the room. In a way the mental state of his character here (as an autistic savant) could almost be an enhancement of the confusion and conflicted mindset of the graduate in relation to his future and romantic situation. The power of human connection and friendship over materialistic values shows its importance in this touching story, where an arrogant and selfish man finds his wealthy heritage given to his autistic brother, whom he has never met before.
Read More: Movies Like Dazed and Confused
8. Bonnie and Clyde (1967)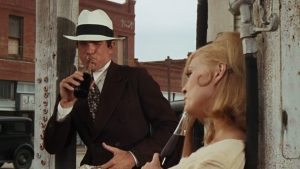 Bonnie Parker and Clyde Barrow are known for their iconic image as the one and only bandit couple, rebellious against society, satisfying their boredom through bank robbing and stealing of cars. Directed by Arthur Penn, it got its release in the same year as Benjamin Braddock's sexual experiences and self-discovery. By narrating the tale of these two criminal lovers, this biographical drama uncovers more about the individuals than meets the eye. In a similar way, it unfolds taboo themes and opens doors to controversial issues and the possibility of portraying sex and violence on screen, which was raised through the changing viewpoints of the 60's counterculture.
Read More: Movies Like Blue Crush
7. Ghost World (2001)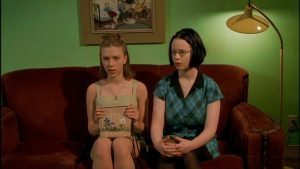 In the realm of coming-of-age movies, "Ghost World" stands high as a black comedy with an intelligent travel through the troubled and conflicted minds of teenagers. Portrayed by Jane Burnham and Scarlett Johnsson, two outcasted adolescent girls decide to prank a lonely man and his ad for a date, only to find themselves feeling pity for him, and perhaps also for themselves. As one of them decides to help the man out in his romantic quest, they slowly drift apart and learn to overcome their struggles in separate ways.
Read More: Movies Similar to The Godfather