"The DUFF" is a typical American high school movie with comedy and romance. Bianca is a content high school senior whose world is shattered when she learns the student body knows her as 'The DUFF' (Designated Ugly Fat Friend). Now, she enlists Wesley, a slick but pleasant jock, to help reinvent herself. We have tried to come up with a list of some great films similar to The Duff that are our recommendations.You might be able to stream some of these movies like The Duff on Netflix or Amazon Prime or even Hulu.
20. Pretty in Pink (1986)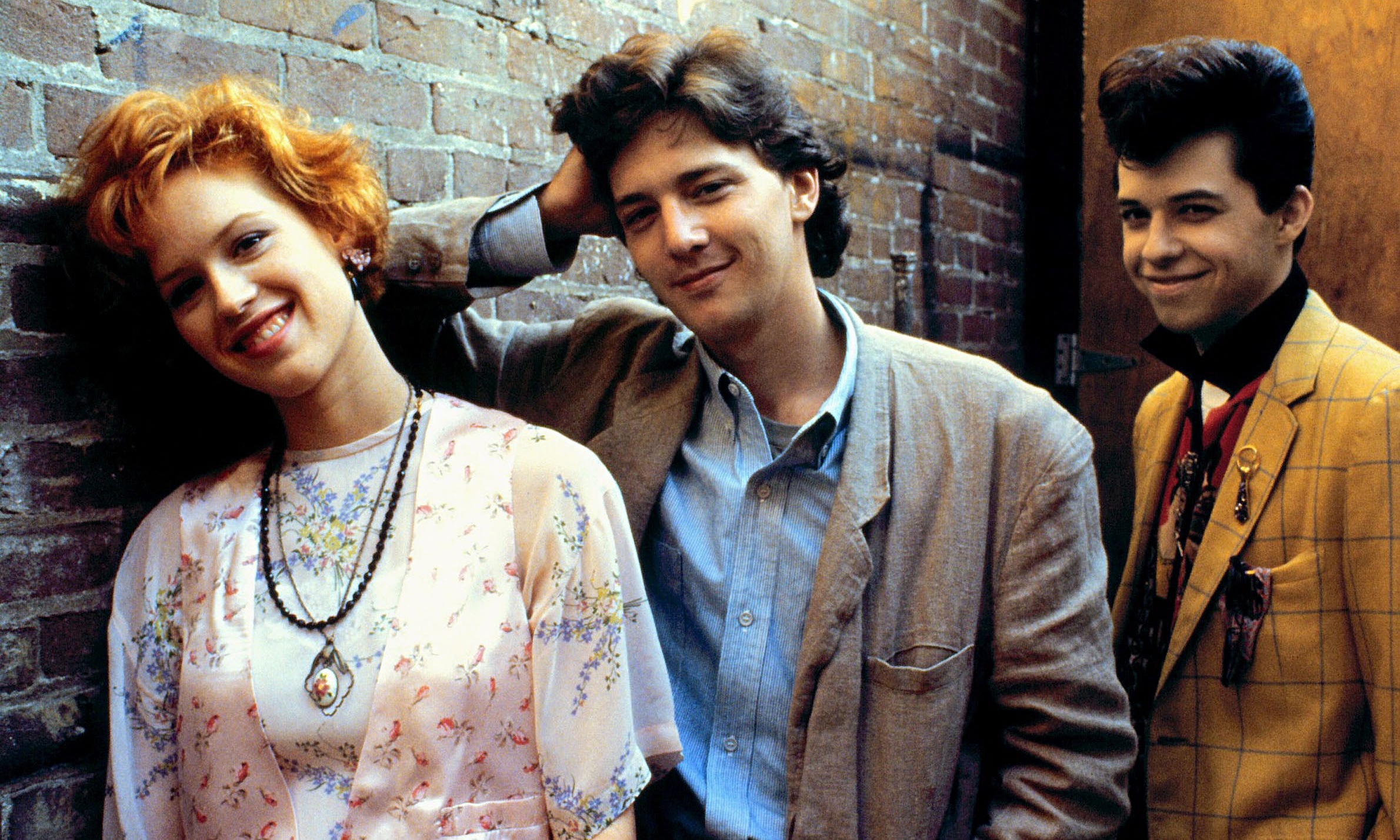 Andie (Molly Ringwald) is not that popular in high school. She usually hangs out with her friends Iona or Duckie. Duckie has always had a crush on her, but now she has met a new guy, Blane. He is rich and popular, but can the two worlds meet? Written by John Hughes and directed by Howard Deutch, "Pretty in Pink" perfectly capture the social and family problems of teenage girls in the 80s. Ringwald gives an amazing and surprising performance. Moreover, this romantic comedy has an upbeat soundtrack that helps you a lot enter the spirit of the movie. If you liked "The Breakfast Club" and "The Duff", you will enjoy this one.
Read More: Movies Like Friends With Benefits
19. Jawbreaker (1999)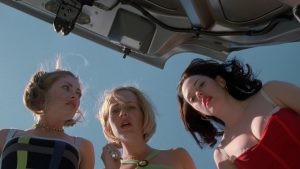 Although considered a black comedy movie, the typical clannish trio of proud, arrogant and superficial girls is very present in this similar movie. This clique played by Rose McGowan, Rebecca Gayheart and Julie Benz becomes responsible for a prank gone horribly wrong, when they accidentally kill one of their members and most popular girl in high school. Despite the fact that it is poorly rated, this clash between high school sweetness and innocent youth with this irreversible deathly act gives this movie a darker and different tonality which together with the 9o's colourful costumes and Rose's devilish character, is nevertheless very interesting to watch.
Read More: Movies Like Limitless
18. She's All That (1999)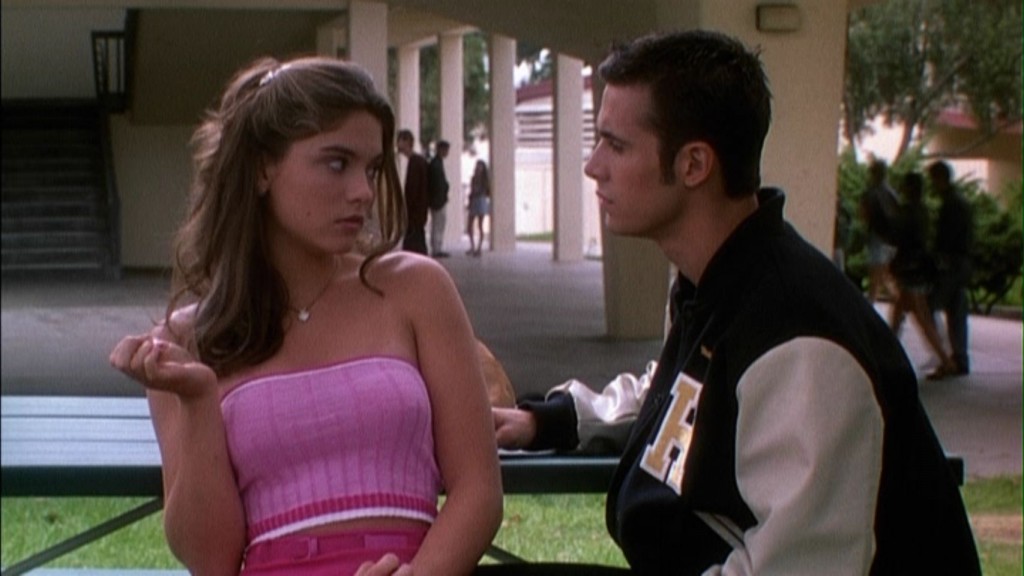 Another "feel-good" movie included in this list that brings us back to the same concept of The Duff is this romantic comedy about a high school jock named Zack (Freddie Prinze Jr.) that makes the bet with a friend he can turn the most unpopular and plain-looking girl into that year's prom queen within the time frame of six weeks. We can naturally predict from the start what is going to follow in this fun light entertainment piece but the process of it is still exciting, even if we've seen it before, over and over.
Read More: Movies Like 10 Things I Hate About You
17. The Breakfast Club (1985)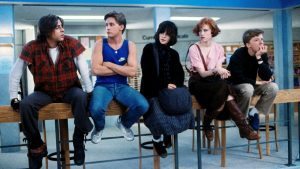 "The Breakfast Club" follows five students with nothing in common, faced with spending a Saturday detention together in their high school library. This group has a Brain, an Athlete, a Basket Case, a Princess, and a Criminal. At 7 a.m., they had nothing to share, but by 4 p.m., they had bared their souls to each other and become good friends. John Hughes' movie brilliantly captures the environment and social life of the 80s. "The Breakfast Club" might have a simple plot but every character is three-dimensional. It is a classic teen movie that shines through its complex, compelling characters.
Read More: Movies Like Marie Antoinette
16. Heathers (1988)
A classic from the 80s, "Heathers" is "The Duff" with a very dark twist. Winona Ryder is Veronica, a girl trying to survive the social jungle that is high school, by hanging out with the three most popular girls in school (all named "Heather"). When she meets JD (Christian Slater), she enters into a spiral of hate, murder, and revenge. The film became a cult classic due to the charisma of the couple of misfits that Rider and Slate interpret but also because of its dark atmosphere. "Heathers" is not for everyone, its dark comedy and obscure approach on the high school drama may be seen as over dramatic. However, the controversy is one of the factors that turn this one into a film you should watch.
Read More: Movies Like The Color Purple
15. Girls Just Want To Have Fun (1985)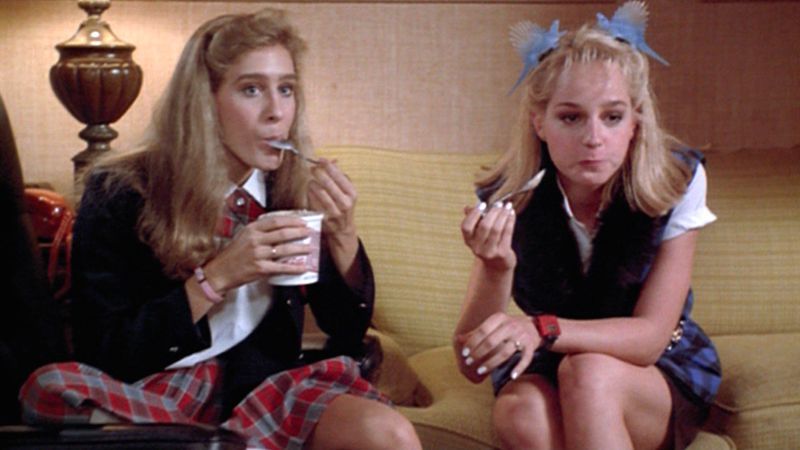 Sarah Jessica Parker shines in this American dancing romantic comedy which contains all the aspects we seek to find in a vibrant upbeat coming-of-age movie. From new friends, dreams and hopes to enemies and indisputable rivalry, this one has got it all for an energetic amusing evening. It all starts with Janey Glenn, a dance enthusiast, moving to Chigaco and finding the opportunity to audition at a competition for her favourite show, Dance TV. If you want what the title suggests, this is the movie to watch.
Read More: Movies Like Now You See Me
14. Clueless (1995)
In 1995, Amy Heckerling wrote and directed "Clueless", a movie about high school, popularity, and fashion. Cher, a high school student in Beverly Hills, must survive the ups and downs of adolescent life. Her external manner at first seems superficial, but it hides her wit, charm, and intelligence which help her to deal with relationships, friends, family, school, and social life. This movie became a classic of the high school/teenage gender due to its funny script and great performances. Alicia Silverstone, Paul Rudd, and Brittany Murphy are just some of the actors of this big, remarkable cast. Overall, "Clueless" is one of the most original teen-flicks of the 90s and it certainly deserves a watch.
Read More: Movies Like Clueless
13. 10 Thing I Hate About You (1999)
An updated version of Shakespeare's "Taming of the Shrew", this movie follows Kat that would rather die than go out with a boy. However, her sister Bianca is dying to go out with Joey, but she is only allowed to do it if her older sister also starts dating. Bianca's desperation for romance turns into an intricate scheme to match Kat with someone. A lot of teen movies have very basic or clichéd plots, but not this one. "10 Things I Hate About You" has a lot of interesting twists and a music score to die for. Moreover, Julia Stiles, Heath Ledger, and Joseph Gordon-Levitt have amazing performances.
Read More: Movies Like 10 Things I Hate About You
12. Confessions of a Teenage Drama Queen (2004)
This movie follows teenager Mary Elizabeth Steppe, a.k.a. Lola, when she moves with her mother and two younger sisters from New York to the suburb of Dellwood, New Jersey. Now, she is struggling to stand out and has to reinvent herself and fit in her new school. "Confessions of a Teenage Drama Queen" is an entertaining and light-hearted teen comedy with a storyline based on the new girl vs popular girl. Starring Lindsay Lohan, this is a well-written, well-casted and well-acted movie for fans of "The DUFF".
Read More: Movies Like The Prestige
11. The Last Song (2010)
Ronnie's (Miley Cyrus) and her younger brother, Jonah's, parents are divorced. They live with their mother until this summer when they are sent to live with their father (Greg Kinnear) in a small town on the beach. Through their mutual love of music, the estranged duo learns to reconnect. Based on the novel of the same name by Nicholas Sparks, "The Last Song" is a romantic, sad movie about teenage angst and finding love despite non-supportive parents.
Read More: Movies Like Bad Moms
10. Bring It On (2000)
In Peyton Reed's exuberant teen sports drama, Kristen Dunst plays Torrance Shipman, the leader of the cheerleading team who needs to get the very best out of her team to win competitions. "Bring It On" is an entertaining movie with great cheerleading choreographies and performances. Dunst fits the role like a glove and she manages to bring the required exuberance, liveliness and charm to the role that turns the film into an exhilarating experience despite its trite plot-line and occasional narrative meandering.
9. The To Do List (2013)
Brandy Klark (Aubrey Plaza) has just graduated from high school where she excelled in every subject, except real-life sexual education. Feeling pressured to become more sexually experienced, Brandy makes a list of things to accomplish before going to college. Although this film does not bring anything new to cinema, it does innovate by putting female characters as the leads. With competent direction, solid cast and good dialogue, "The To Do List" is a teen comedy men and women will find entertaining and hilarious.
8. Two Night Stand (2014)
A snowstorm forces two people who made an online connection to unwillingly extend their one-night stand as the blizzard goes through the night. "Two Night Stand" is an original romantic comedy starring Analeigh Tipton and Miles Teller. The characters, structure and the ending make it a different romantic comedy. By exploring a reasonably believable scenario and by having a smart and funny dialog, director Max Nichols was able to create a connection between the characters and the audience.
7. Napoleon Dynamite (2004)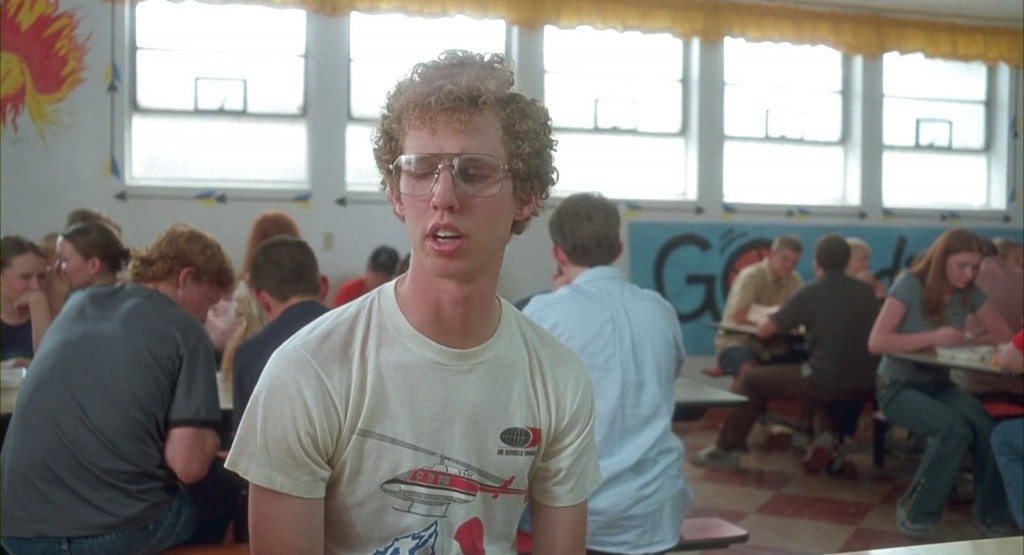 A listless and alienated teenager decides to help his new friend win the class presidency in their small western high school, while he must deal with his bizarre family life. Written and directed by Jared Hess, "Napoleon Dynamite" is one of the weirdest, funniest movies out there. Although it is not for everyone because it has a unique style, this teen nerd story is a breath of fresh air with hilarious and awkward jokes. Moreover, Jon Heder is perfectly cast as the awkward, dorky Napoleon. Just give it a try and you will be surprised.
6. She's All That (1999)
This movie follows a high school jock after he makes a bet that he can turn an unattractive girl into the school's prom queen. Although the plot is not that original, the script is really funny. Besides that, Freddie Prinze Jr and Rachael Leigh Cook play the characters amazingly. They give you a great impression of the character and how they react when faced with different situations. This is an amazing typical romantic teen movie that will make your heart melt.
5. Can't Hardly Wait (1998)
"Can't Hardly Wait" is a teenage comedy about high school graduates with different agendas on graduation night. 500 high school seniors look forward to graduation party while, in the meantime, a boy wants to get a girl he's in loved for years who just broke up with her boyfriend. We follow this night, where people have sex, drink, and go along with most of the guidelines of a high school graduation party. The cast of this film involves Jennifer Love Hewitt, Ethan Embry, Seth Green, and Lauren Ambrose.
4. Mean Girls (2004)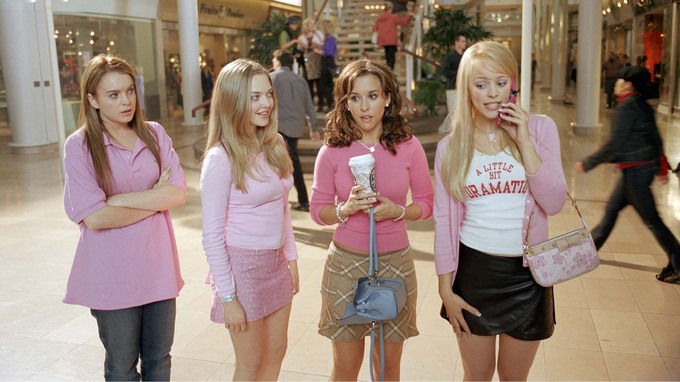 Lindsay Lohan is Cady Heron, a teenager that has been homeschooled her whole life. She moves from Africa to the USA and has to attend a public high school for the first time. The high school is ruled by "the Plastics", three rich girls that are not very smart but are incredibly mean. After some conflicts, Cady becomes involved with them but becomes conflicted: should she sabotage them or really become a part of their group? The film is famous for its accurate portrait of an American high school and the complex relationships in this young age.
Read More: Movies Like Mean Girls
3. That Awkward Moment (2014)
Starring Zac Efron, Miles Teller, and Michael B. Jordan, "That Awkward Moment" is an entertaining comedy about three best friends that find themselves in the same situation. They must decide where their relationships are going. This movie is the typical bromance film with a lot of hilarious jokes and some cliché moments. However, its unconventional humor and romance side will satisfy you.
Read More: Movies Like Mirror Mirror
2. LOL (2012)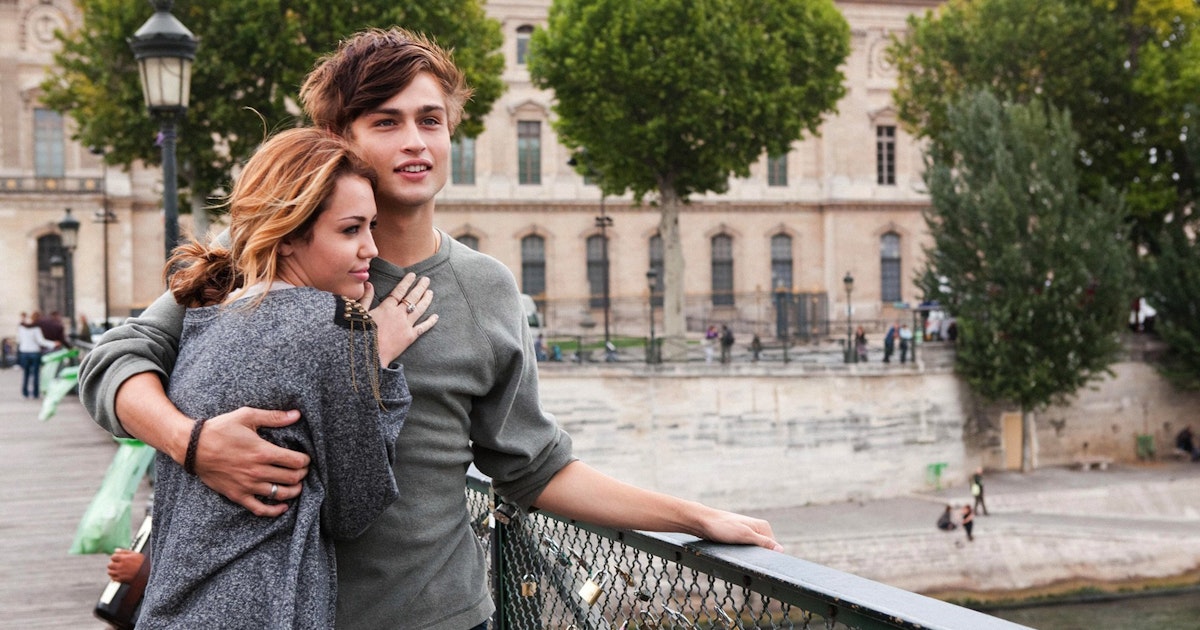 In a world connected to YouTube, iTunes, and Facebook 24-7, Lola (Miley Cyrus) and her friends navigate the pressures of high school romance and friendship while dodging their sometimes overbearing and confused parents. If you enjoyed "The DUFF" you will probably enjoy this teen melodrama starring Miley Cyrus. The cast also includes Demi Moore, Thomas Jane, Gina Gershon, and Jay Hernandez.
Read More: Movies Like Flipped
1. Easy A (2010)
"Easy A" is an interesting tribute to John Hughes (creator of "The Breakfast Club"). It is a modern high school tale about Olive, a lonely girl who lies about losing her virginity to her best friend, but soon that rumor spreads and she is called a slut. Initially mortified, Olive parades around the school wearing an 'A' on her clothing, a reference to the famous novel "Scarlett Letter". This is a film that is very easy to love. Because of its relatable, sarcastic comedy and great performances, "Easy A" quickly became a classic of high school/teen comedies. Moreover, it has a vibrant script and an incredible music score.
Read More: Movies Like Pitch Perfect