"Mirror Mirror", the 2012 adaptation of the universal fairytale "Snow White" is a fantasy film for great entertainment and long-lasting laughs. With Julia Roberts as the evil stepmother and Lily Collins as the girl with skin as white as snow, it is a delight for every tale-lover, who's dive into a fantastical world of magic is promised to be excruciatingly funny and visually impressive. We've all grown up with fairy tales of princesses, pirates and evil queens, who have given our imagination wider wings to fly in a world where all these enchanting spells don't exits.
Luckily, we've been given a wide range of creative innovations in the fantasy genre and beautifully satisfying adaptations of traditional folktales or previous animated retellings. Let's not waste one more minute and jump right into list of movies similar to 'Mirror Mirror' that are our recommendations. You can watch several of these movies like Mirror Mirror on Netflix, Hulu or Amazon Prime.
12. The Brothers Grimm (2005)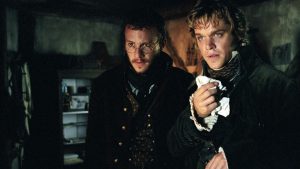 Terry Gilliam takes the plunge into a dark adventure through the fantastical woods of traditional tales, by directing this fantasy film starring Matt Damon and Heath Ledger. Set in the early 19th Century, it follows the story of two brothers, an imaginative portrait of the folklore authors Grimm, who here, are con-artists, traveling through the lands of Germany. While their business is usually about setting up fake witches and ghosts themselves in order to then "defeat" them and fill their pockets with rewards, it reaches a stop when encountering a village that is truly under a magical curse, as the female villagers are slowly disappearing and leaving a mystery unsolved. Although flawed, it gives us an exciting mix of tales, through iconic elements we all recognize, in between the walls of a comedic and adventurous narrative.
Read More: Movies Like The Kissing Booth
11. Peter Pan (2003)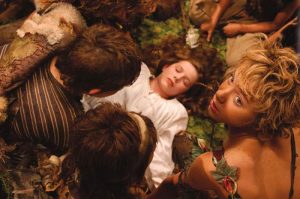 Another childhood tale that every kid must have heard of and seen through the 1953 Disney animation film. Here, is it interpreted through actual actors and gives the whole a different type of magical feeling. Perhaps it enhances the hope that this Neverland might even exist…somewhere, an illusion filmmakers cover well. With a great cast and well-crafted visuals, its close depiction of the original story successfully conveys all the feelings we once felt and all the dreams we once dreamed. Adventurous, comical and romantic, it's got it all for a family evening reviewing a classic fairytale, with mermaids, pirates and the wonderful ability to fly through the nightfall clouds.
Read More: Movies Like Room
10. Alice In Wonderland (2010)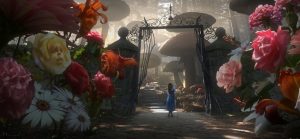 Lewis Carroll's fantasy adventure tale was put in the right hands for its live-action feature-length screen adaptation. Who else to create such a magical and visually stunning atmosphere and world other than Tim Burton, who amazed his audience with the impressive construction of Willy Wonka's Chocolate Factory, just 5 years before. Staring Mia Wasikowska as Alice, Johny Depp as the Mad Hatter, Helena Bonham Carter as the Red Queen and Anne Hathaway as the White Queen, this film is an incredible adventure into a creative and imaginative mind, full of exotic wonders and enchantments that we can finally bring to life with today's limitless technology.
Read More: Movies Like Inside Out
9. The Chronicles of Narnia: The Lion, the Witch and the Wardrobe (2005)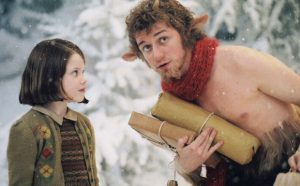 Who didn't wish their closet turned into a magical portal to another world, after watching the incredible screen adaptation of C. S. Lewis' first novel of the series? It definitely amazed the world, and gave all dreamers the opportunity to dive into a new magical land full of unknown creatures and supernatural powers. This story, first published in the mids of the 20th Century, narrates how four siblings discover a passage to the fantasy world of Narnia, in which the evil White Witch, iconically played by Tilda Swinton, must be taken down. A classic for the latest generation and a must-watch for everybody else.
Read More: Movies Like Florida Project
8. Oz The Great and Powerful (2013)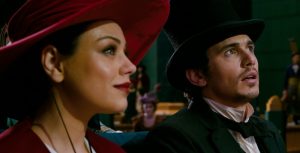 It is tricky to take one of the most beloved fantasy films of all times and expand on its 1939 story by going back to the past and re-entering the magical world of "The Wizard of Oz". However, this Disney production managed to take out the elements we all loved and bring a new and technically incredible production to the screen, with a variety of well-known actors and a breath-taking production design. Although never as good as the charm of Dorothy's dream, it's a solid piece of fantasy that entertains and surely honours the masterpiece. It is set 20 years before the original story's events and recounts the adventures of a misleading magician (who would become the Great Wizard), arriving at the Land of Oz and facing a conflicting situation revolving around three witches, who's names we can certainly remember. Starring James Franco, Michelle Williams, Rachel Weisz and Mila Kunis, take from it what you want and enjoy!
Read More: Movies Like Cruel Intentions
7. Maleficent (2014)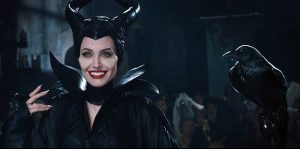 We all know the fairytale of "Sleeping Beauty", which in some ways feels similar to the one of "Snow White". Both have an evil and powerful character who wants to own the kingdom and chase the beautiful protagonist away. Well, "Maleficent"shakes things up a little bit and let's us put on the shoes of the antagonist in a story that was previously conducted by the beautiful princess Aurora. Now, it's Maleficent who rules the stage as she follows through the story we've been told before. In it, we find out that evil might not be as evil as thought, and that choices and attitudes often reside on past occurrences. A film that could open doors for character development for all those dark and wicked witches whose reasons to be who they are, aren't always thoroughly explained. Angelina Jolie, is simply terrific.
Read More: Movies Like Rashomon
6. Beauty and The Beast (2017)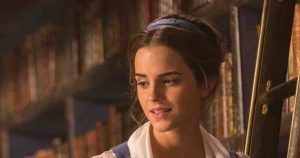 Based on Disney's 1991 animated film, it marvels and inspires as much as it did back then, 26 years ago. Although some aspects differ, it mostly sticks closely to the initial narrative, simultaneously giving a refreshing adaptation with new faces and voices. Being a musical, one can not but sing along to the songs we remember from the past, which are graciously interpreted by the perfect casting choice : Emma Watson. All characters are wonderful in their whole, the costume and set design is splendid and let's not even go about the dining hall scene with the living objects giving a show. Truly successful at transitioning the animated tale into a live-action, it managed its place as the highest grossing film of the year. A must-watch for every piece of magic it entails.
Read More: Movies Like Get Out
5. Into The Woods (2014)
Welcome to a musical fantasy film that takes pieces of well know fairy tales from the Brothers Grimm and incorporates them in an ensemble of magical characters that will lead your way into the woods. A baker and his wife desperately want a child, however a curse has been laid upon them by an evil witch. Arriving at the couple's house, she offers to reverse the spell in exchange of a cow as white as milk, a cape as red as blood, hair as yellow as corn and a slipper as pure as gold. These crucial elements bring forwards the famous stories of "Jack and the Beanstalk", "Little Red Riding Hood", "Rapunzel" and "Cinderella". With a wonderful cast including Meryl Streep, Emily Blunt, James Corden, Anna Kendrick and Johnny Depp, we have a tale within tales that enchants and simultaneously defies the cliché "happy ending", twisting it into a different result.
Read More: Movies Like If I Stay
4. Tangled (2010)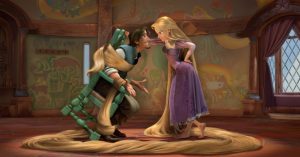 Ranked as the most expensive animated movie ever made, "Tangled" is a jewel in the mids of Disney's latest "princesses". It's hysterically funny, sweet and charming, leaving nothing behind but peacefulness and serenity, after witnessing a story you will literally remember the musical lines from. It takes a modern twist and Hollywood-style approach at the traditional tale of "Rapunzel", a young and beautiful girl with long blonde hair, imprisoned in a high tower with no stairs or door to come down. Here, we get a thief instead of a prince and a wonderful adventure of self-discovery instead of an unfortunate turn of events. Magically exciting and colourfully eventful, "Tangled" owns all the best features of Disney's art in a solid, visually stunning and sincere outcome.
Read More: Movies Like Legally Blonde
3. Stardust (2007)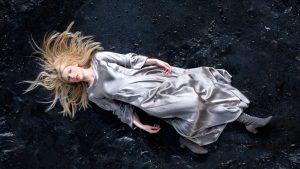 From all the extraordinary worlds we sometimes dreams to escape to from our ordinary lives, the one capacitating this story, is as fascinating as any other we adore. Touching upon eternal youth, love and adventure, just like most do, comes a fantasy story about a young man and his hopes to marry his crush Victoria. Tristan lives in a town called Wall, which borders to a magical kingdom going by the name of Stormhold. In exchange of his lover's hand he enters this incredible place in order to find a fallen star, which to his surprise is a young woman with golden hair. However he's not the only one searching for this mysterious beauty as many more characters come along to shake his path into an eventful adventure. If you want to see Michelle Pfeiffer in a powerful role as a devious witch or Robert De Niro as a pirate captain, turn in, and enjoy.
Read More: Movies Like The Italian Job
2. Enchanted (2007)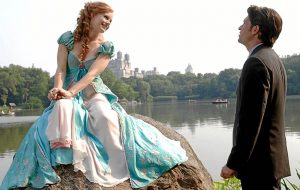 "Enchanted" is, like it states, truly enchanted from head to toe. It's an adorable and fun fantasy comedy which takes the stereotypical Disney princess into another dimension, which naturally means it'll comprise a ton of romance and melodic songs. With an irresistibly sweet and innocent Amy Adams as the main protagonist, we got a plot that works its magic from start to end. The beautiful redhead plays the part of Giselle, a young woman about to marry a prince in the fictional animated kingdom of Andalasia. Not wanting to give up her throne, Queen Narissa bumps her into a magical well that travels through different worlds, landing the bride in the live-action city of New York. This transition from the traditional Disney animation to the real faces of actors and locations is creative, wonderful and gives film the ability to show its heartwarming magic.
Read More: Movies Like Transformers
1. Cinderella (2015)
From all the magical tales of our childhood, this one is perhaps one of the most memorable and recognisable from all the best fairy stories that have enchanted us through the ages. Although a modern adaptation with more beautiful and prestigious costumes and advanced marveling visual effects, it stays true to the traditional fable of Disney's 1950 animated film. With an amazing cast that does a great job impersonating these iconic fictional characters, a breathtaking score and a nostalgic romance englobing the various themes, the story of the shimmering glass shoe works its spell and fits this live-action movie like a glove.
Read More: Movies Like A Star is Born