Unfaithful is a movie about sexuality that really throbs with eroticism. A film that is makes an acknowledgment that sexual passion is often beyond the grasp of rationality. Adrian Lyne is a master in the 'erotic thriller genre' and in Unfaithful he comes to realise his full potential. Infidelity in films or not is unsettling and makes one uncomfortable. Lyne through his movies is able to generate the haunting and disturbances of adultery. He has attempted to do this several times now and has learned to master it. It is not an artsy erotic film like Kubrick's 'Eyes Wide Shut', but it is not mainstream as well.
Many audiences during the time questioned the film and criticised its apparent 'lack of moral values'. Of course it's not an inspiring film or something that will make you feel good. But what Lyne manages to do through his films is create drama, and using drama to create something that is thrilling and suspenseful. If you like erotic thrillers, or films that include cheating spouses then you might want to check this out, here's the list of movies similar to Unfaithful that are our recommendations. You can watch some of these movies like Unfaithful on Netflix, Hulu, or Amazon Prime.
12. Asylum (2005)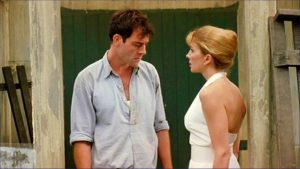 ASYLUM is a 2005 Anglo-irish film directed by David Mackenzie. It follows a woman whose marriage is destroyed when begins an affair with her husband's psychotic patient. It is an adaptation of a same-titled McGrath novel, rewritten into a script by Patrick Marber. Asylum is a well-crafted and intense erotic thriller that succeeds in creating a dark atmosphere throughout. The darkness creeps through subtly and insidiously. The film is well acted and the story is gripping. Mackenzie directs this with great style and develops the characters very well.
Read More: Movies Like Irreversible
11. Indecent Proposal (1993)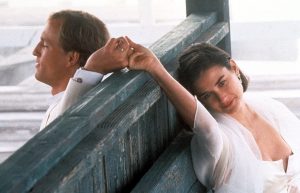 Another Adrian Lyne film in the list, I told you he was a master at this. Indecent Proposal is a 1993 American drama film based on the novel of the same name by Jack Engelhard. The film stars Robert Redford, Demi Moore and Woody Harrelson and is about a billionaire who offers a million dollar to spend a night with a man's wide. The film starts with humour and the tone is light-hearted, but as it progresses it begins soon the film to follow a darker tone. Demi Moore is very good with her acting and delivers a memorable character. Overall it does a good job making the audience go through the roller coaster situation with the characters.
Read More: Movies Like The Shining
10. Caught (1996)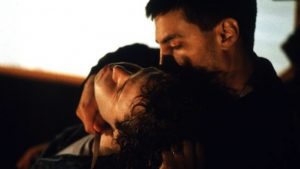 Caught is a 1996 directed by Robert Young that follows a bored middle-aged couple whose life changes when a drifter moves into their home and begins to stir up passions.The film stars Edward James Olmos, Arie Verveen, María Conchita Alonso, and Bitty Schram who are all perfectly casted. Caught is a film that offers solid character development and explores the wide range of human emotions. It's a rollercoaster ride from the word go. The tension that the film builds glues you to your seat and remain in your mind.
Read More: Movies Like The Incredibles
9. Match Point (2007)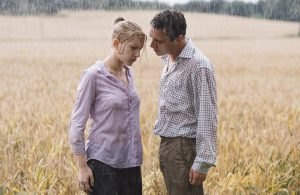 Match Point is a 2005 British psychological thriller film written and directed by Woody Allen. The film was screened out of competition at the 2005 Cannes Film Festival and was a commercial success upon its release. The film follows a tennis player who begins an affair with his brother in laws girlfriend. Like all Woody Allen films, Match Point is a cleverly written script with witty dialogues and loveable characters. The actors are perfectly casted in their roles and performs wonderfully. Cinematography in the film is also top-notch and a feast for the eyeballs. It is philosophical and thought-provoking at the same time, and will have you talking about it later.
Read More: Movies Like Knocked Up
8. Leaving (2009)
Leaving (French: Partir) is a 2009 French film directed by Catherine Corsini, written by Corsini and Gaeelle Mace, and starring Sergi López and Kristin Scott Thomas. It follows a well married mother whose bourguise lifestyle and begins an affair with a man whos supposed to help build her office. Kristin Scott delivers a masterful performance that is painfully realistic and very broad in range. Like a true French film, the film is rich in realism and does not force any unnecessary drama. The chemistry feels real, the script is not spoofed and the cinematography is well shot. Just what you need in a drama.
Read More: Movies Like Love, Rosie
7. The Door on the Floor (2004)
The Door in the Floor is a 2004 American drama film written and directed by Tod Williams. The screenplay is based on the first third of the 1998 novel A Widow for One Year by John Irving. In the film a couples once-great marriage has been strained by tragedy. Ted a renowned writer hires a young assistant but things take a toll when his wife begins an affair with the young student. First and foremost Jeff Bridges is extraordinary in the film. His subtle and nuance capture of the character is simply brilliant. Besides him Kim Basinger also does not disappoint. One of the main reasons the film works is because of its simplicity. From its script, to its cinematography to its acting, the film works simple yet effective.
Read More: Movies Like Hacksaw Ridge