Pregnancy can be the most exciting event of a couple's or individual's life or the most terrifying, depending on the situation and the character's feelings towards it. Although sometimes unwanted, sometimes not possible, sometimes involuntary, the birth of a child is one of the most beautiful episodes of one's existence as it is the creation of new life, of a new generation and of the continuity of a family, of people and of the world. Pregnancies occur often during the storylines of many films, varying in genre, length, depth or style but it is different when they focus on pregnancy as the main theme driving the plot forward.
One such movie dealing with the challenges of pregnancy is 'Knocked Up'. It is a film that's fresh and humorous which makes predicable a good and relieving thing when aiming for a feel-good, relaxing film. "Knocked Up" takes a comedic look at the pregnancy process between a man and a woman…who truly did not consciously plan the baby and who actually don't even know each other. The child in Alison's belly is the fruit of a one-night-stand with party-animal Ben, after her job promotion celebration took a step further than she was expecting. However they both pull it together and by overcoming obstacles on the way, start to get to know each other in this joint adventure. From the same director as "The 40 Year Old Virgin", this film promises laughs and giggles, funny vulgarity and complete characters, not to mention that it has a lot of heart showing sweetness and emotion over the subject. Here's the list of films similar to 'Knocked Up' that are our recommendations. You can watch some of these movies like Knocked Up on Netflix, Hulu, or Amazon Prime.
12. Junior (1994)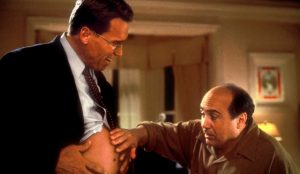 This hilarious comedy is worth a watch for its original twist at the regularity of pregnancy and its amazing cast consisting of Arnold Schwarzenegger, Danny DeVito and Emma Thompson, amongst others. For the sake of a scientific experiment, a geneticist (Schwarzenegger) decides to secretly impregnate himself and carry an unborn child from a donated ovum named "Junior", making him the first pregnant man of the world. The comedy of seeing him turn into a woman (to a certain extent) and feel the pregnancy symptoms makes it all the better and funnier considering the contrast of the usual buffed and brawny image we have of the ex-bodybuilding actor playing the role. A charming and light-hearted comedy that takes pregnancy and turns it upside down through Ivan Reitman's directions.
Read More: Movies Like Superbad
11. Generation (1969)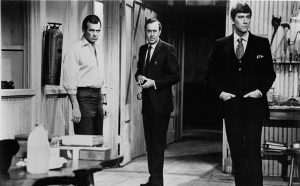 This pretty unknown 1969 film stars Kim Darby as a young woman named Doris Bolton who is nine months pregnant and almost ready to deliver. Together with her photographer husband, they decide they want the delivery of the baby to occur in the most natural form possible, against the standards of society, at home, with no drugs, doctors or external help. This decision shocks and worries Doris' businessman father who immediately flies to New York in order to attend and help this unconventional childbirth. "Generation" is a charming and amusing piece of work depicting the encounter of different characters, enchanting the screen with funny lines, on the most important event of life : the birth of a child and of a new generation.
Read More: Movies Like The Maze Runner
10. Shelley (2016)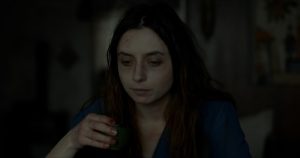 This Danish horror film is probably not the best choice for any pregnant women out there at the moment, but a true delight for the chilling-atmosphere-seeking viewers. The strange and mysterious mood set out all along the story has a powerful consistency and the isolating tension is injected under the skin with its slow-paced storyline. Although vague, it gives space to the viewer's interpretation and contains a message through its characters that is important to notice. So, what is it all about? The story is simple and observes how a couple living in a lake-house welcome their new Romanian maid and later ask her if she's willing to carry the wife's child, as she's not physically capable of doing so, in exchange of a paid apartment for the maid and her 5-year-old son. She accepts, however things seem to become strange around the house and inside herself.
Read More: Movies Like Bad Moms
9. Waitress (2007)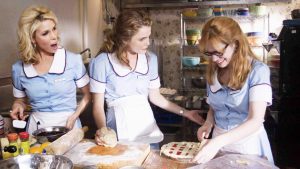 Jenna is a nice-looking young lady who leads a rather stagnated and unhappy life at the side of an arrogant and controlling husband. She works as a waitress in a diner in the American South where she also spends her time inventing new pies with funny names she comes up with, inspired by the events of her life. One of those events changes the course of her dead-end lifestyle and that's the unwanted pregnancy she unexpectedly ends up with. After deciding upon keeping it, she also starts an affair with her married doctor. In the end, all she really wants is to find happiness, and she sure deserves it. A wonderful, light-hearted, feel-good film that will bring you a storytelling adventure along honest, flawed and simply human characters!
Read More: Movies Like Hacksaw Ridge
8. What To Expect When You're Expecting (2012)
This light comedy is a simple and entertaining watch on the different processes and outcomes of pregnancies. Without having the need to dive into complexity, it introduces its audience with five different couples who in a way or the other interconnect, wether through family bonds or simple street encounters. With some hilarious performances and predictable delights, this simple concept shows us that things might not follow as predicted or as wished, however these change of plans might lead into different and perhaps better directions. As painful or easy a pregnancy might be, the beauty of bringing a child into the world remains unquestionable. With a funny cast that includes Cameron Diaz, Jennifer Lopez, Elizabeth Banks and many others, one thing's for sure : pregnancy at its best is found in here!
Read More: Movies Like The Butterfly Effect
7. 17 Girls (2011)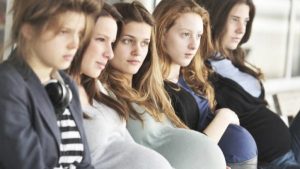 Based on a real-life story that happened in a Massachusetts high-school back in 2008, this film's story follows the pregnancies of 17 teenage girls who decide to all become pregnant at the same time after one of them does so accidentally. They all come from a home in which they feel disconnected or ignored by their parents and in order to secure this lack of love and interest, come to believe a child is the right solution for their lives. The film looks at this story from a certain distance as the understanding of each character's actions might not even truly be understood by the characters themselves. They are young girls who avoid the realistic matters of life and take the birth of a child as something less serious as it really is. An impulsive collective decision that, we'll see does not end up like the dream they had planned for. However it gives us the opportunity to see a different perspective and form of the pregnancy phase of a woman, or should i say, women.
Read More: Movies Like Coco
6. Saved! (2004)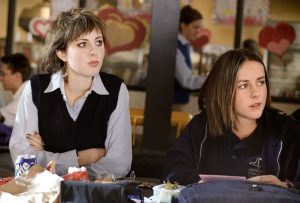 This sweet coming-of-age comedy is funny, smart and above all very entertaining. As some might say, it is a respectfully treated satire embedded in the whole teenage school ambience, promoting in the end tolerance and acceptance of each other's differences and beliefs. Set in an American Christian High School, we're faced with Mary's conflictual situation when her perfect boyfriend admits to her his realisation of being gay, which she accidentally hits her head to as a response and receives a message from Jesus where she's told she must help him in all possible ways. Interpreting it in a certain way, she gives up her virginity to "lead him back" into heterosexuality, only to find herself pregnant later on, after her boyfriend has been sent to a Christian treatment centre. Now she's faced with a secret she must hide in order to protect herself from all sorts of problems, as we can imagine, from an environment like this one.
Read More: Movies Like Malena
5. Away We Go (2009)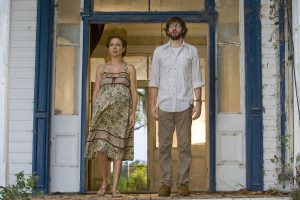 This sweet and touching comedy-drama brings us on a journey with two very likeable characters in their thirties named Verona and Burt, who discover they are pregnant and face the questions every couples asks when expecting their first child. Wanting to find the perfect place to establish their family and raise their baby, they decide to go on a trip across North America with Phoenix, Arizona as their first stop. On the way they meet and reunite with a variety of people and families who will subtly teach them to find their own path and answers to their questions. A nice film where the creation of a child leads to an odyssey of life, with surprises and misadventures on the way which makes its final destination all the more better, healthier and happier.
Read More: Movies Like Back to the Future
4. Where The Heart Is (2000)
Novalee Nation is a pregnant 17-year-old heading to California with her boyfriend Willie Jack, but is abandoned by him at a Wal-Mart store in Sequoyah, Oklahoma. Since she has no job, no skills and only $5.55 in her pocket, she decides to secretly live in the Wal-Mart until her daughter Americus is born. Based on the best-selling novel by Billie Letts, this is an incredible film starring a young Natalie Portman. At this stage, she already showed how talented she is and how promising her future would be. The character development of her character is excellent, although director Williams could have spent more time on some of the supporting characters. "Where The Heart Is" is a charming story submerged in sentiment.
Read More: Movies Like Apocalypse Now
3. A Happy Event (2011)
A French-Belgian comedy-drama about love, life and motherhood. In a perfect relationship and in the midst of a flourishing romance, Barbara and Nicolas decide it's time to have a baby. However, thinking this would only contribute to their happiness, the birth of a child unbalances the couple's relationship and conflicts their peaceful and problem-less life. A universal story told from the eyes of the characters themselves, that is, with an honest portrayal of reality. The film is beautiful in the visual form it is shown to the audience but also by its simple yet true and real storyline, where pregnancy is the most natural thing in the world, however as natural as that are the positive and sometimes negative responses or feelings to it and the struggles child-raising brings along.
Read More: Movies Like Memories of Murder
2. Rosemary's Baby (1968)
Polanski's horror masterpiece that dares anyone in the room not to feel disgusted and disturbed by the indestructible force leading, or should I say, forcing us from the beginning to the end, is a must-watch for all cinema and horror-lovers of the planet. But what has this to do with pregnancy? Well, everything really, as that is precisely what drives this story forwards. "Rosemary's Baby" takes the theme and turns it into one with a cruel fate due to the circumstances and hands its put in. On the other hand it empowers the love of a mother for her unborn child and strengthens this tight connection, physically and emotionally. Rosemary is a young innocent woman who moves into a New York City apartment with her husband Guy and quickly becomes pregnant of their first child. However, she soon realises that their friendship with the elderly neighbours contains something peculiarly strange and begins to feel paranoid over the safe keeping of her unborn baby. Not a film for pregnant women, that's for sure.
Read More: Movies Like Bicycle Thieves
1. Juno (2007)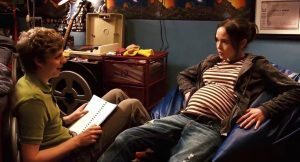 Ellen Page is remarkable in this coming-of-age film that has conquered the world with its charming comedy that tells a serious and honest story about characters we could genuinely face in the real world. To the sweet sound of the Barry Louis Polisar's "All I want is you", we follow the life of sixteen-year-old Juno, a down-to-earth and intelligent teenager who finds out she is pregnant of Paulie, her long-time innocent friend played by talented Michael Cera. A film, that inspiring choice and individual opinion, leaves her deciding on giving her child up for adoption, to a gentle couple unable to reproduce. Marvellously written, it brings the story to the audience with great realism and let's the characters speak for themselves and make the decisions they believe are right in these nine-months of pregnancy, as we all do in our every-day lives.
Read More: Movies Like Juno