Wild (released in 2012) is one phenomenal movie — starring Reese Witherspoon — based on the memoir of Cheryl Strayed – 'Wild: From Lost to Found on the Pacific Crest Trail'. This biographical drama — directed by Jean-Marc Vallee — follows the inexperienced hiker Cheryl (played by Witherspoon) as she hikes across a distance of 1,100 miles on the Pacific Crest Trail. In this inspiring journey of self-discovery, healing, and redemption, you catch glimpses of Cheryl's childhood and past via a series of flashbacks. The beautiful soundtrack, powerful quotes, and Cheryl's determination to tackle any obstacle will strike at all your emotional cords. Now, if you have already watched it, you must be searching for similar titles that shall awaken the adventurer in you. And that's why you are here! Here's the list of movies similar to Wild that are our recommendations. You can watch many of these movies like Wild on Netflix, Amazon Prime, or Hulu.
12. Eat Pray Love (2010)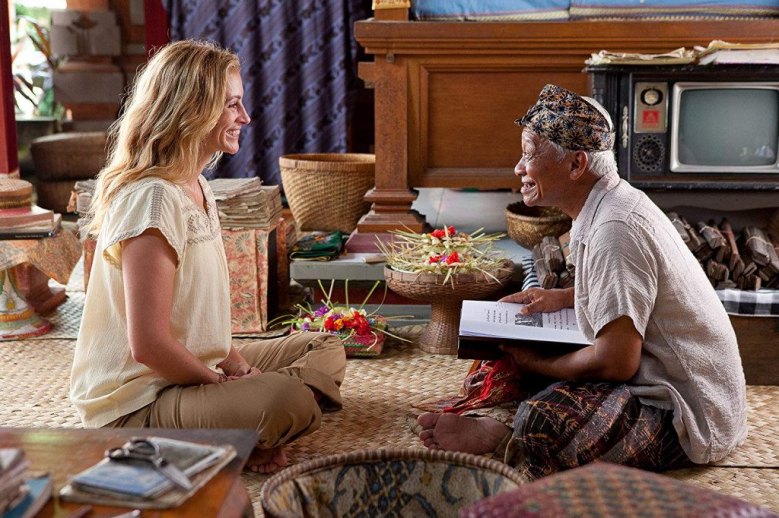 Another biographical drama, based on Elizabeth Gilbert's best-selling memoir of the same name, Eat Pray Love was directed by Ryan Murphy. This box office hit stars Julia Roberts in the lead role. The plot follows the story of recently divorced Gilbert (played by Roberts), who is successful and has everything that any normal woman would possibly desire. But she is confused about what she really wants from life. Therefore, shedding all inhibitions, she finally decides to embark on a journey of self-discovery across the globe. She travels to Italy where she learns about the satisfaction of relishing good food, India where she allows her soul to understand the power of prayer, and Indonesia where she finally experiences the balance between true love and inner peace. Simply watch it for Robert's awesome performance, lovely sceneries, and of course, the thought-provoking, sensitive storyline.
11. Tracks (2013)
Another female-centric movie, Tracks is an Australian drama directed by John Curran and starring Mia Wasikowska and Adam Driver as the protagonists. It is again a biographical adaptation of the memoir – Tracks, written by Robyn Davidson. Wasikowska plays the role of Davidson and travels across the Australian desert for a duration of nine months. For her company, she only has four camels and her dog. The entire journey is documented by Rick Smolan (played by Driver) — a National Geographic photographer. You should watch this film for its superb cinematography, gorgeous backdrops of the Australian desert, and Wasikowska's wonderful performance.
10. Into the Wild (2007)
This is definitely one of the best travel movies made to date. Into the Wild is a biographical film directed by Sean Penn and adapted from the nonfiction book with the same name — written by Jon Krakauer in 1996. The plot chronicles the quests of Christopher McCandless (played by Emile Hirsch) at the beginning of the 1990s as he travels across North America and Alaska. He leaves the pleasures of his city life, gives away his savings, and journeys to the wilderness of Alaska in order to lead a simple life away from society and material needs. Amidst the lap of nature and the dangers that come his way, McCandless's outlook towards life changes completely. This spellbinding movie definitely deserves a watch for its seamless direction, awesome performance, and sensitive character study of the main protagonist.
Read More: Movies Like Into the Wild
9. 7 Years in Tibet (1997)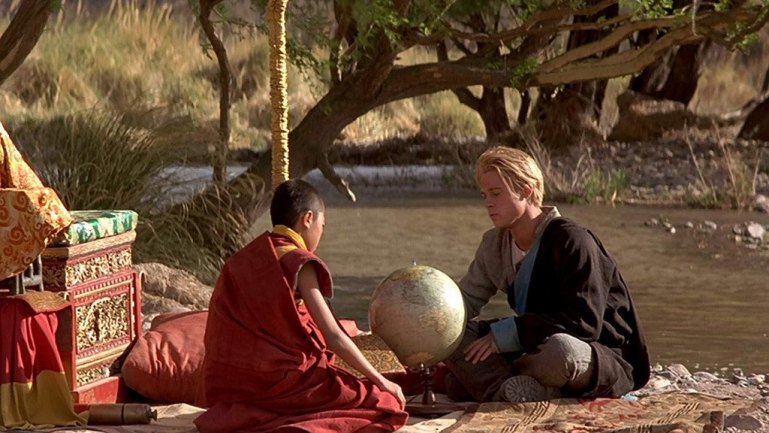 Apart from the fact that Seven Years in Tibet stars Brad Pitt, you should also know that this is not the only reason you should watch this movie. This biographical war drama is an adaptation of the book of the same name — penned by Heinrich Harrer — a mountaineer from Austria. Set in amazing locations, this powerful movie gives a complete view of Tibet during World War II, between the years 1944 and 1951. Directed by Jean-Jacques Annaud, the plot follows the true story of Heinrich Harrer (played by Brad Pitt) as he travels on a quest to the Himalayas. Caught in the midst of the war, he is held as a prisoner but manages to escape to Tibet. The rest of the plot explores how he develops a friendship with Dalai Lama and witnesses the takeover of Tibet by China.
8. 127 Hours (2010)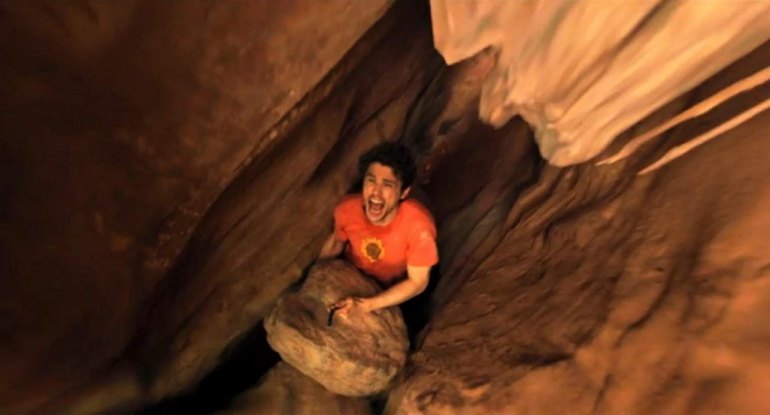 Another masterpiece, 127 Hours is a story of perseverance, survival, and willpower. This biographical drama was directed by Danny Boyle and stars James Franco in the lead role. It is based on the memoir – Between a Rock and a Hard Place, written by Aron Ralston in 2004. When mountaineer Ralston (played by Franco) goes on a hike to the Canyonlands National Park in Utah in April 2003, he somehow becomes trapped by a rock in a remote canyon. The plot documents the intense 127 hours of his life when he has to choose between giving up or freeing himself, with no one to help him through the ordeal. You will definitely feel the pain, exasperation, and desperation of Ralston through the excellent acting prowess of Boyle. A must watch for those wish to know about how to overpower your deepest fears on your way to survival.
7. The Motorcycle Diaries (2004)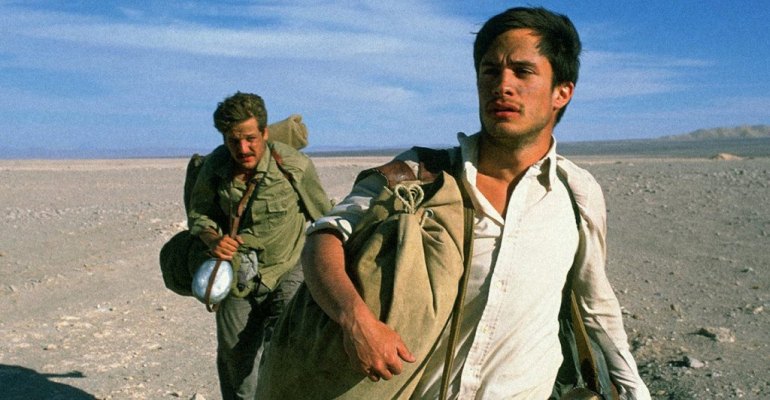 For all bikers and road trippers, this is the movie to tick off your checklist. This biopic is based on the memoir written by Ernesto Guevara. The story follows the expedition of South America in 1952 on a motorcycle undertaken by Guevara (played by Gael García Bernal) and his friend Alberto Granado (played by Rodrigo de la Serna). It was directed by Walter Salles. The adventurous ride takes the duo on a journey of observation and transformation as they experience the lives of the lesser privileged peasantry. The road actually exposes to them to the real face of the continent — when they encounter the difficulties faced by people from the lower section of society. Give it a watch if you wish to decipher the true topography of Latin America.
6. The Darjeeling Limited (2007)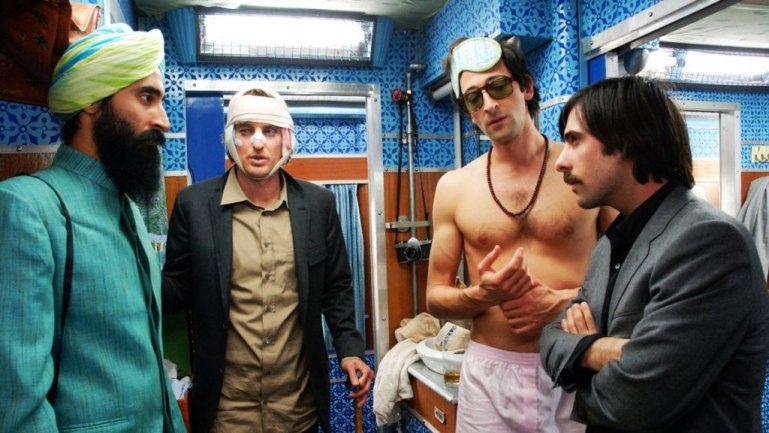 Owen Wilson, Adrien Brody, and Jason Schwartzman star in this American comedy, directed by Wes Anderson. In this chaotic, funny, and entertaining movie, three brothers board a train and set off on a journey across India. Since they hadn't been in touch for a long time, their sole aim is to rediscover themselves and bond with each other again. However, what started as a spiritual quest, soon ends in turmoil when they are left behind in the desolate desert of Rajasthan. This is when an accidental expedition begins and the siblings embark on a quest through unknown lands across the fascinating terrain of India.
5. Queen (2014)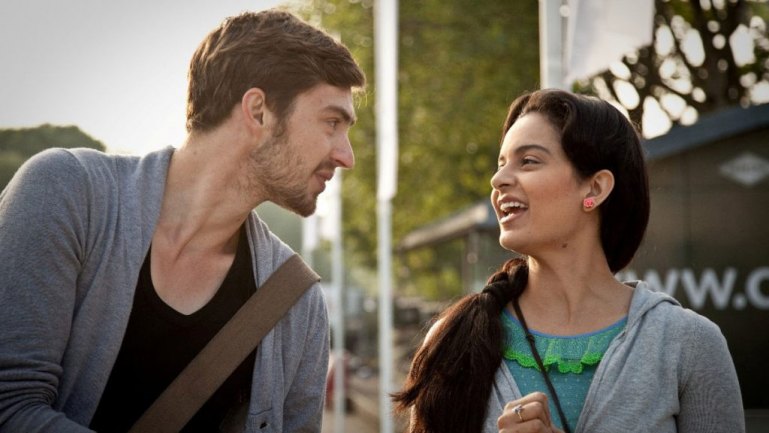 The Kangana Ranaut starrer Indian flick was directed by Vikas Bahl and manages to make you smile throughout its entire run-time. It follows the story of a simple girl Rani (Queen in English) who sets off alone on her honeymoon to Paris after she is ditched by her fiance on her wedding. The plot beautifully chronicles her character development throughout her quest — when she slowly gains her confidence, realizes her potential, and learns to make her own decisions. Comic and sensitive, Queen is a must watch for Ranaut's flawless performance.
4. The Beach (2010)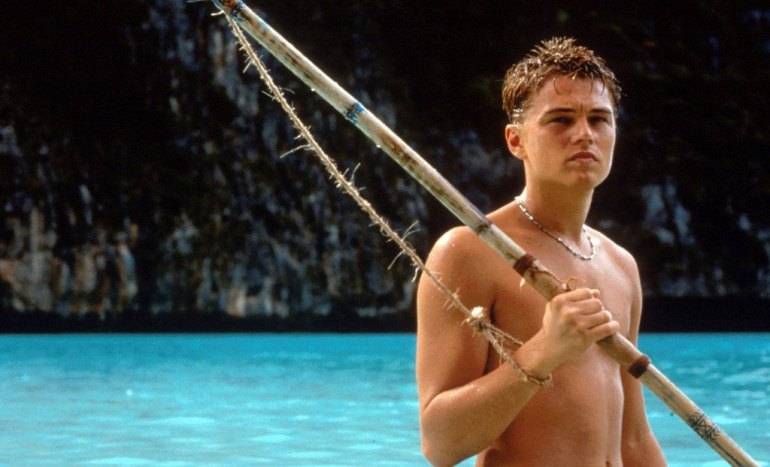 The Beach is a thriller drama that is adapted from the of the same name, written by Alex Garland in 1996. It stars Leonardo DiCaprio in the lead role and was directed by Danny Boyle. Richard (played by Di Caprio) from America embarks on a backpacking trip across Asia with a group of European friends. They arrive in Bangkok, Thailand, where Richard is handed a map by a Scottish man. This map points to a pristine, untouched, and uninhabited island in Thailand. The film documents the journey of Richard and his partners as they travel to this solitary paradise on earth which supposedly houses a breathtaking lagoon and beach. But as they reach, they are soon accompanied by other travelers and natives. The Beach deserves a mention because of its gorgeous cinematography and of course, Di Caprio — in all his youngish charm and enigma!
3. One Week (2008)
The Canadian drama One Week was directed by Michael McGowan and stars Joshua Jackson. It is about a motorcycle trip taken by Ben Tyler (played by Jackson) after he is diagnosed with cancer. He travels across Canada from Toronto to Vancouver Island and meets several people on his journey. Along the way, he rethinks his relationship with his fiancee and revisits his dream of becoming a writer. The entire story is so heartfelt, the Candian soundtrack so soothing, and the locations so serene that you will surely shed a tear or two after watching it.
2. The Bucket List (2007)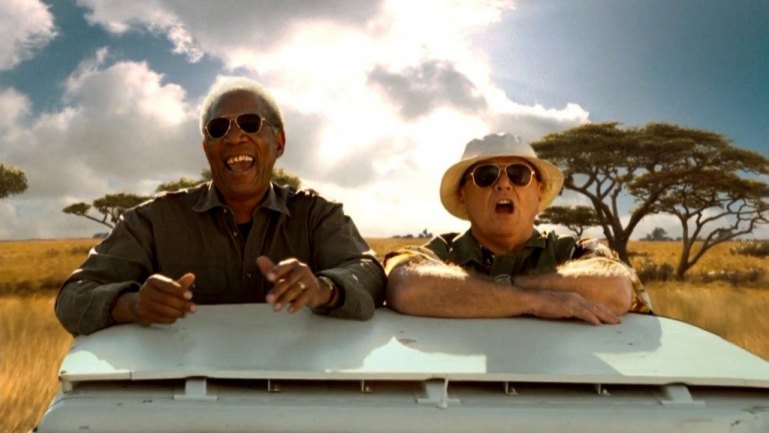 Directed and produced by Rob Reiner, The Bucket List stars Jack Nicholson and Morgan Freeman. Both of them are terminally ill and they embark on a road trip to tick off things they want to do from their checklist. Although the duo doesn't have much in common, they together experience carrying out activities such as playing poker in Monte Carlo, eating caviar, and racing the fastest cars. A definite watch for those who want to see an amazing masterpiece about friendship, travel, and unlikely bonds.
Read More: Movies Like Green Book
1. The Way (2011)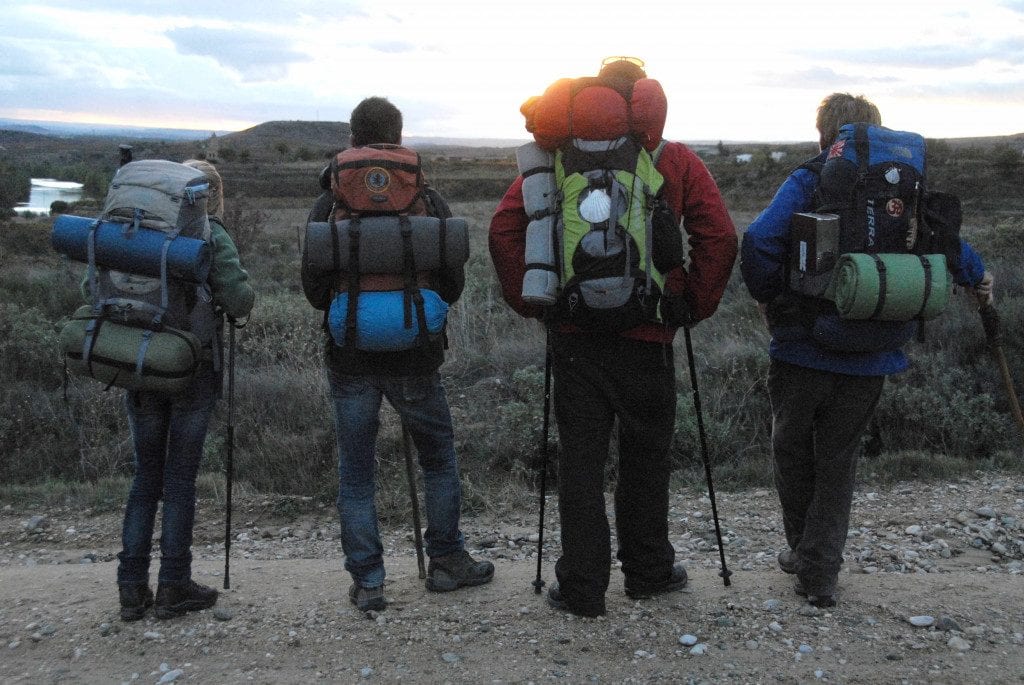 This Spanish family drama was directed by Emilio Estevez and stars Martin Sheen in the lead role This powerful, inspiring movie is all about family, friends, and the struggles of the modern world. Tom (played by Sheen) arrives at St. Jean Pied de Port, France in order to gather the last remains of his deceased son — who died in a storm while walking on The Camino de Santiago trail. Tom then sets off on this journey himself so as to honor his son's incomplete wish. The story is about the impact that the trek has on the inexperienced hiker and how it changes his notions about life. So here it is. Do let us know if you think what else you think should be mentioned on this list.
Read More: Movies Like A Star is Born