With the success of the first Babysitter film, it was no brainer that Netflix was going to make a sequel. McG ('Charlie's Angels', 'This Means War') and his writers left enough plot threads open for them to gain easy access to the story. Although the film at times misses the writer of the original, Brian Duffield ('The Divergent Series: Insurgent', 'Jane Got a Gun') and his calming and pragmatic touch on the script, counter-balancing the typical wackiness of an McG project, 'The Babysitter: Killer Queen' is still an entertaining gorefest with stereotypical characters and a bare-boned plot. Like its predecessor, it doesn't take itself too seriously and continues to pay homage to the classic slashers of the 1970s and 1980s. SPOILERS AHEAD.
Plot Summary
The sequel opens where the original ended, with Cole (Judah Lewis), declaring to his parents (Leslie Bibb and Ken Marino) that he doesn't need a babysitter any longer, indicating that he is finally ready to grow up. But, as it often happens, adulting doesn't turn out to be what he hoped for. Cole has told everybody what happened on that bloody night, from his parents to other students at school to the Cornell-educated guidance counselor who, for some reason, is also the school's nurse, but no one believes him. His parents think that he is delusional and want to send him to a psychiatric academy, and the only suggestion that the counselor offers is for him to "get laid".
The only person who treats him with a semblance of normalcy is the one who was there with him on that night, Melanie (Emily Alyn Lind). Cole has been in love with her at least since that night, if not longer. So, when Melanie asks him to come with her to a lakeside vacation spot for the weekend, he agrees, after some hesitation. They take her father's muscle car and drive there with her three friends, Jimmy, Diego, and Boom Boom. As the night falls and the five of them start playing a 2-minute version of 7 minutes in heaven game with cards, the much-awaited drastic shift in the narrative arrives.
Melanie slices open Boom Boom's throat with an enormous fish hook and explains to Cole that she and her two remaining friends have made the same deal as the members of the Satanic blood cult from the first film. As a horrified Cole looks on, all four very-dead members of that cult, Max (Robbie Amell), Allison (Bella Thorne), Sonya (Hana Mae Lee), and John (Andrew Bachelor), return. The cult is still after Cole's blood to complete the ritual. Pandemonium ensues, once again, as Cole must be resourceful to make it through the night, once again. But this time, he is not alone and has Phoebe (Jenna Ortega), a new addition to his class with a mysterious past.
The Ending- Caught in an Adulting Limbo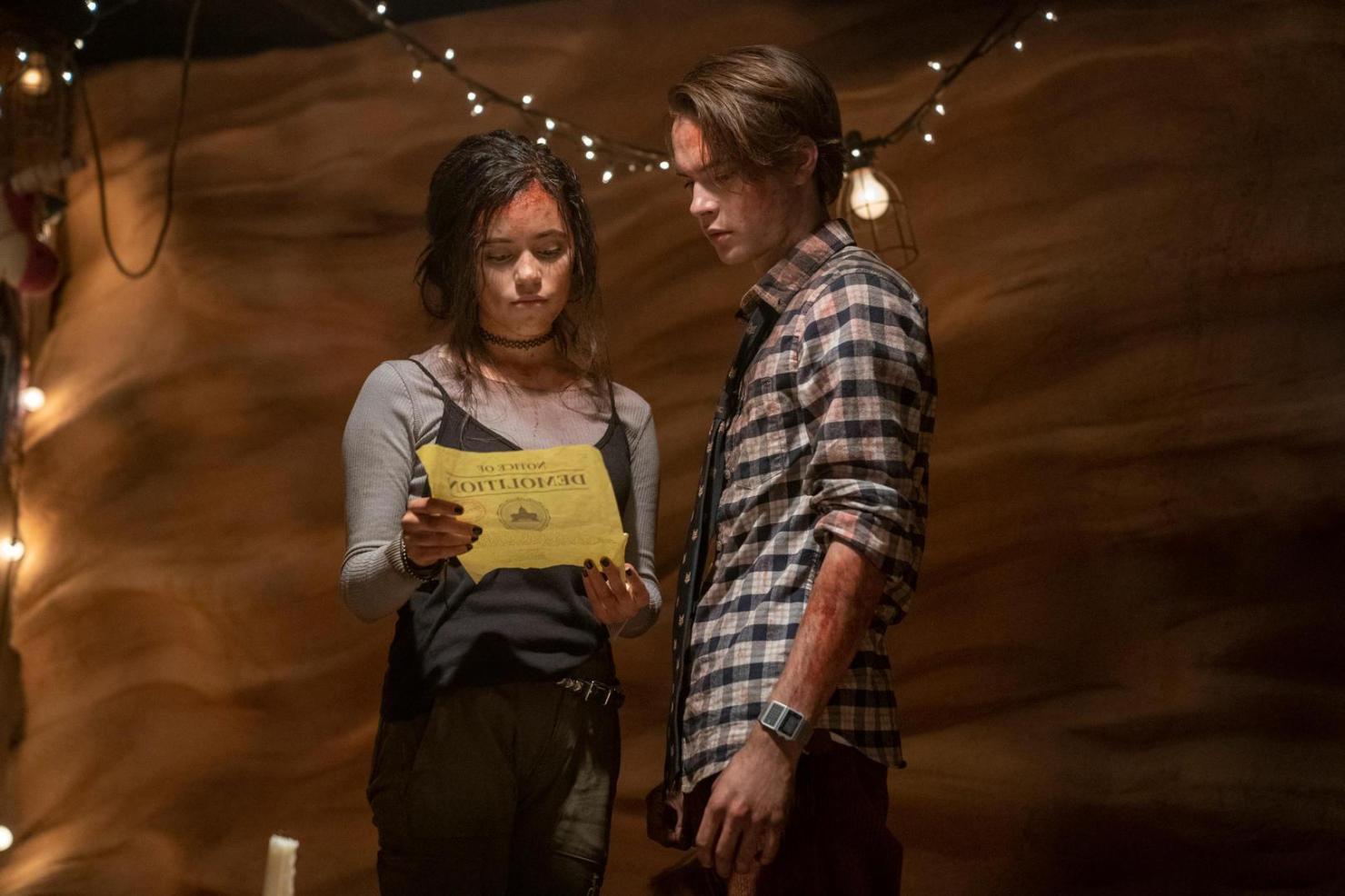 Despite all the internal progress that he made in the first film, life hasn't much changed for Cole. His childhood bully Jeremy has been replaced by Jimmy, Melanie's boyfriend, a new-age jock who will sympathize with you while beating you up. There is clearly a lot of what appears to be romantic tension between Cole and Melanie, but he is afraid to act on it because he still considers himself to be the odd kid, who deserves to be shunned by his peers.
When he finds out that his parents are planning to enroll him at a psychiatric academy, he is evidently distressed, but until Melanie aggressively prompts him to take action, he is very much resigned to his fate. Cole still has a lot of adulting to do, and this movie, through all the blood fountains and adolescent one-liners, provides him with ample opportunities.
Unlike the raunchy scene between Bee (Samara Weaving) and Allison in the first film, the sequel gives us a tender moment between Cole and Melanie before the customary dropping of the proverbial other shoe. The new members of the cult planned to use him as a "faucet" of innocence for their ritual as well, but in a moment of accidental hindsight, he threw away his chlorpromazine pills. With the arrival of the four of the five original members, who have been resurrected by the Devil himself, it seems like this is the end of the road for Cole. That is when Phoebe walks into the room, looking for gas for her jet ski.
Phoebe has been introduced as an enigma to Cole. With her rebellious personality, she instantly earns the distrust of his corduroy jacket-wearing self. But when they start hiding together from the cult, her true personality is revealed. Like Cole, she can be incredibly resourceful and loves everything science fiction. Although she initially rejects Cole's idea of staying together until the morning comes, as she is equally reclusive and has a tragic past, she later learns to trust him.
While Melanie's sudden heel turn comes as a huge surprise, there are clues about it littered all over the first half of the film. Both in her mannerism and the clothes she wears, she is emulating Bee. This is having the desired effect on Cole. He is subconsciously attracted to Melanie because she looks so much like his first crush.
Amell, Thorne, Lee, and Bachelor all return to portray their gloriously stereotypical characters. Even when he is dying because of it, Max couldn't be prouder of Cole after he learns that he had sex with Phoebe, turning his blood unsuitable for their ritual. In the last act, we get the second biggest surprise of the film. Bee returns and helps Cole and Phoebe by poisoning the remaining cult members with not-so-innocent Cole's blood. She is connected to both of their past and was orchestrating the entire thing from behind the scene. There are multiple references to Christopher Marlowe's 'Doctor Faustus' in the film. But it has been cleverly subverted, as Bee is not the Mephistopheles that Cole accuses her to be. Instead, she is their savior, their Terminator who swoops in and kills all the evil people.
As the credits start rolling, a sense of dread continues to linger in our minds. Although Cole gives up on the girl who physically resembles Bee, his current girlfriend seems like a spiritual sister of his erstwhile babysitter. Although he finally manages to convince his father he was telling the truth, he still has more growing up to do.
Read More: Netflix's The Babysitter Ending, Explained