While there's no denying relationships are hard work owing to the level of trust, communication, and vulnerability involved, things do seem quite a bit easier for couples with similar groundings. This much is something Netflix's 'Jewish Matchmaking' actually evidences, especially as it revolves around hopeful singles trying to find true love within their cultural and religious community. Amongst them was thus Noah Del Monte — so now, if you simply wish to learn more about him, his connection with Tav Gross, as well as their current standing — we've got the details for you.
Noah and Tav's Jewish Matchmaking Journey
Since Noah admittedly hails from a broken home with a diplomat as his mother, he grew up all over the world before deciding to enlist in the Israeli Army and then pursue further studies in Italy. However, he returned to the Middle Eastern nation sometime prior owing to not just career opportunities in the corporate world but also his longstanding respect for the traditions it champions. It hence comes as no surprise the first thing on this 24-year-old's list for his soulmate was for her to share similar beliefs — though it's the customary aspect he valued more than the religious.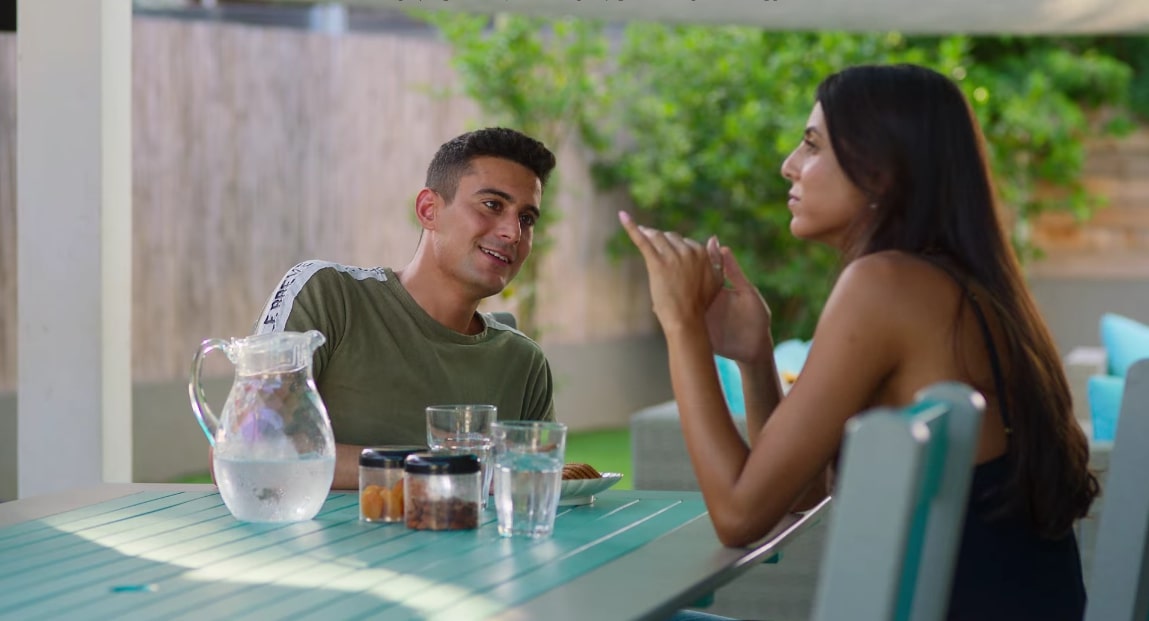 Noah actually understood why some might deem him too young to even think of settling down, yet he believed this was the ideal time because he wants to at least start building his family by 30. "I want to get married," he doubtlessly asserted to matchmaker Aleeza Ben Shalom at one point during the original series. "I hope the next person I find is going to be that [forever] person… People get in relationships not because they say it's going to end but because they think that's the person they're going to be with. So realistically [I've been seriously looking for a partner] always."
The fact Noah then did not shy away from conceding he was done with the Tel Aviv city scene of mostly partying and having a good time further indicated he was utterly sincere in his intentions. Aleeza thus asked this religious yet non-practicing Jew to go on a blind date with Alyssa Lezerrovici, only for it to lead nowhere due to their differences in lifestyle as well as daily experiences. So he was subsequently paired with Gabriela Smookler, who wasn't a good match for him despite being his physical type as she didn't believe in Western Medicine, but his family is full of doctors.
That's when Aleeza introduced Noah to Tav in her own home, just for them to immediately find a spark regardless of the fact he's based in Tel Aviv, Israel, whereas she's in Phoenix, Arizona. The truth is they bonded over their family orientation as well as their deep-rooted values before even planning an official date, leading them to understand precisely what they were getting into. The fact they could switch from having light-hearted conversations to serious discussions in the span of moments without it being weird or interview-y was also a massive plus for them both.
Are Noah and Tav Still Together?
"Having met Tav now a second time, there is a vibe," Noah candidly expressed following their first official date at a local Israeli restaurant/bar. "I'm keeping a very open mind. There is definitely a connection. We do click, but long distance… We'll see where it goes." Even his potential match conveyed similar sentiments in her own confessional by stating, "We're both going with the flow, but also, I think he's really awesome. He's nice. You can see he comes from a good family, a good background. So yeah, I definitely could see myself coming back to Israel," which in itself indicated a lot.
However, it unfortunately remains unclear whether Noah and Tav are still romantically involved or not — they're certainly on great terms at the moment considering their mutual follow across social media platforms, but if they were really able to overcome long distance to make their connection last is quite murky. After all, neither the Dealtale Account Executive nor the ASU College of Health Solutions Dietetics student has confirmed or denied anything as of writing, plus the former seems to be getting quite close to fellow 'Jewish Matchmaking' star Cindy Seni these days.
Read More: Are Fay and Shaya From Jewish Matchmaking Still Together?