If there's one thing absolutely nobody can deny, it's that Netflix's 'Jewish Matchmaking' breaks every record of romance, vulnerability, and understanding its parent production previously set. After all, it features hopeful singles from across the US and Israel as they seek the help of Aleeza Ben Shalom to find their forever love through the age-old traditional process of "shidduch." Amongst them were actually Fay Brezel and Shaya Rosenberg — so now, if you simply wish to learn more about them as well as their current possible standing, we've got the details for you.
Fay and Shaya's Jewish Matchmaking Journey
Although Fay hails from an Orthodox Jewish neighborhood in Brooklyn, New York, and is a devout believer herself, she's also unique in the sense of her independence and open-mindedness. In other words, while she may cover her head, shoulders, knees, toes as a sign of dedication to her faith, she's even an entrepreneur with an unwavering passion for mental health advocacy. "I'm out there, so to speak," the 28-year-old voiced in the original series. "…I definitely have a lot of parts of myself. At the same time, I have strong religious values that I don't compromise on."
It thus comes as no surprise the first thing on Fay's carefully thought out criteria list for a potential partner was for him to share similar ideals/beliefs and have suitable, positive characteristics. She actually understood this was a difficult combination to uncover in any male, yet she also knew it would be worth the wait — she'd already done so for years, and she was okay with more. However, the young woman did often worry about the societal pressure of it all; she didn't think it was a "disaster" to be a Jew and single at her age, but others definitely made it seem that way.
"I love helping people, and I love being an entrepreneur," Fay said at one point in the production. "But as an Orthodox Jewish woman, if you're 28 and you're single, of course, people make comments. People will say, you know, 'Am yrtsh hshm.' That's like, 'God Willing By You.' That you should get married, have children, et cetera, et cetera. You know, other comments would be, 'You're such a great girl; how are you still single? All amazing questions really." This, combined with her own readiness to settle down, is why she'd hence begun working with a few matchmakers.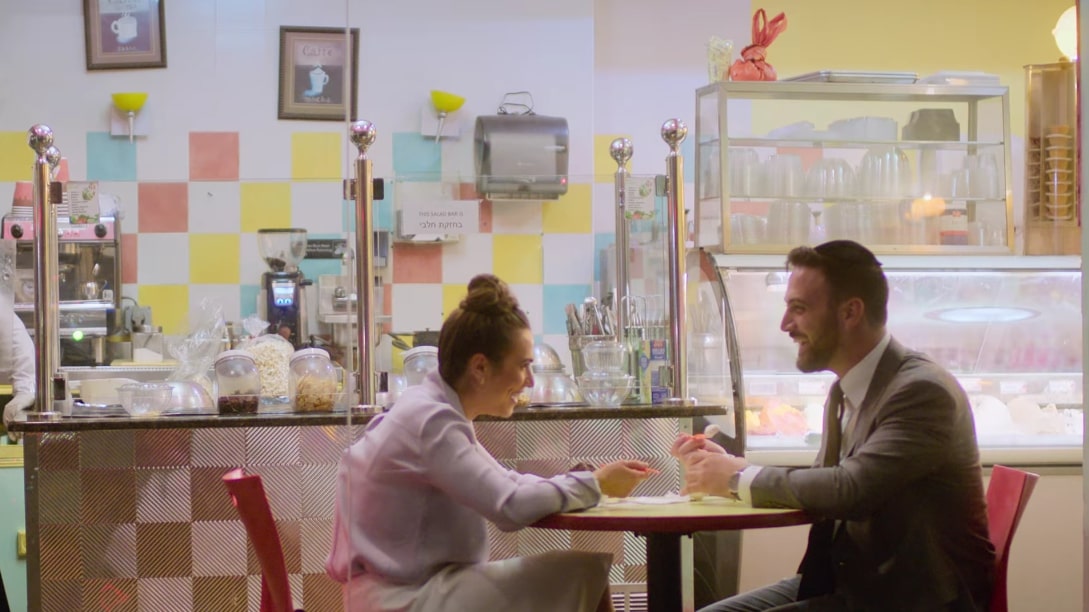 Therefore, when Aleeza Ben Shalom managed to pair her with fellow accepting, inquisitive, and practicing Orthodox Jew Shaya Rosenberg, she was much more than just pleasantly surprised. It did worry her that he had no sisters, yet the way he behaved during their first date made it evident he was close to his sisters-in-law, knew how women operated, and was indeed chivalrous. The fact they could engage in lighthearted conversations, really laugh, and even discuss religion within mere hours was honestly a huge plus point too, making them both cautiously optimistic.
Are Fay and Shaya Still Together?
"[Shaya] does have a good sense of humor and a good personality," Fay candidly said following their date. "He's easy to talk to, and it's refreshing to be with someone that makes you laugh." The fact they really liked one another then became evidenced by them going on two more relatively quick dates without any outside pressure, only for Shaya to then amicably call it quits. He knew in his heart they weren't at the same religious level, which was a problem because her ideal man embodied his faith as much as her, if not more — they thus spoke of it before deciding to part ways.
From what we can tell, Fay and Shaya have since moved on with their respective lives, but they've done so in such a way that they still maintain a bond of mutual trust, respect, and adoration. There are no romantic feelings involved between them anymore, yet the fact they not just follow one another on social media but also interact on rare occasions makes it clear there's amicability. As for their personal standings, while Fay is continuing her quest for love as well as running her company OKclarity, it appears as if Shaya currently serves as a Principal Broker at The Syper Group.
Read More: Are Dani and David From Jewish Matchmaking Still Together?