Although Netflix's 'Indian Matchmaking' season 3 features a host of new and familiar faces alike, the honest truth is that the pairing of Pavneet Kaur with Tushar Tyagi has intrigued us the most. After all, they're essentially the epitome of what the dating world is like in India at this moment — full of sparks, coziness, familial involvement, miscommunication, as well as much, much more. So now, if you simply wish to learn more about this duo — with a specific focus on their background, their core experiences, and their current standing — we've got the essential details for you.
Pavneet and Tushar's Indian Matchmaking Journey
If there's just one common word that can be used to describe both Pavneet and Tushar as individuals, it would have to be ambitious due to the way they've prioritized work over everything else. This is actually how the former managed to launch her own PR-Marketing firm, The Brand Shaper, while never once forsaking her passions, whereas the latter evolved into a renowned filmmaker. It thus comes as no surprise the top few things on their respective criteria list were for their potential partner to be adventurous, creative, confident, funny, independent, as well as motivated.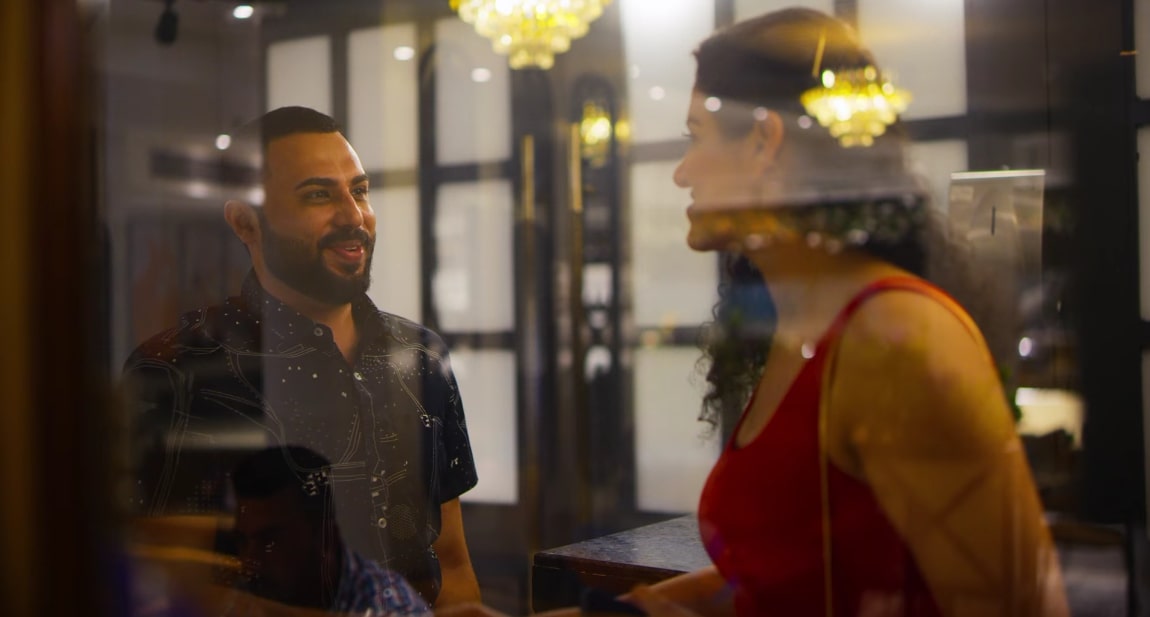 Then Noida resident Tushar was hence initially introduced to neighboring Delhi-based fashion model Rushali Rai, but they never made it past date one owing to their differences in family values. That's when fellow New Delhi native Pavneet came into the picture to become his second first date within months, breaking the dry spell he'd admittedly been in for the previous two-three years. So, of course, he was pretty nervous once they actually met up for dinner, only for her bright smile, her fun-loving attitude, and their evident shared interests to soon inadvertently put him at ease.
However, the most significant aspect of Pavneet and Tushar's entire first interaction was undeniably the way they were able to discuss everything from their past to their future expectations. They even joked around and had a gall without the feeling of discomfort ever being there for either party, resulting in the latter directly asking for her number to ensure they could meet again. But alas, things didn't really go as planned because he failed to contact the beautiful 6-foot businesswoman for nearly an entire week, making her think she had intimidated him in one way or another.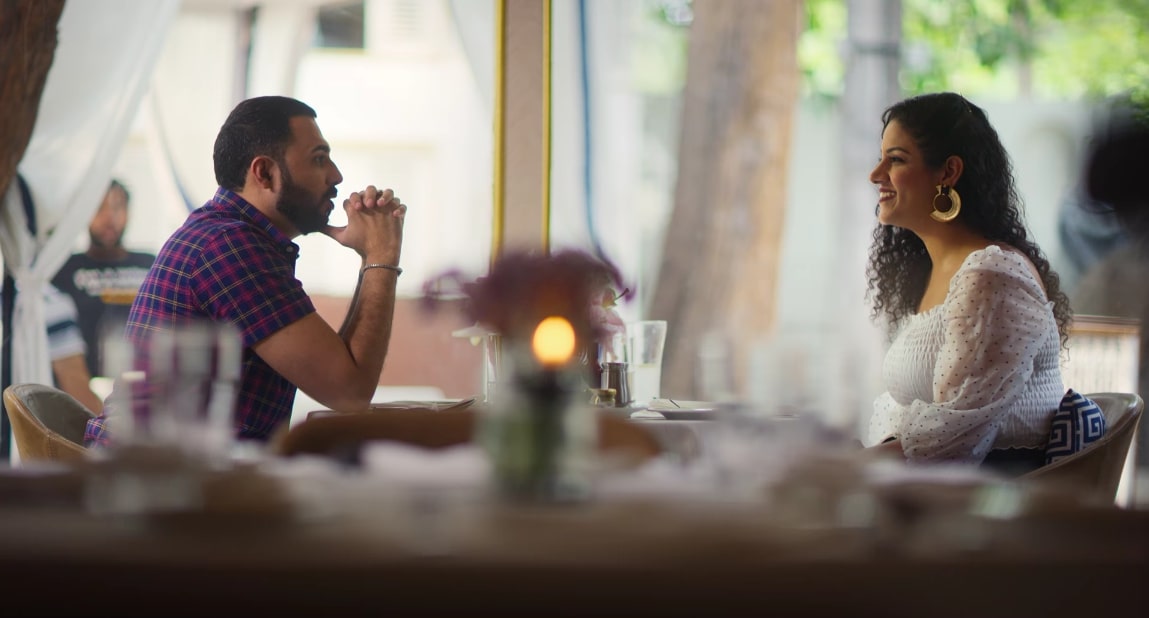 Despite the fact Pavneet was quite annoyed Tushar hadn't reached out to her as promised, she gave him the benefit of the doubt when he asserted her number had somehow not been saved. He thus had to get her details from their matchmaker Sima Taparia, per the narrative in this original production, yet she could not help but think he could've done so sooner if he really wanted to. Nevertheless, she agreed to hang out with him again once he asked via text message following a bit of conversation since she didn't want to jump to any unnecessary negative conclusion or play games.
Are Pavneet and Tushar Still Together?
Pavneet and Tushar's second date was honestly just as positively intimate as their first despite a rocky beginning considering the incident, leading her to be rather cautiously optimistic about him. The fact he had a justification for his actions (or the lack thereof), there being mention of a third date, and the duo actually making efforts to get to know one another also pointed towards them going in the right direction. "We had good conversations," the former said at one point in the series to make it clear she was open to exploring this connection more. "We have talked, and of course, we were just laughing around… He has a good sense of humor."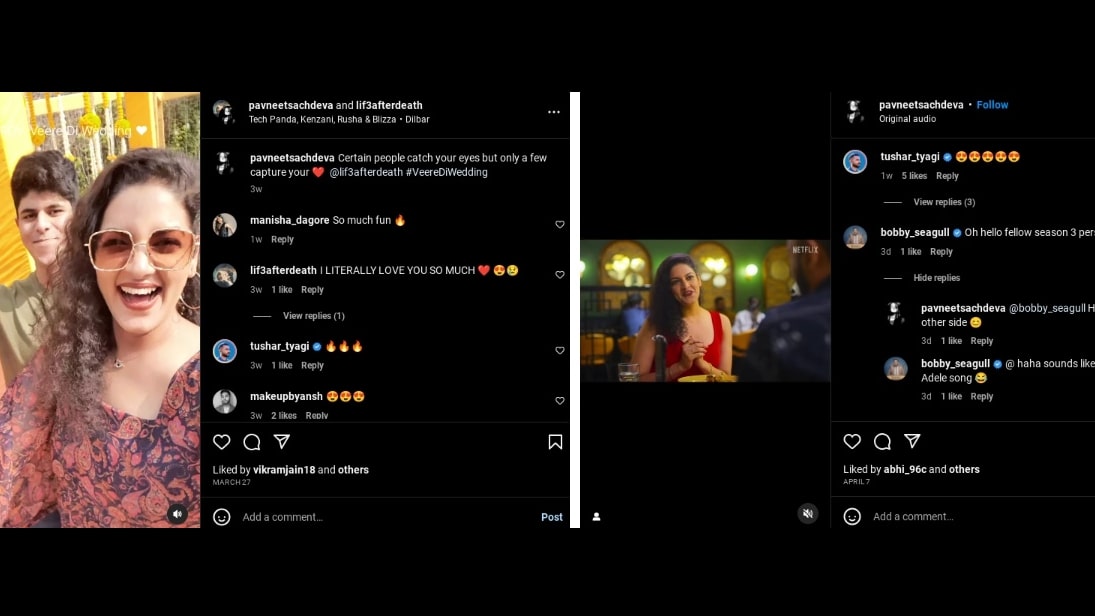 Therefore, we're happy to report it appears as if Pavneet and Tushar are still romantically involved — at least, that's what both their active online presence suggests at the moment. Neither the businesswoman nor the film director has confirmed or denied anything as of writing, yet his flirty comments on her Instagram feed (as seen above) certainly insinuate a lot. Though, there's also the fact the latter has since decided to split his time between Los Angeles and Mumbai to further his career, whereas the Delhite continues to go on solo trips to discover her true self.
Read More: Are Priya and Bobby From Indian Matchmaking Still Together?