Pete Holmes, originally Peter Benedict Holmes, is well-known as a comedian but is also a producer, actor, writer, and podcaster. Having struggled with his career as a comedian in the early days, Pete soon learned that being open about his feelings and drawing from his own reality would work best in his favor. He experienced a breakthrough in his life and comedy career only after his divorce from his wife at the age of 28 in 2007. Before his divorce, which he has spoken about in his 2018 novel 'Comedy Sex God,' Pete was very religious and had saved himself till marriage, along with doing everything else by the book.
But his divorce made him question his perceptions about God and religion, and after a brief period of being an atheist, he got immersed in spirituality again, but this time with a perception of a lesser strict God, all of which is reflected in his comedy. For the actor, it took this incident to improve his art, which has now made him a millionaire. Apart from his 'You Made It Weird' podcast, which he still co-hosts with his wife, he is also known for 'The Pete Holmes Show,' and comedy specials like 'Nice Try, The Devil,' 'Dirty Clean,' and 'Impregnated with Wonder.' He continues his tours as a stand-up comedian.
His most renowned work is still a fictionalized series based on his life where he plays himself, which has been created by him with the help of executive producer Judd Apatow. Pete first pitched the idea for the show 'Crashing' to Apatow while the latter was working on the sets of the 2015 film 'Trainwreck,' and it was soon turned into a series. Written by Pete himself, 'Crashing' takes inspiration from his real life to show the struggles of a budding comedian right out of a divorce with nowhere else to go. With this 3-season series now streaming on HBO Max, his followers must be curious to know about his actual personal life.
Pete Holmes Grew Up in a Close-Knit Family
Pete Holmes had a very healthy relationship with his family growing up. The comedian was born in 1979 in Lexington, Massachusetts. Religion always played a significant role in his life growing up with his mother, Irena Holmes, who Pete refers to as one of God's greatest prophets, as all mothers are, taught him how to be a good Christian. While his mother is a Lithuanian refugee, his father, Jay Holmes, is Irish.
It seems like Pete received his sense of humor as an inheritance from his dad. Apart from his wit, Jay also imparts pearls of wisdom, such as "It's nice to be important but more important to be nice.' He also has a brother whose real name isn't clear, but he goes as the musician Dr. Holmes, known for serving as a composer on 'The Hip Hop Project.' Pete always feels grateful to his family since they have been a huge support for him.
Pete Holmes Was Married to His First Wife for 6 Years
At the young age of 22, when he was just starting his career, Pete Holmes got married to Rebecca after knowing her for around a year. This was also the time he struggled with comedy as he later realized he was playing too safe and felt the need to be a good Christian even on stage. It was only when he split with Rebecca, the details of which aren't too clear, that his perception of God changed. While earlier he used to think of him as a version of Zeus, after his divorce and delving into mysticism, Pete learned to accept a more spiritual side of him that views God as a more friendly presence.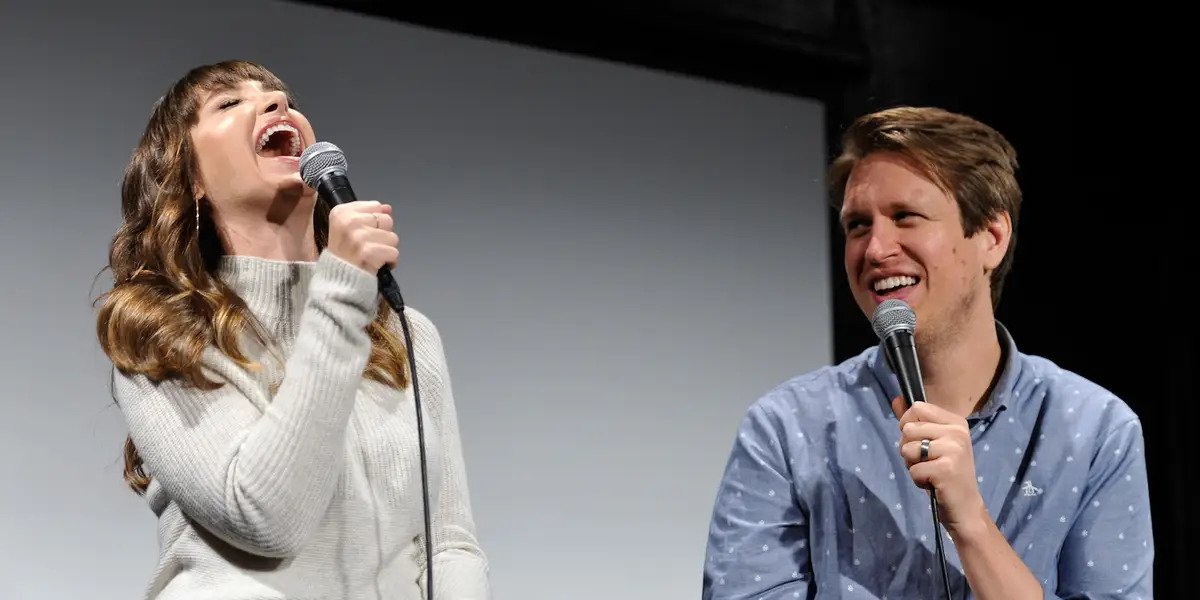 Pete describes this divorce as the worst thing that happened to him due to Becca's alleged infidelity, who later left him to be with her now husband, Rocco. But he also feels this incident taught him to view things in a different way and has made him the man he is now. After the divorce around 2007, Pete was romantically linked with comedian and his 'Crashing' co-star Jamie Lee for 11 months around 2008.
Lee plays one of Pete's girlfriends, Ali, in season 2 of the show and has discussed how they are both married and happy in their relationships now. She was invited to be a part of the show as a writer and co-star so that the dynamics of the two comedians' dating can be depicted. But there is nothing but friendship between the pair now. Their relationship and break-up seem to have been more about their careers, and they ended it on a cordial note while remaining friendly.
Pete Holmes Proposed to His Wife in a Hot-Air Balloon
After being unlucky in love and getting betrayed, Pete Holmes thankfully kept himself open to the possibility of true love, which is how he found his soulmate and current wife, Valerie Chaney. A lot isn't known about the initial phase of their relationship except that Pete and Valerie met in 2014 with the help of a mutual friend. After making their relationship public in 2015, Pete felt the need to take the plunge once again with her, but this time it was different.
Remembering that Valerie wanted to ride a hot-air balloon, Pete arranged for one in Santa Barbara in 2016 and asked her to marry him mid-air, albeit in the company of an annoying operator. The couple then tied the knot in California in 2017 and have been together ever since.
Pete Holmes and Valerie Chaney Have a Beautiful Daughter
For Pete Holmes, everything feels brighter in his life with Valerie by his side, and in every interview about his wife, he has mentioned how truly happy he feels to be with someone as beautiful and supportive as her. Valerie is a yoga instructor, a podcast co-host with Pete, a writer, and a mindfulness educator. The pair bonded on their love for spirituality and meditation, which is also something they discuss through their podcast. In 2018, a year after they got married, the couple was blessed with a daughter, Lila Jane Holmes. Pete has mentioned how his life has become a lot better after his daughter, and he now makes decisions about his life, keeping his family in mind, which he loves.
Read More: Is The Wedding Coach Host Jamie Lee Married?