There is a quote that a professor once said to me that kind of stayed. It simply said, "Life is a comedy to those who think, a tragedy to those who feel". It's really all about the perspective and how you see the world. And, well, that makes Amy Schumer a freakin' genius, and rightfully so. Schumer sees comedy in absolutely everything, in the darkest most absurd events from her life, from death to divorce to her loneliness and longing. She is a comedy goddess who rose to fame through her hilarious, dark, filthy but oddly sensitive sketches and her deadpan, brash style.
But it is through 'Trainwreck' that Schumer brought all her funky irreverent charm to the big screen for the first time. The movie was her first screenplay and feature acting debut, and it earned her a Golden Globe nomination for her brilliantly refreshing performance filled with sharp comedic timing and delivery.
The film, directed by, Judd Apatow, takes a step away from your rom-com clichés and changes the way a "girl meets boy" story works. Amy Schumer and Bill Hader are an obviously unlikely pair for a romcom. But that's precisely what makes 'Trainwreck' such a treat to watch. It takes the clichéd rom-com dynamic, but reverses the traditional on-screen gender roles. The film's brilliance lies in its contradictions.
It is dark but light, raunchy but sensitive, cheesy but self-aware, and will make you feel for the characters despite them being damaged goods, because well, we all know how terrifying love can be. 'Trainwreck' is easily one of the most fun rom-coms of 2015, but it is not very likely to get a sequel. Though there have been talks, or rather, jokes, about one. Here's everything we know about it.
Trainwreck 2 Plot: What Can It Be About?

'Trainwreck' revolves around Amy, a thirty-something journalist for a man's magazine, who doesn't really believe in monogamy, and enjoys casual relationships with men. She is ambitious, confident, living a good life, but also has a slight a drinking problem, and deeper emotional issues that keep her from committing. Until, of course, she meets sports doctor, Dr. Aaron Conners (Hader) who she has to interview for an article. The two soon form an unlikely but heartwarming relationship as they try to make it work against the odds. But of course, there is too much damage there and it soon becomes a trainwreck. The rest of the film explores how these two damaged but lovable characters grow and learn to love.
In an absolutely hilarious video of the cast promoting the film, NBA star, LeBron James, who plays himself and Aaron's best mate, spoke about how he would like to make 'Trainwreck 2'. In LeBron's sequel to the film, Hader's Dr. Aaron Conners gets called away to a foreign country as part of the Doctors Without Borders program. But ends up contracting a disease and dies, leaving Amy devastated. James then becomes a shoulder to cry on, and soon, this blossoms into a romance. Of course, it's more than just a little far-fetched. But LeBron did steal almost every scene he was in and was absolutely hilarious. So, it will be a delight to see him and Schumer share the screen.
On the other hand, it can be noted that most of Amy Schumer's humour comes from her real-life. This would actually prove to be really interesting as Schumer gave birth to her first child and revealed the complications she had with her pregnancy. She even had a stand-up about her pregnancy.
This could actually prove to be a really refreshing plot to 'Trainwreck 2' with Schumer doing what she does best and exploring the good and the bad that comes with pregnancy and motherhood. The plot to the sequel could then explore Amy and Aaron dealing with the ups and downs of pregnancy, and knowing how commitment phobic Amy is, it could actually prove to be hilarious and engaging.
Trainwreck 2 Cast: Who Can Be In It?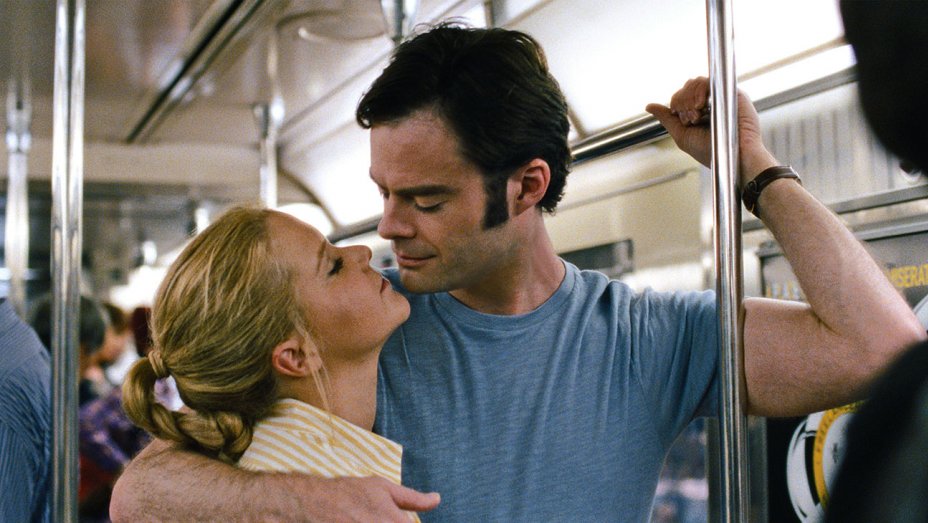 If there is a sequel to 'Trainwreck', it would definitely have Amy Schumer and Bill Hader reprising their roles. If things go according LeBron, we will Hader present only during the beginning of the film, but that's really unlikely. The film will also star LeBron James of course, along with Brie Larson as Amy's sister, Kim. We could also hope to see John Cena, Tilda Swinton, along with a bunch of SNL stars, either the ones from the original or different ones as new characters in the sequel.
Trainwreck 2 Crew: Who Can Be Behind It?
'Trainwreck' was conceived when filmmaker and comedian, Judd Apatow first listened to Amy Schumer on the radio and he instantly knew he had to collaborate with her because of her humour and perspective that according to him made her a brilliant story-telling. Thus, 'Trainwreck' had Apatow as the director with his long experience with comedy features, and Schumer as the screenwriter with her refreshing and hilarious take on two people in love. If at all we ever get a sequel to 'Trainwreck' then, it would definitely need to have the two reunite and collaborate on the project.
Trainwreck 2 Release Date: When Can It Premiere?
Since there have been no talks of a sequel to 'Trainwreck' in years, except of course LeBron speaking of it during the promotional video, the chances of getting 'Trainwreck 2' are very bleak. Schumer will next be seen in the comedy series titled, 'Love, Beth', while Apatow is currently working on his next project, that's currently untitled, and will release sometime in 2020. So, we should expect 'Trainwreck 2' to premiere after that, perhaps sometime after 2023.
Read More: Upcoming Amy Schumer Movies