Even an incapacity to see each other outside the guarded walls of prison does not affect the affection that couples share in WeTV's 'Love During Lockup.' Nevertheless, the couples are marred by the incarcerated boundaries that separate the felons from their significant others. The show chronicles the life, drama, and struggles the couples share. Like its previous iterations, season 5 of the show features a new set of roadblocks that prevents couples from finding happiness. Raneka and Asonta are one of the duo on the reality television show whose chemistry and drama have enthralled many. So, if you're also curious to learn more about the reality stars, look no further because we've got all the answers right here!
Raneka and Asonta's Age and Background
In their 30s, both Asonta and Raneka have faced their share of trouble over time. Even so, Asonta and Raneka continue to make the most out of the present and wish to evolve at a better scale. While the roadblocks in their path have definitely affected their relationship, the duo has still made numerous changes to accommodate each other. Given her adoration for Asonta, Rankea even took the plunge and moved to Atlanta, Georgia, in order to be close to him.
Raneka and Asonta's Profession
After the tribulations that set him back, Asonta decided to redeem his past and evolve. Upon finding a connection with Raneka, the inmate decided to explore the heights of their relationship. Even so, the adoration he shares for Raneka isn't enough since his criminal past has still incapacitated him to be a free man. Nevertheless, the reality star continues to look forward to the day his incarceration comes to an end so that he can explore his abilities.
As for Raneka, the star has continued to carve a niche for herself as an entrepreneur and a rapper. In addition to having a booming cosmetics business, Raneka also sponsors Asonta monthly. The business owner sends $1000 to Asonta every month. Aside from supporting Asonta, Raneka is also a rap artist and is known by her alias Big Diva. Raneka's latest single, 'CFWM,' has led the artist to new heights. Some of her previous works include, 'Rich Magic,' 'Livin Life,' and 'Loyal 2 U.' With a riveting passion, Raneka continues to establish new heights in her career.
Are Raneka and Asonta Still Together?
Despite their deep connection, Asonta and Raneka have never met each other in person. Even so, Raneka's faith in their relationship led her to take the plunge and move to Atlanta with her two children. However, things with the duo have not been easy. As seen in the show, things explode between the couple when Raneka gets to know that Asonta has been speaking to other women. So, even though Asonta and Raneka share feelings for each other, their road to happiness is still laden with major impediments. Moreover, with Asonta's incarceration, the duo feel difficult to connect completely.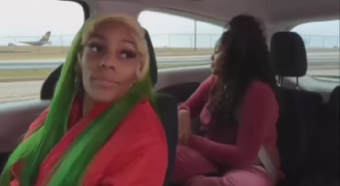 Given the heartbreak she has suffered in the past, Raneka's family cautioned her not to be misled and to tread carefully. Naturally, the roadblocks in Asonta and Raneka's relationship continue to be an issue for the duo. Not just this, Raneka also took to Instagram in a since-deleted story to express that she is single at the moment. So, as far as we can tell, things between Asonta and Raneka are still murky. Nevertheless, we continue to hope that the duo continues to embark on new paths and gain success!
Read More: Savannah and Jake From Love During Lockup: Everything We Know