Focusing on the levity of youth and interpersonal relationships, seven strangers decide to live together in MTV's 'The Real World.' Released in 1992, the show's first season follows young individuals as they navigate friendships, relationships, heartbreaks and more. Often lauded for pioneering the reality television genre, the show is set in a SoHo loft in New York. Decades since its release, many are curious to know the whereabouts of the seven individuals on season 1 of 'The Real World.' So, if you also want to learn more, look no further because we've got all the information right here!
Where is Eric Nies Now?
Famously remembered for his good looks, Eric soon won the hearts of people with his jovial nature and interaction with his fellow castmates. He has since appeared on a number of reality television shows like 'The Grind,' 'Real World/Road Rules Challenge: Road Rules: All-Stars,' 'I Love the '90s' and many more. He has also appeared on 'Days of Our Lives,' 'The Brady Brunch Movie' and 'Confessions of a Teen Idol.'
While he continued to establish his pathway as a model and entertainment star, he was met with a devastating incident in the year 2000. After hosting 'The Grind' for three years, a business manager stole a quarter of a million dollars for him, which led Eric to contemplate suicide as well. Since then, he has devoted his life to spiritualism.
In 2001, he established the non-profit Moment of Hope, Children of the Rainbow and has since experienced true serenity through different ways. Eric has chanted with 2000 monks in the Himalayas, fasted for 40 days in the desert, worked with the Shipibo Tribe in Peru and even learned the Buddhist philosophy. He now owns a health and beauty brand Songsaa Hawaii with his partner Penny, where they sell therapeutic oils for the face and body and work as certified aromatherapists.
Where is Kevin Powell Now?
Even as a young man, Kevin Powell was a vociferous advocate for social rights. From reporting on racially motivated death before arriving at the MTV show to getting into a heated debate about racism with Rebecca, Kevin's stance has always been clear. After leaving the show, Kevin began his journey as a writer and joined the VIBE magazine. Here he covered stories on Snoop Dog, Tupac Shakur and other celebrities. Over the years, he has been published in Esquire, The Wahington Post, The New York Times, TIME, BBC and many other eminent publications.
Kevin's books include, but are not limited to 'In the Tradition: An Anthology of Young Black Writers,' 'The Education of Kevin Powell: A Boy's Journey into Manhood' 'My Mother, Barack Obama, Donald Trump and The Last Stand of the Angry White Man.' His legion of works includes essays, blogs, poetry and even an anthology. In addition to being an advocate for human and civil rights, the activist has been married twice and has even dedicated his book 'Grocery Shopping with My Mother' to his mother.
Where is Rebecca "Becky" Blasband Now?
Then 24, Rebecca had entered the first season of the MTV reality show with different views than her other castmates. While Rebecca's journey on the show was cut short following a heated debate on racism with costar Kevin Powell, her luminous career still lay ahead. Even in the 2021 reunion of the show titled, 'The Real World Homecoming: New York,' Rebecca once again walked away from the show, with many alleging her to be a racist.
Having left the show in 1992, Rebecca pursued music and soon released her album 'The Rebecca Blasband' after signing with Warner Chappell Music Publishing and Mercury Records. Over the years, Rebecca has toured and opened for artists like Chris Whitley and Jon Bon Jovi. After her recording label dissolved, Rebecca started producing sound and music for television and film in California. She also dabbled in screenwriting and collaborated on the feature film, 'The Strange Case of Wilhelm Reich.' In 2017, she released her album 'HERE' and has since focused on traveling and enjoying art, music and films.
Where is Andre Comeau Now?
Hailing from Detroit, Michigan, Andre Comeau had been the picture-perfect representation of Gen X. A musician then and a musician now, Andre has continued to hone his talent as a rock artist. In addition to his stint on 'The Real World,' he has also starred in 'The Metal Summit' and 'The Mystic Masseur.' Over the years, he has been on a number of tours and produced EP and singles.
He has worked with artists like Darren Elphant, Gary Wicks and Steve Dawson. Andre is also part of the band River Rouge, and the group is regularly on tour. Despite a hectic schedule, Andre hasn't relegated his personal life. The father of a young girl, Andre, takes special care to ensure he regularly spends time with his daughter. He regularly posts about their outings on Instagram as well.
Where is Heather B. Gardner Now?
Heather was already an active artist from Jersey when she made her way to the MTV reality show. With a tour under her belt, 'The Real World' gave Heather the career break she desired. After leaving the show, she signed with a record label and produced her first album 'Takin' Mine' in 1996. Giving impetus to the cause of anti-gun violence through her music, Heather has always used her work for meaningful purposes. Over the years, her musical career has also expanded to acting and writing.
She has starred in works like 'Dead Presidents,' 'Death Wish,' 'Luke Cage' and 'The Wedding Video' directed by fellow alum Norman Korpi. She has appeared on talk shows, and radio shows as well. Heather has also worked as a screenwriter and written for 'Turnpike' and 'Somewhere Between.' On the personal front, Heather found the love of her life E. Gray, a fellow hip-hop artist, on a subway train and married him in 2001. She regularly takes to Instagram to post about her family and spouse.
Where is Julie Gentry Now?
The aspiring dancer was only 19 at the time of her appearance on the show. More than thirty years later, Julie's life has changed exponentially. She is no longer a magnanimous young person who wants to experience new things. Instead of continuing with reality television at the time, Julie chose to date Joshua, a young man she'd first met in a youth group in her town's church. In 1999, the duo returned to Homewood after their marriage, bought a house and got involved in working for the local community.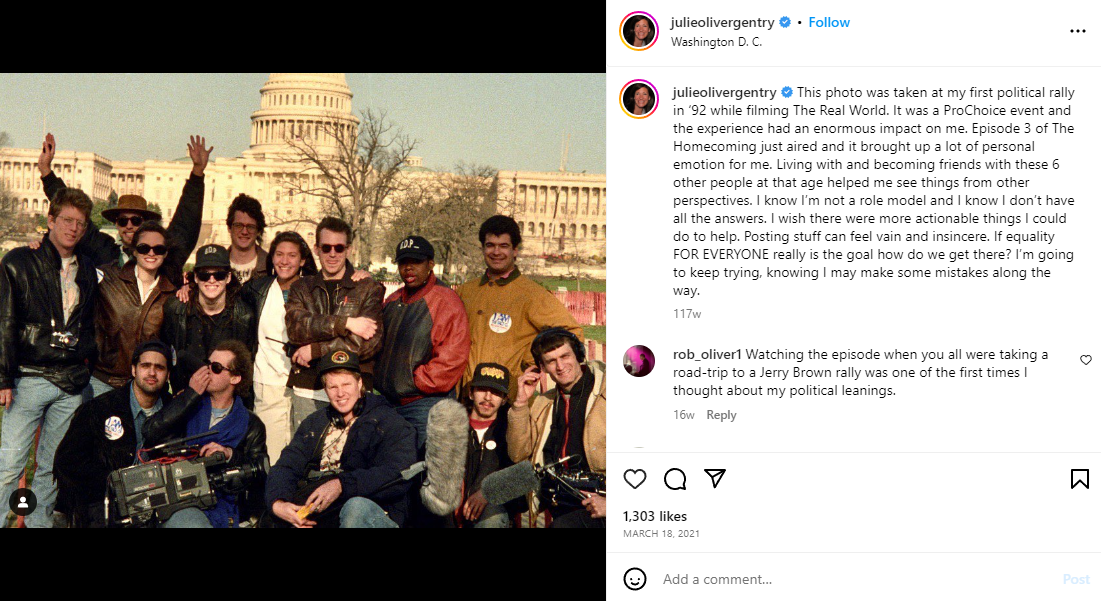 Julie has since lived a life running a community garden along with her husband and two children. She also mentors young students through the College Choice Foundation and regularly posts mementos of her life on Instagram. Even years later, Julie is still close to her castmates, who have thrown her a surprise birthday party since their reunion in 2021, signifying the significant bonds they formed years ago.
Where is Norman Korpi Now?
When Norman came to 'The Real World' as a young man, he had already been painting murals on buildings and was even a Presidential Scholar in the Arts. However, what made him even more remarkable was that he was the first openly gay person to appear on reality television. After he left the show, he continued to succeed with an upward trajectory. Over the years, Norman has branched into commercial design, advertising, production design, and art.
He established his production company Fruit Films in 1997 and produced 'The Wedding Video,' a mockumentary of Korpi's gay wedding. Norman has also appeared in 'The Gauntlet,' and 'Making the Boys.' Most recently, he became the CEO of Adaptive Origins, a company that brings innovative products to the market with strategic partnerships. While Norman is currently not dating anyone, he is still an adventurist who likes to travel and share snippets of his experiences on social media.
Read More: The Real World Season 2: Where are They Now?