'Better Call Saul' is back with Season 5, the penultimate season. Ever since the events of 'Breaking Bad', we have seen that Saul has been on the lam. The show has wonderfully juxtaposed two timelines – Saul's life in Omaha, where he lives under an alias, Gene Takovic, and his time in Albuquerque, where we trace the evolution of Jimmy McGill to Saul Goodman.
The anonymity of Saul's present is superbly contrasted with his over the top antics, to make it in the world of lawyering. However, with Saul's tendency to go overboard with the flashiness, we have been waiting for the other show to drop inevitably. This happens right at the start of Season 5.
Better Call Saul Season 5 Episode 1 Recap: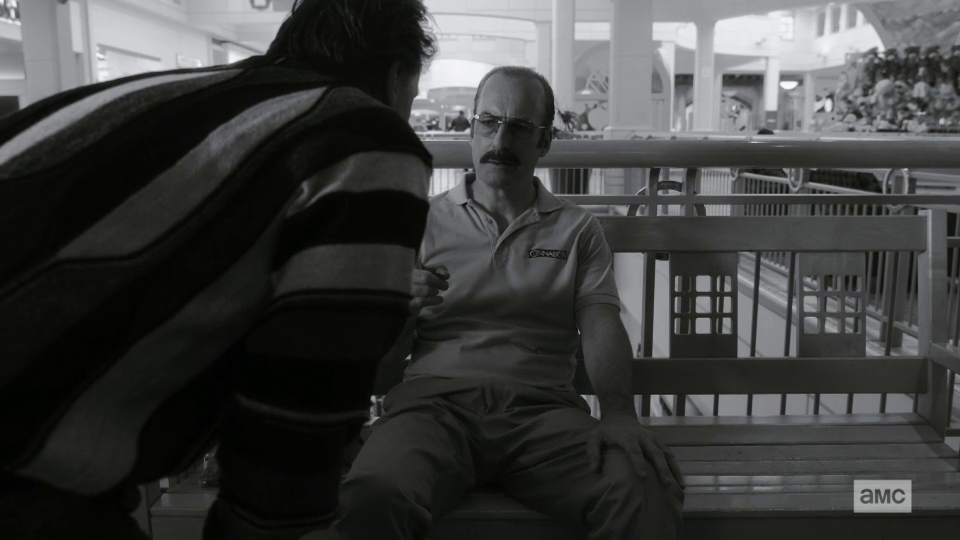 'Better Call Saul' starts with Saul's life in Omaha. We trace Gene Takovic's panic, as he makes a run for it, after a suspiciously close shave with a cab driver, that we see in Season 4. Gene, or Saul, gets away for a while afraid that someone might be after him. However, when he calls his co-workers at Cinnabon, to confirm whether anyone was looking for him, his worries are laid to rest. Saul is almost disappointed that he has to return to his old life, but the episode quickly transitions to show how he gets back to his routine in the mall. While Saul is enjoying his usual lunch, he is interrupted by the cab driver, who is with a friend of his.
The cabbie recognizes Saul, and though he claims to be a fan, his words seem like a veiled threat. Anyway, Saul perceives it the same way and is worried that his cover is blown. His first call is to the vacuum repair shop in Albuquerque, which sets up clients with new identities. However, at the last moment, he decides to 'fix' it himself.
After the rather long opening sequence, the show takes us back to the past, as we see Jimmy McGill's official transformation to Saul Goodman. Jimmy simply does not want to be Chuck's loser brother anymore and sees Saul Goodman as a fresh start. Kim tries to be supportive, with thoughtful gifts, but she cannot quite share Jimmy's vision.
This vision obviously includes teaming up with Huell and organizing a cell-phone giveaway event. Last season, Jimmy had hit upon the idea to sell burner cell phones to clients, praising its anonymity, hinting that their criminal activities might go undetected. The current episode sees him tapping into this same client base, introducing himself as a lawyer, apart from being the 'phone guy'. He goes so far as to give them a 50% off on non-violent felonies.
However, Saul's transformation is not complete yet. Just as Jimmy used the cameras to drive his point home, so does Saul. In the courthouse, he makes use of his friend from the DA's office, to orchestrate a fake news coverage about a client. Using this opportunity, Saul gets a chance to advertise his services, which immediately results in several people clamoring to get his card.
A nice side story sees Lalo Salamanca sniffing around Gus' business, while Mike and Gus attempt to cover up the meth lab they are building under the laundromat. Obviously, this is the lab Walter ends up in, ultimately. However, for now, the construction is paused, to keep it away from Lalo's eyes. Nonetheless, he sees through the story that Gus cooks up for him.
Meanwhile, Mike and Gus' relationship takes a hit, after the former was forced to kill Werner Ziegler, the construction expert, for escaping to see his wife, last season. Although Mike did what was needed, he leaves Gus' deal of staying on retainer. Towards the end of the show, we see how Kim tries to represent a client, who does not want to go for a better deal.
Jimmy, or rather Saul, has a quick fix, which includes scamming the client to take the deal that is better for him. Although reluctant at first, Kim ends up going with Saul's idea. The final moments of the episode sees Kim ending up hating herself for listening to Jimmy. Ironically, this takes place on the same stairway landing where Jimmy and Kim had shared a passionate kiss, after managing to keep Huell out of prison, by operating in the morally grey area.
Better Call Saul Season 5 Episode 1 Review: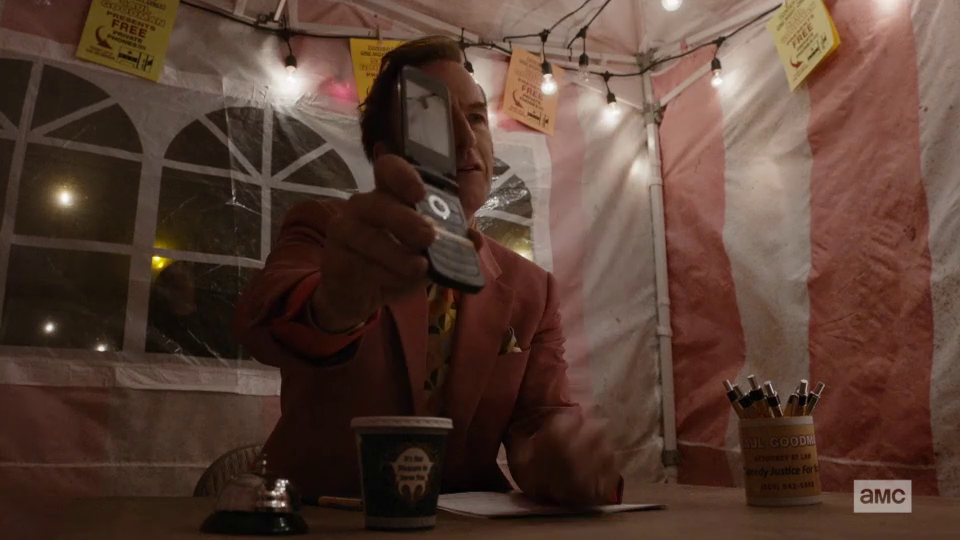 'Better Call Saul' is off to a solid start. We already realize how Saul's persona becomes powerful and prominent enough to become unforgettable. While the tactics helped Saul get clients, it now works against him, as he tries to continue existing under the radar as Gene Takovic. That said, Saul promising to 'fix' the cabbie problem, means that Saul's mind might return to old ways. Is the shady lawyer open for business again? Only time will tell. However, we expect Saul to take some concrete action by the end of Season 5, which will lead to a wonderful start to the final Season 6.
As for his relationship with Kim, we already witness the first strain start to appear, with the way Saul operates. It won't be long until Kim sees the truth about the man she loves, and it will be painful at the time. We already see how Saul taints Kim's pure pursuit of justice, in criminal law. The season premiere sets up this wonderfully, with the subtlest of emotions.
Mike and Gus' relationship arc is also interesting since the former eventually becomes Gus' most trusted fixer. However, the season premiere shows how Mike operates with a strong set of morals, which is probably what helps him gain Gus' respect. Mike's morals are strongly contrasted with Saul's lack thereof, in the court scene. It is just one of the many contrasts that makes 'Better Call Saul' so nuanced, and in my mind, a much more mature storytelling example than 'Breaking Bad'.
Ultimately, I have saved the best for last. The sequences where Saul executes a plan, is usually what makes this show so enjoyable. Vince Gilligan succeeds in portraying this once again, as Saul is almost a ringmaster in the circus he organizes, wherein the unsavory people of society are invited to be represented by the new 'criminal' lawyer. The way Saul sells the phones, and himself, is just an early glimpse into how this silver-tongued devil eventually makes inroads and connections with the biggest criminals operating in and around Albuquerque.
'Better Call Saul' Season 5 is off to a strong start, and undoubtedly, the action, and character arcs will only get better hereon.
Read More: Shows Like Better Call Saul
Rating: 4/5