The new season of 'Better Call Saul' has documented how Jimmy has embraced the Saul Goodman persona. This episode gives us one of the finest displays of that. With Kim giving Jimmy a free rein to mess with Mesa Verde, the 'world's second-best lawyer' does not pull his punches.
Meanwhile, Mike is at a crossroads and has to make a decision about where his life is headed. Having seen 'Breaking Bad', we already know what choice he makes, but it is still interesting to see the moral grappling from the ex-cop. Curious to find out what exactly goes down? Read our recap and review below.
Better Call Saul Season 5 Episode 5 Recap: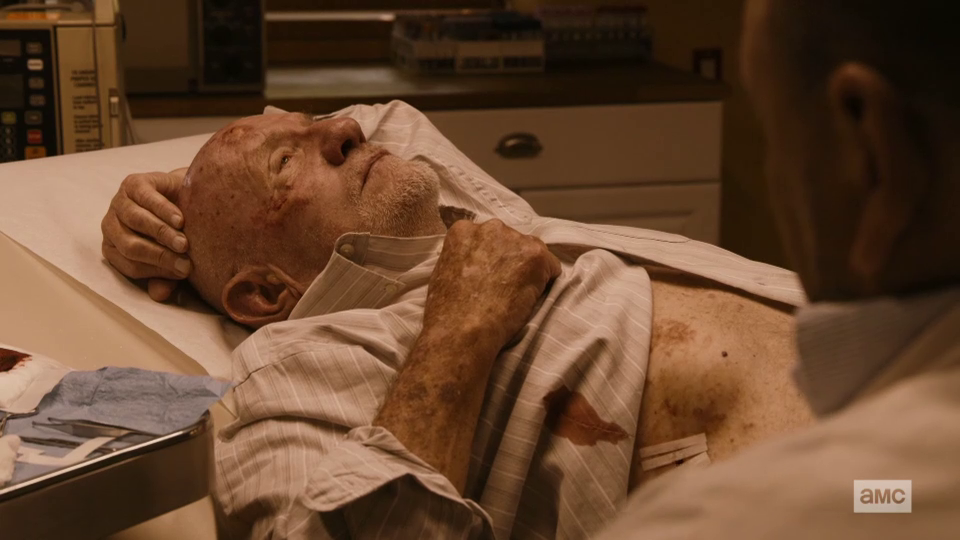 The episode starts with Mesa Verde's construction workers trying to make a move on Acker's property. However, this time, Saul Goodman is there to fight for the little man. What starts off as a simple gimmick designed to make Mesa Verde lose a day, soon escalates to something more.
Saul starts off with changing Acker's address and then proceeds to fake an archeological finding. Jimmy's conning days shine through as he uses the insides of fire alarms to create a fake panic about radioactivity outside Acker's home. He even goes to the extent of spray painting the face of Jesus, to tap into people's faith, turning Acker's house into a desert miracle.
While all of this is specifically designed to get Mesa Verde back to the negotiating table, the head of the bank does not agree. The lucrative offer would be to take the alternate plot of land, and continue construction. However, this becomes a battle of egos, and the bank owner refuses to back down from a fight with a 'shyster'. Jimmy feels they should lay off, and negotiate in good faith (or whatever remains of good faith at this point).
However, Kim is fixated on getting her way. She convinces Jimmy to get a PI, from the well-connected vet. This PI seems to dig up something that brings a smile to Kim's face. Undoubtedly, we will see her plan in the next episode. Elsewhere, Mike is forced to take a vacation of sorts.
Waking up with the knife wound stitched, it does not take Mike long to figure out that Gus is behind this rescue operation. He tries to walk out, doggedly but manages to aggravate his wound. We meet Gus' doctor (who'd later save Mike and his life in 'Breaking Bad'). Forced into this rustic and secluded life, Mike helps out the woman taking care of him, by fixing her window sill.
Eventually, he gets to meet Gus, as the kingpin offers Mike the position of a soldier in his organization. We understand that Gus has started waging the war against the Salamancas. Tapping into Mike's understanding of revenge, Gus offers the ex-cop a chance to turn his life around and fix things with his family.
Better Call Saul Season 5 Episode 5 Review: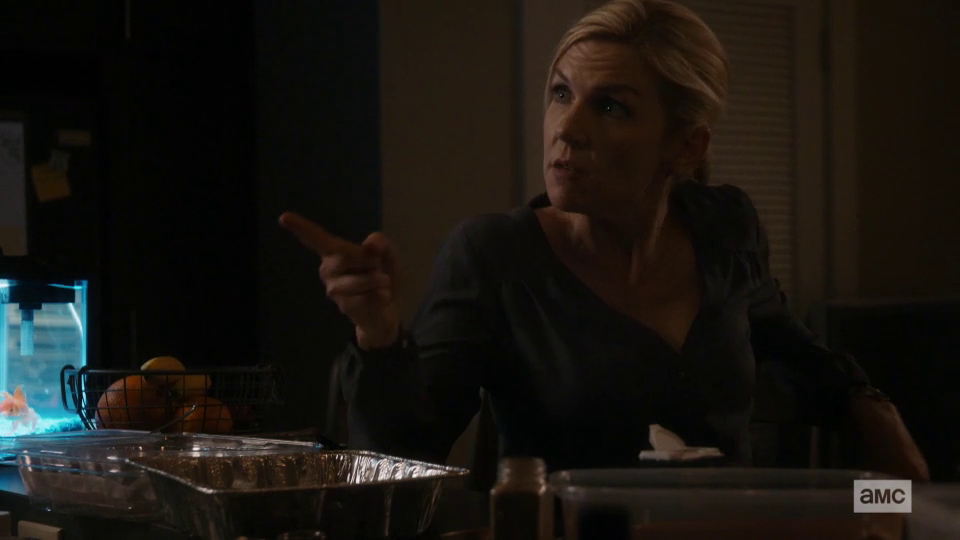 Remember Maximino "Max" Arciniega, Fring's associate, and co-founder of Los Pollos Hermanos, who was murdered by Hector Salamanca, on Don Eladio's orders? Gus has not forgotten him, and we are not allowed to forget either, in 'Dedicacio a Max'.
After all, Mike finds himself at a place constructed specifically to commemorate Max. It sets the tone of revenge that plays out throughout the episode. However, while Gus' revenge is cold and calculated, Kim's revenge motif seems to move onto extremely shaky grounds.
The series of short cons that Jimmy or Saul, runs along with Kim, under Kevin's nose, is a sight to behold. Mesa Verde is reeling, but unwilling to back down. When Kim refuses to back down either, despite Jimmy giving her ways out, it becomes clear how involved she is, in it. Despite having become Saul, it is heartening that Jimmy knows to protect the ones he cares about.
Anticipating that the Mesa Verde fight will get messy, he advises Kim to step back. In a stroke of fine writing, Gilligan makes it clear that Rich sees through Kim's ploy. After all, it is not logically feasible to hoodwink everyone at that level. Surprisingly, Rich gives her a way out as well, but Kim makes her stance public, by fighting with Rich in the hallway. It becomes abundantly clear that she's losing control of the situation, although she seems to have fun with Jimmy, crossing this ethical line.
While Kim's attempt to fight for Acker starts going haywire, Gus' plan to get Mike into the fight against the Salamancas progresses wonderfully. Left to recuperate, Mike tries his handiwork, including attempting to design his own mobile charger. 'Better Call Saul' might be a tragic show at its core, but it is also a black comedy. This episode manages to underscore the humor in certain parts.
One would be when Mike's caretaker gives him a mobile charger, after seeing him tinkering around. Another comes from Mike's deadpan expression when Saul tries to contact him for help. However, beyond this, 'Dedicacio a Max' is also about the choices that the characters make.
We already know that Jimmy has chosen to be Saul, and is willing to work in the grey area of the law. However, this episode is about Kim and Mike's choices. They both have the option of retreating into a life of safety. While we don't see what Mike chooses, in this episode itself, we happen to know the road he walks down. It appears that both Mike and Kim decide to choose recklessness and a wilder life.
The upcoming episodes will show how this works out for Kim. For now, 'Dedicacio a Max' becomes a wonderful episode of character development, peppered with the subtlest touches of the show's characteristic humor.
Rating: 3.5/5
Read More: Best Breaking Bad Episodes