As a Netflix original reality competition series we can only describe as equal parts alluring, exciting, intriguing, and quirky, 'The Big Nailed It! Baking Challenge' is absolutely unlike any other. That's because it revolves around ten relatively unskilled yet passionate home bakers as they attempt to recreate some incredible desserts for a chance to prove their mettle and earn $100,000. So now that the debut season of this 'Nailed It!' spin-off has premiered on our screens in totality — let's find out more about franchise alumni plus second runner-up Richard Sanchez, shall we?
Richard Sanchez's The Big Nailed It! Baking Challenge's Journey
It was back in November 2019 when we first came across Richard in 'Nailed It!: Holiday' Season 2 Episode 1, where he did wonders despite not having had the greatest of starts. We say this because while he was told, his (over-baked) cookies were like eating "painted cinder block" following the first round, he ended up winning the entire thing to walk away with $10,000. Therefore, Richard's return to the offshoot 'Baking Challenge,' was more for him to improve his overall skills in the hopes of earning some more money along the way rather than anything else.
Though, of course, money was a massive motivating factor for Richard as a now-single father of five young girls residing in a small two-bedroom rented apartment with a single bathroom. "Anyone that has one bathroom in a family of six knows that it's a nightmare," he conceded in the show. "So, if I win, I want to be able to give my kids something I've never had. Something to call their own. That feeling of being secure; that's my motivation here."
Unfortunately, Richard could not win anything except the second Big Bake challenge, and he also crashed during the semi-finals on a minor technicality — he came third. Nevertheless, he still won millions of hearts by smiling brightly and conceding, "I had a great time. I learned so much, and I have no regrets… I'm not sad to be saying goodbye. I'm proud to lose to Georgina and Ignoisco because those two make phenomenal cakes… I'm just ready for this pantry raid now!"
Where is Richard Sanchez Now?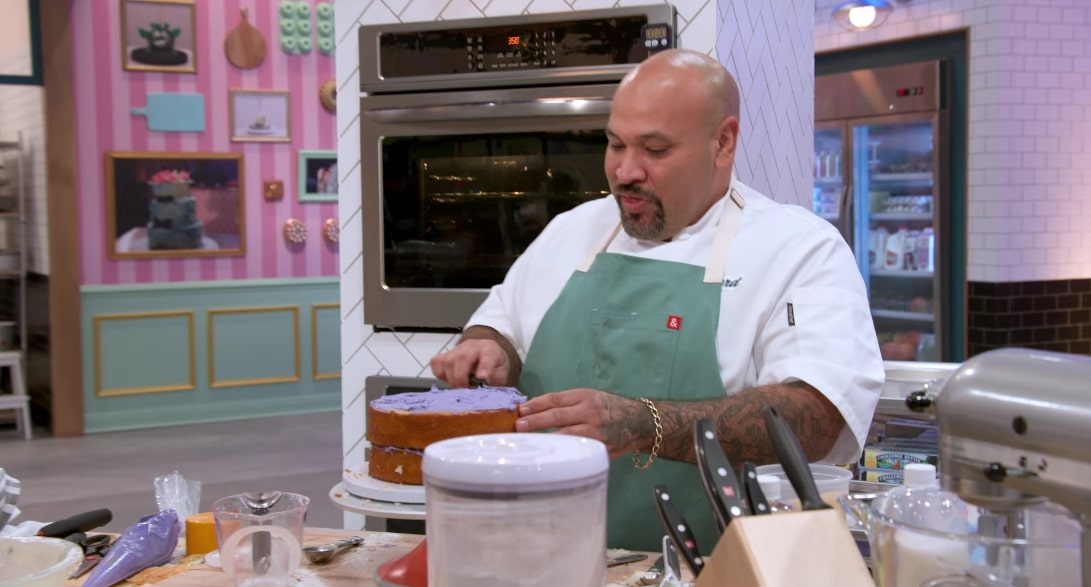 From what we can tell, the single father of five young girls, Richard, prefers to keep his personal and professional life well away from the limelight, meaning we sadly don't know much about him. Though from his admitted experiences and his memorable stints in the world of 'Nailed It,' we believe it's safe to assume he continues to be based in San Francisco, California, where he proudly serves as a Warehouse Supervisor.
Read More: Frank Hu: Where is The Big Nailed It Baking Challenge Contestant Now?