If you are a fan of cooking shows and like your dishes seasoned with drama, Netflix's 'Pressure Cooker' is sure to keep you entertained. The sheer competitiveness and strategies used by the participating chefs to ensure their place in the show are nothing short of captivating. After all, it is not just their cooking skills that are being put to the test, as they must also maintain good connections in order to not get voted out. Season 1 saw Chef Robbie Jester take home the title of the winner and a cash prize of $100,000. Naturally, people are curious about the reality star's current whereabouts, and we are here to answer the same!
Robbie Jester's Pressure Cooker Journey
Hailing from Newark, Delaware, Robbie Jester entered the Netflix series at the age of 36 and was eager to show the world exactly what he could do as a chef. Surrounded by people with just as impressive backgrounds as himself, the reality TV star decided to focus on ensuring that his food tasted and looked good and did not worry about using the different techniques other participants seemed to be indulging in.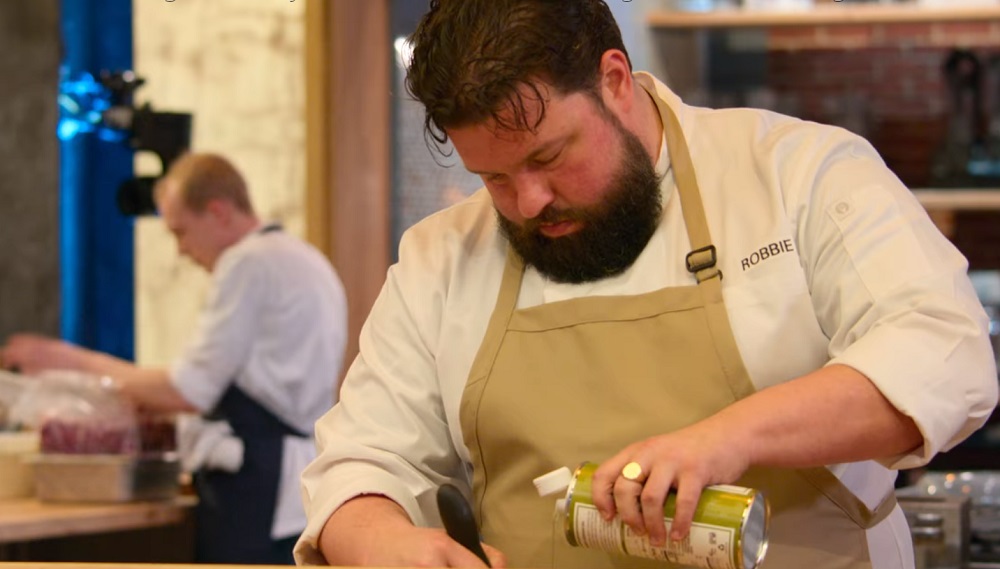 After passing the first challenge with flying colors, Robbie was part of Lana Lagomarsini's team for the group challenge. The team performed excellently, and Robbie started forming connections with others. His bond with Ed Porter and Renee Blackman especially made him one of the strongest players in the game, though he also had a bond with Mike Eckles. While Robbie felt betrayed that Lana and Jeana did not join him and Mike for the next challenge, he still felt that Lana should not have been eliminated.
In the semi-finals, Mike won the Monochromatic Challenge and had the tough choice of selecting his competitor for the finals. He chose Robbie as he respected the latter's work in the kitchen and thought that some of his skills just could not be learned via teaching. For the finals, both cooks were joined by one of the eliminated participants as their sous-chefs. Though Robbie had wanted Lana, he decided to go with his good friend Ed, especially after Mike stated that he wanted Lana to be his partner. After the finalists had presented their mouthwatering array of dishes to the other participants, who were acting as judges, the votes were cast, and Robbie won with 5 votes, compared to Mike's 4.
Where is Robbie Jester Today?
As of writing, Robbie Jester serves as the Executive Chef and Owner of Pizzeria Mariana, located at 140 East Cleveland Avenue in Newark, Delaware. He also offers services as a Private Chef and owns two other food establishments where he often cooks. As it turns out, Robbie's connection with cooking started at the young age of 12 when he started working at his family's restaurant. He graduated from the Culinary Institute of America and went on to work in establishments like Toscana Kitchen and Bar, 16 Mile Taphouse (Stone Balloon Ale House), DuPont Country Club, and Hotel du Pont.
Over the years, Robbie has been frequently seen in reality shows like 'Guy's Grocery Games' and 'Beat Bobby Flay.' He was also part of Maryland Governor Martin O'Malley's Buy Local Challenges (2009, 2010, and 2011) and Chefs by the Bay (2010 and 2011). His work has been featured in multiple publications like Delaware Today Magazine, Brandywine Signature Magazine, Out and About, and the News Journal. Robbie also had the honor of being one of the "Best Chefs of America" for the state of Delaware from 2012 to 2014.
Robbie's talent and hard work have helped him serve distinguished diners like President Joe Biden (then-Vice-President), as well as the King and Queen of Sweden. As for his personal life, Robbie tied the knot with Katelyn Jester, his long-time girlfriend, in a beautiful wedding ceremony on October 7, 2022. The adorable couple has been enjoying marital bliss ever since. Apart from sharing delightful moments of his life with his loved ones, Robbie uses social media to share food-related content, which includes recipes, food pictures, and cooking videos to showcase just how talented the season 1 winner is.
Read More: Pressure Cooker Season 1: Where Are The Chefs Now?