'Sakurasou no Pet na Kanojo' is a lovely, romantic, feel-good story that is also a tear-jerker. Now all that is fine and can be found in any other "slice of life" anime but the best thing about this series is that it is also one hell of an inspiring story. It follows a very relatable plot that sheds light on one's failures and downfalls in life. Apart from all the entertainment that you get from it, you also learn a lesson or two about how in life it is necessary to work really hard towards your goals by putting your heart and soul into them. In the end, it does not matter where you reach because all along, it has been about your journey towards the goals. All of this ends on such a good note that you'll find yourself bawling your eyes over it.
The art and the animation aren't exceptionally great but aren't bad either. However, the art for a character named Mashiro is, for the most part, amazing. It goes along really well with her artistic personality and status in the anime. The sound and the music fit the scenes of the show really well and the opening and closing themes, though not memorable, are decent enough. The English Dub is not really up to the mark and often does not go well with the character mannerisms. So my advice to anyone who's going to start watching it now would be to go for the subbed version.
The characters of an anime can either completely ruin the entire show or they can make it shine and in this case, they are absolute lifesavers. The diverse characters have a very realistic feel to them and are not thrown around randomly just to drag the plot. Each one of them has their own back story and motivations behind what they do, all of which reflects on their personalities really well. By the end, you almost start getting attached to most of them and feel what they feel.
At the end of the day, 'Sakurasou no Pet na Kanojo' is not different from most other slice-of-life romance anime created by J.C Staff but it manages to stand out with its heavy emphasis on the development of many characters. This surely would not have been possible if it had stuck to the standard 12-episode format; so going for a long run was a really good decision by the Studio. There is nothing very deep or life-changing about the series but for what it offers, it manages to be above most others in its genre.
Sakurasou no Pet na Kanojo Season 2 Release Date: When will it premiere?
'Sakurasou no Pet na Kanojo' season 1 premiered on October 9, 2012 and came to end on March 26, 2013 with a total of 24 episodes. The first season adapts the first 6 volumes of the original light novels and a part of the 7th novel. While there is enough source material to bring another season, as of now, there have only been speculations regarding a new one with no confirmations from the studio's end. Also, J.C Staff seems to have more profitable options in the same genre, which includes shows like 'Toradora'; so a season 2 of 'Sakurasou no Pet na Kanojo' seems very less likely. But even then, as soon as we come to know about 'Sakurasou no Pet na Kanojo' season 2 release date, we will update this section.
Sakurasou no Pet na Kanojo English Dub:
You can stream 'Sakurasou no Pet na Kanojo' on Crunchyroll, Amazon Prime, and HiDive with its original Japanese audio and English subtitles.
Sakurasou no Pet na Kanojo Plot:
'Sakurasou no Pet na Kanojo' centers around a protagonist named Sorata Konda, who is kicked out of his dorm after being caught with some abandoned stray kittens. He is then left with no other option but to move to the infamous Sakura Hall dorm of the Sorata Kanda High School. This dorm is known for accommodating the strangest and the most trouble making students and no one except for them wishes to live there. As soon as Sorata moves to the new dorm, he finds it really hard to keep up with its weird residents and his close friend Nanami asks him to quickly find owners for the kittens so that he can get rid of them and move back to his old dorm.
But somewhere along the way, he becomes unsure about whether or not he wants to leave the dorm after he meets Mashiro Shiina, who is a world-class artistic philosopher dreaming to become a manga writer someday. As soon as she arrives there, she latches on to Sorata and together, they try to change their own lives along with the lives of the ones around them.
Sakurasou no Pet na Kanojo Characters:
Sorata Kanda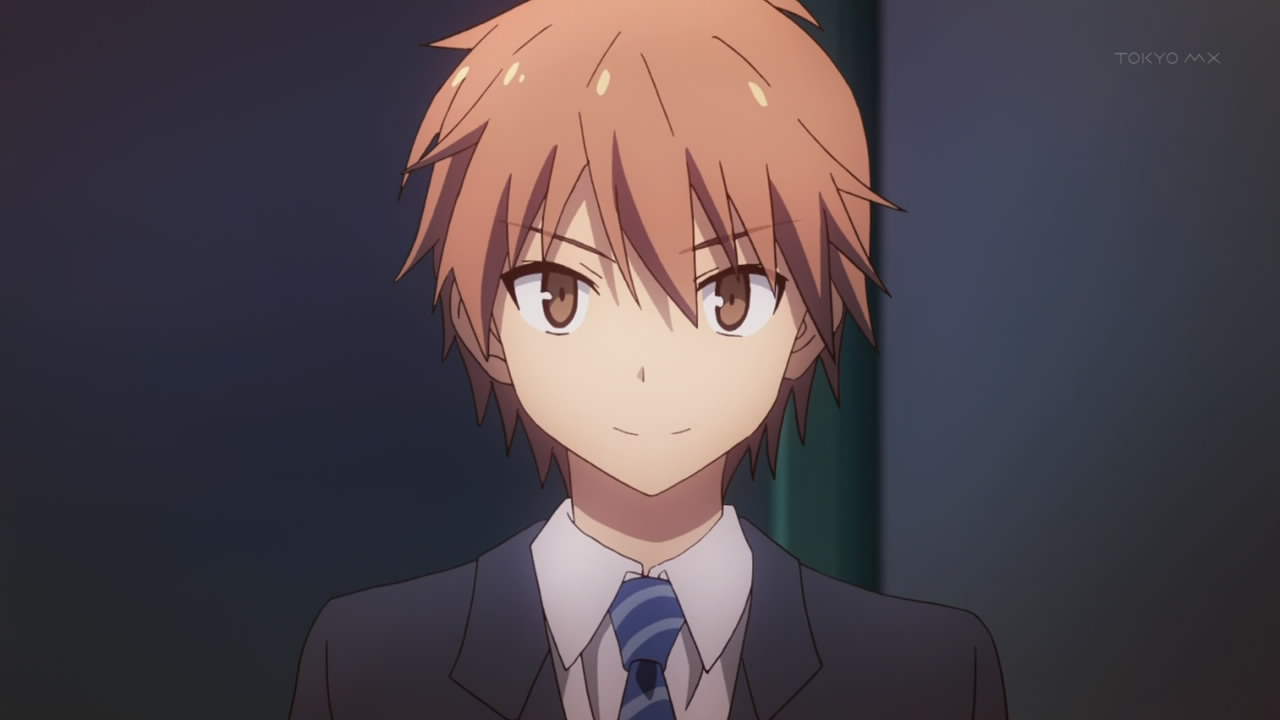 Sorata Kanda is the main protagonist of the show. He is a second-year student at Suiko University of Arts. He lives in room number 101 of the Sakurasou Dormitory after he gets kicked out of his standard dorm because he refused to abandon a white stray cat that he had earlier picked up. He is a young man with an average built overall and he sports short spiky brown hair that matches his eye color. Even during non-school hours, he is usually seen wearing his school uniform.
Sorata considers himself to be very ordinary and after he moves to the Sakurasou Dormitory, he feels inferior to all the other genius minds of the dorm. But later, Shiina inspires him to do more and that's when he decides to build on his game developing skills. Shiina is quite free-spirited, which tends to get on Sorata's nerves sometimes. At times like these, he takes it upon himself to teach her some discipline. While he may not be sure about what his life goals truly are, he is very certain about what his heart wants and because of this, he is always kind to everyone around him. He is never able to turn his head away from stray cats and till date, he has picked 7 cats from the streets.
Mashiro Shiina
Mashiro Shiina is the female protagonist of the anime, who resides in room number 202 of the Sakurasou Dormitory. She is very well known, not just in her school but all over Japan for her prodigal artistic skills. Her dream is to become a great mangaka someday. Though she's an absolute genius when it comes to art, she has no idea about anything else in her life. She totally relies on Sorata for everything else, who has to literally dress her up every morning before school because if he doesn't, she might just end up going to school naked. Mashiro has a very photographic memory but she never really bothers to open her textbooks and later gets the most awful grades. She utilizes the power of her eidetic memory later during the make-up exams and manages to do really well. But when it comes to her work, she even neglects sleep and forgets to eat while she's working on a project.
Since Mashiro cares about nothing but her art, she lacks emotions and does not feel anything at all. She walks around with a very blank expression on her face and even when she talks, it's barely audible. She is a girl of very few words and often seems confused about what she wants to say. She stays lost in her own world where fame and esteem are the least of her concerns. Later, she really starts admiring Sorata and even learns how to cook for him just to get his attention. Sorata thinks that she's wasting her time and instead, could use her time doing something more productive but she can't help it. Just to show him how much she likes him, Mashiro is also willing to give up on her art, which is the only thing she's passionate about.
Read More in Anime Preview: Haganai Season 3 | Hyouka Season 2