Conceiving beauty and makeup in a new light altogether, Netflix's 'Glow Up' chronicles the journey of ten contestants who compete in a series of challenges to become the best make-up artist. The series features a streak of tests designed to assess the abilities of the participants. As contestants push their boundaries and channel their creativity, they find that delivering the best results in time-sensitive situations may not be as easy. The fifth instalment of the reality television show features talented individuals such as Sarah Agbiji. Having received a platform to display her work, great opportunities lay ahead for the contestant. So, if you're also wondering what the reality star has been up to these days, then look no further because we've got all the answers right here!
Who is Sarah Agbiji?
From construing a story through makeup to exploring new boundaries through artistry, Sarah Agbiji became one of the frontrunners on the BBC reality show. Born and brought up in Manchester, the reality TV star always shared a penchant for artistic flair. Having discovered her passion for finesse and creativity, Sarah ultimately found herself working as a makeup artist. While her passion lay in the arts, Sarah was initially expected to take another route when it came to her career. Naturally, the filial daughter set out to become a doctor and even completed a Biomedical Science degree.
However, despite the rigorous time she spent imbibing the values of medical science, it was creating and illustrating through self-expression that caught her fancy. Ultimately, she challenged herself every step of the way and decided to enlist in the competition. Albeit losing the top spot, Sarah consistently displayed her eye for detail and showcased finesse when it came to makeup and artistry. Having believed that her true competition was no one but herself, Sarah shared a fervor for winning from the get-go. Not just this, she also managed to channel her personal stories through her work on the show.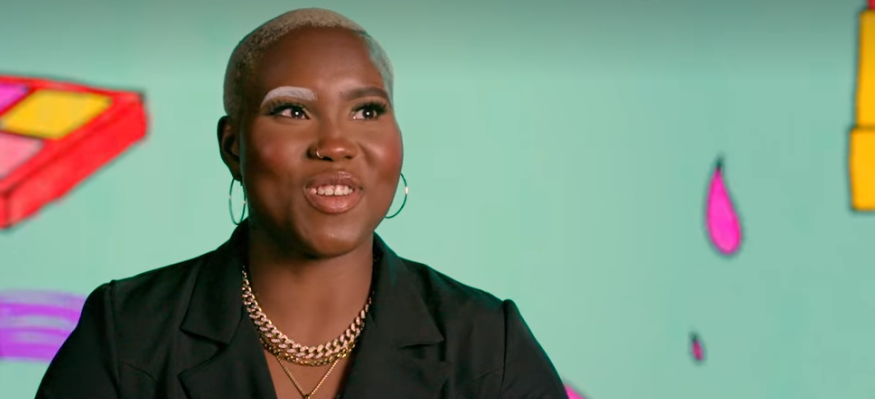 After opening up about her past traumatic experiences on the show, Sarah successfully displayed her skills in expressive storytelling as well. As a young child, the reality TV star had accidentally burned her face with hot cooking oil. Despite the pain associated with the memory, Sarah successfully used her skills to depict the event through her makeup. Alas, her time on the season came to a close after she ended up losing in the dreaded face-off elimination challenge. Nevertheless, the television personality still managed to highlight her abilities as an up-and-coming phenomenon in the beauty industry. Naturally, fans have wondered what lay ahead for the freelance makeup artist.
Where is Sarah Agbiji Now?
Having gained a footing on the worldwide platform, Sarah was able to work with some of the greatest titans of the beauty industry. From experiencing the opulence of the 'Bridgerton' set to working on unique and imaginative assignments, Sarah was able to channel her expertise in several ways. After the cameras stopped rolling, the television personality returned to her life in Manchester and has since grown and evolved as a makeup artist.
The 25-year-old has exponentiated her makeup service company called Modern Wand. Sarah launched her brand in the hopes of inspiring others to embrace expression and spread love. The company provides a myriad of services for clients who can avail of different looks at different prices. The makeup artist delivers creative looks, photoshoots, bridal makeup, and even full-face glam. Apart from makeup, Sarah also provides braiding services to elevate aesthetics. Fans and readers can find her work on her social media platform. Not just this, people can also discover Sarah's one-on-one masterclass on her website. Additionally, the brand is also available for mobile and international bookings.
Besides excelling as a makeup artist, Sarah is also a burgeoning content creator. The television personality helms a personal fitness page where she regularly posts her transformation, workout, and gym vlogs. She is also a TikTok creator and shares snippets of her life online. Despite getting an early exit from the show, it is apparent that Sarah Agbiji is on the pathway to creating several personal and professional milestones!