Created and directed by Hansal Mehta and Mrunmayee Lagoo Waikul, Netflix's 'Scoop' is an Indian crime drama series that depicts the intricacies of crime journalism. Following the death of Jaideb Sen, an industry rival, crime journalist Jagruti Pathak finds herself caught in the middle of Sen's murder investigation. With allegations about ties to national gangsters and constant media speculation, Jagruti is forced to fight for her freedom against the same system that once celebrated her.
The show delves into the story of a wrongful conviction, and in doing so, explores the interconnected nature of crime, journalism, and justice. Starring as the lead is Karishma Tanna, who perfectly portrays the courageous and vulnerable sides of Jagruti. Through her bold and ambitious character 'Scoop' also touches upon the struggles she faces as a woman in a male-dominated industry. Due to Jagruti's involvement in a such a sensationalized case, viewers might be wondering about Jagruti's connection to any real-life reporters. Therefore, here is everything we know about the origin of Jagruti Pathak.
Is Jagruti Pathak a Real Reporter?
Yes, Jagruti Pathak is based on a real reporter. 'Scoop' is a fictionalized retelling of Jigna Vora's experience during renowned reporter Jyotirmoy Dey's 2011 murder case. The series bases itself upon Vora's 2019 memoir, 'Behind Bars in Byculla: My Days in Prison.' However, in an effort to preserve creative freedom, the names of several characters, including Vora, are changed in the series.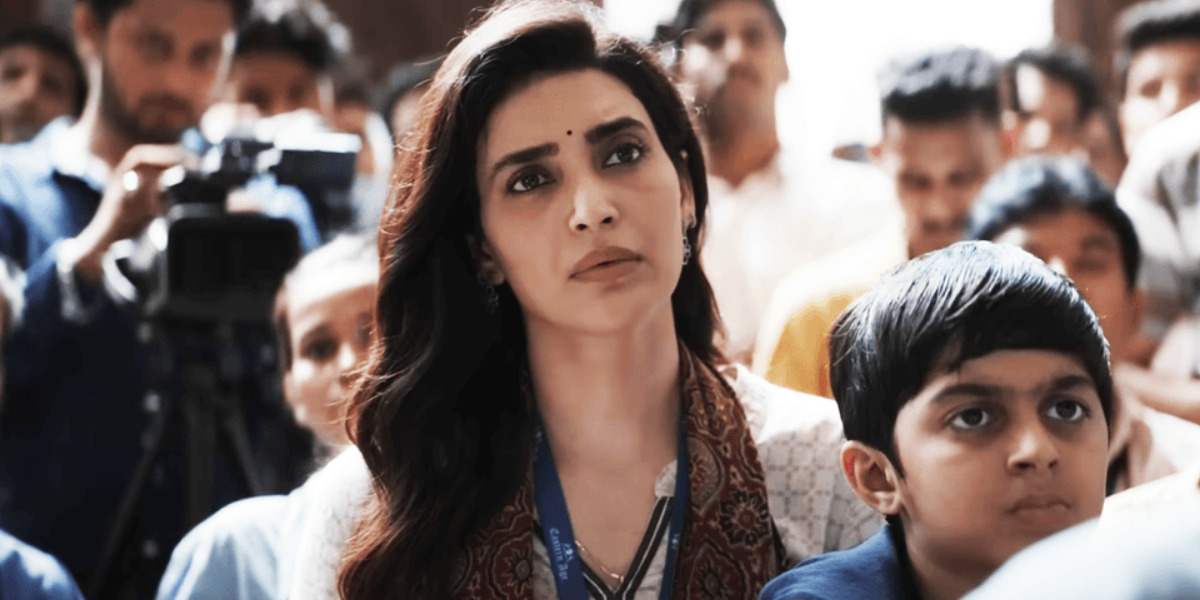 On June 11, 2011, Jyotirmoy Dey, frequently known as J Dey, was killed by Chhota Rajan's gang. A few months later, Jigna Vora was arrested for abetting in Dey's murder and consequently spent months inside the Byculla Women's Jail. Her 2019 memoir serves as an account of Vora's traumatic experience after being wrongfully convicted and includes pieces of her life as a crime reporter. 'Scoop' possesses a similar narrative and strives to tell an engaging story about an adverse journey.
When discussing 'Scoop's' story in an interview with The Indian Express, director Hansal Mehta said, "I think the logline itself was the arresting bit. The reporter becomes reported." As such, the series dives deep into the world of investigative journalism and showcases a nuanced take on the same. Although Mehta himself doesn't like to research intensively for his projects, 'Scoop's' team of writers interviewed involved parties while working on the script.
In addition to show writers Mrunmayee Lagoo and Mirat Trivedi, former Indian Express journalist Deepu Sebastian was also involved in the show's creative process. "Deepu did a lot of research for us. He actually interviewed Jigna, a lot of the police, and a lot of people," said Mehta in an interview. As for director Mehta and Actress Karishma Tanna, both only met Jigna Vora while wrapping up the show's shoot.
In an interview with The Hindustan Times, Mehta discussed his decision to cast Tanna as his lead and said, "I enjoy casting as much as shooting, and that process of surprising myself. Karishma was just that. There were a lot of accomplished actors in the room that auditioned for the part of Jagruti, but I found Karishma to be hungrier than them, and that's what I wanted for Jagruti. I didn't want intellectual baggage." As such, Tanna's single-minded resolute attitude played a significant part in Mehta's ultimate casting decision.
Likewise, Tanna discussed her connection with Jagruti's character in reference to Mehta's comments, "What he [Hansal Mehta] said, the two keywords that I am going through– hunger to prove myself as an actor and hustling for it. I will do everything I can. Being in the industry for so long and still being relevant is a big thing. I didn't realize until Scoop's writer Mrunmayee Lagoo noted."
Ultimately, Tanna and Mehta preferred to interpret Jagruti's character in the image of Vora instead of basing one after the other entirely. Nevertheless, to get a professional understanding, Tanna shadowed a female crime journalist and got an idea of her vernacular, body language, and small everyday industry rituals. Therefore, Jagruti Pathak is based on the real reporter Jigna Vora while still preserving a sense of detachment as a fictional character.
Where is Jigna Vora Now?
In 2011, at the time of her arrest, Jigna Vora had been a revered name in the crime journalism industry for a long time and had been residing in Mumbai, Maharashtra, with her young son and mother. The then-37-year-old had been working at the Asian Age as the Deputy Bureau Chief since 2008. However, the imprisonment of the law graduate from DG Ruparel College brought on by allegations of her involvement in the murder of Jyotirmoy Dey turned her world upside down. However, in 2018, Vora was proven innocent and acquitted by the court on the basis of circumstantial evidence.
Nevertheless, her career as a crime journalist was all but over after the event. Following her acquittal, Vora took back the charge of her life and went on to write her memoir 'Behind Bars in Byculla: My Days in Prison,' in 2019 to share her truth with the world. Prior to her term with Asian Age, Vora had showcased her journalistic prowess by covering several high-profile cases, including that of gangster Abu Salem, Chhota Rajan's wife Sujata Nikalje, and then-encounter specialist Pradeep Sharma, while working at prestigious firms like Free Press Journal, Mumbai Mirror, and Mid-Day, respectively.
As of today, Vora has bid adieu to her journalism career and entered the world of spiritual healing. She is now a Tarot Reader, Spiritual Coach, Healer, and Meditation Expert. Over the past few years, Vora has been offering counseling and healing to people who seek guidance pertaining to their professional, personal, and spiritual lives. When not giving professional advice to her clients, Vora takes to social media and talks about astrology, spirituality, and occasionally politics.
#NewProfilePic pic.twitter.com/qi6bMDzuCV

— Jigna Vora (@JignaVora5) March 13, 2020
Back in 2020, when Vora was asked by one of her Twitter followers whether she would "joining back some media house" to "fight for the people who are stuck in the system with no voice," the ex-journalist stated that she is happy without the power of media. Vora replied, "I m doing what I can…silently…..i have paid heavy price for fighting against system.. Yes I agree there are many like me who must have gone through hell.. But current scenario is really not worth jumping into mainstream… It's better to work on silent mode…"
In March 2023, Jigna Vora reportedly approached the sessions court to fight against the objection augmented by Mumbai Police with regard to her passport renewal revolving around a surety bond. Though we are yet to get an update on the same, from what we can tell, Vora is still a Mumbai resident and has picked up the pieces and fixated all her focus on her career, now-adult son, and furry baby Leo.
Read More: Is Netflix's Scoop Based on a True Story?