The third season of Netflix's Spanish series 'Sky Rojo' begins with Gina, Wendy, and Coral setting up a life in Almería with the money they stole from their pimp Romeo. They start to operate a bakery in the region and stay away from Romeo, who tries to find them with the help of Moisés. Believing that the three women killed his brother Christian, Moisés joins the brothel owner to hunt them down. The engrossing concluding chapter of the series ends with several startling developments, leaving the viewers captivated yet confused. If you are trying to make sense of the same, let us be your ally! SPOILERS AHEAD.
Sky Rojo Season 3 Recap
The third season of 'Sky Rojo' begins with Gina, Wendy, and Coral restarting their lives away from the presence and territories of Romeo. They buy a mansion near a Civil Guard station for their safety. Gina, who is pregnant, gets into a relationship with her diving instructor named Toni. Wendy develops feelings for Greta, who works at a nearby gas station. Although Greta has a partner, they eventually get together. Through Toni, Coral meets Pau, who makes it clear to her that he is interested in building a relationship with her. Without letting Gina and Wendy know, Coral continues to take drugs since she is addicted to the same.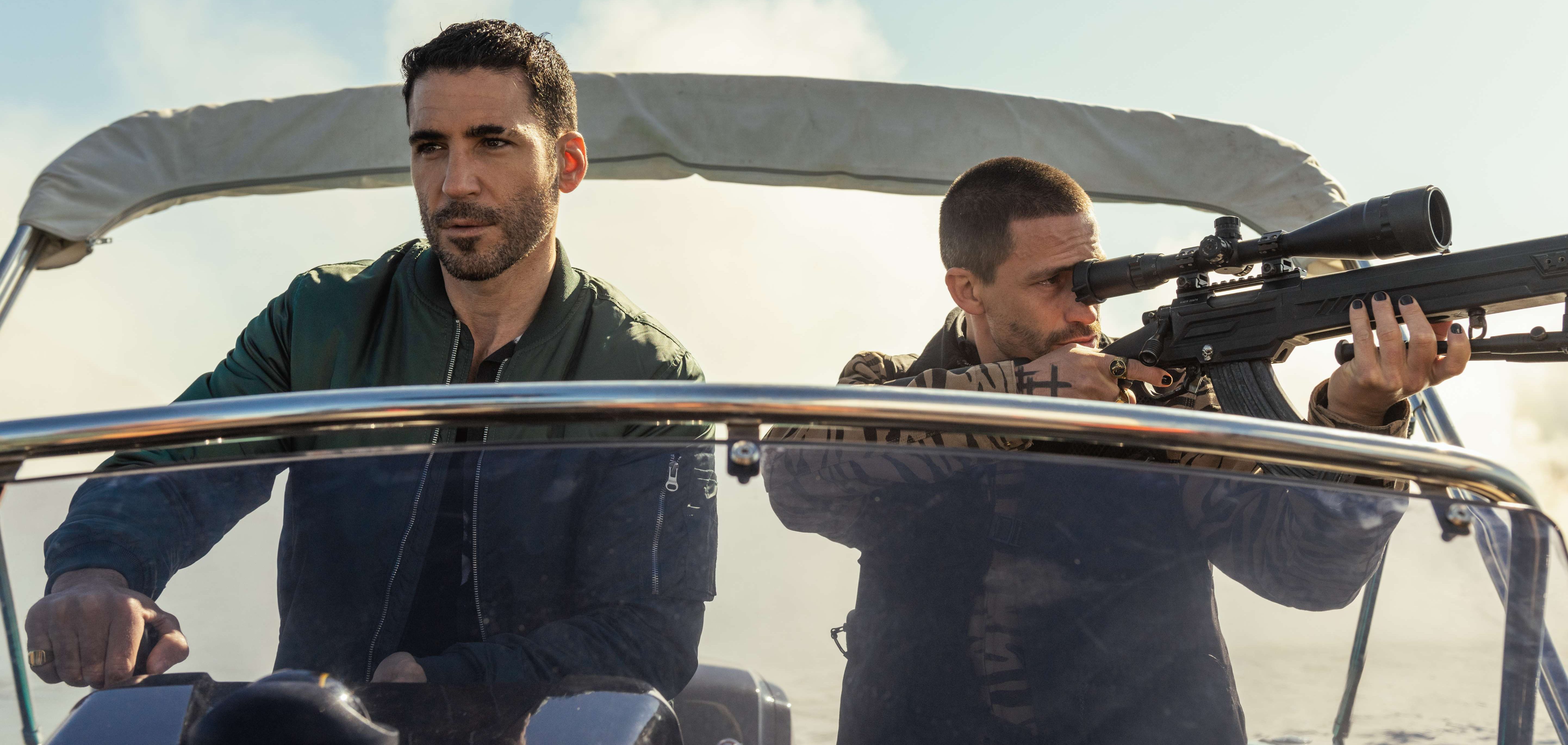 Meanwhile, Romeo blames Gina, Wendy, and Coral for the death of Christian, which infuriates the latter's brother Moisés. He makes it clear that he wants to exact his vengeance on the three women and sets out to find them for the brothel owner. After dating Gina for a while, Toni proposes to her, who reveals to him that she has a son. Toni agrees to form a family with all of them, which moves Gina immensely. She calls her mother and informs the news without knowing that Romeo's men are at her home to trace her phone call.
Moisés and Darwin arrive at Almería to find Gina, Coral, and Wendy. Upon finding them, he invites Romeo to the place. While the three women are on a boat, about to dive into the sea, Romeo and his men arrive at the place and shoot at the trio and their company. Toni and Pau get killed, forcing Gina to come out and shoot Romeo, only to get shot by him. On her deathbed, she delivers her baby and hands over the same to Coral, Wendy, and Greta, who promises to safeguard her child. Coral and Wendy dive into the sea and shoot Romeo with an arrow. Although Romeo gets severely hurt, he survives the attack.
After surviving Coral and Wendy's attack, Romeo returns to Las Novias Club. The surviving two friends, along with Greta and Gina's baby, decide to follow Romeo to his den and kill him. After arriving at Tenerife, they follow Romeo to his house and Coral tries to shoot him down under the influence of drugs without seeing his daughters nearby. Wendy saves Romeo at the occasion and confronts Coral about the same. After his near-death experience, Romeo starts to fear his death and hides inside his brothel. He forces Rubi to spend time with him as he fears being alone. Meantime, Darwin and Beefcake try to hunt down Wendy, who seeks refuge at the place of Diego, a martial arts fanatic.
Sky Rojo Season 3 Ending: Is Romeo Dead?
Yes, Romeo is dead. Coral and Wendy's unsuccessful attempt to kill Romeo kills the element of surprise and puts them in danger. The brothel owner sends his men throughout the region to find them. Romeo's entire scheme to put an end to Coral and Wendy's life fails when Rubi contacts Moisés to inform him that Romeo killed Christian by letting him bleed to death instead of the women, who only shot him in his belly. In addition, she informs him that Romeo killed his mother and it was her dead body he saw at the nursing home. Infuriated, Moisés turns against Romeo, which rewrites the fate of the latter.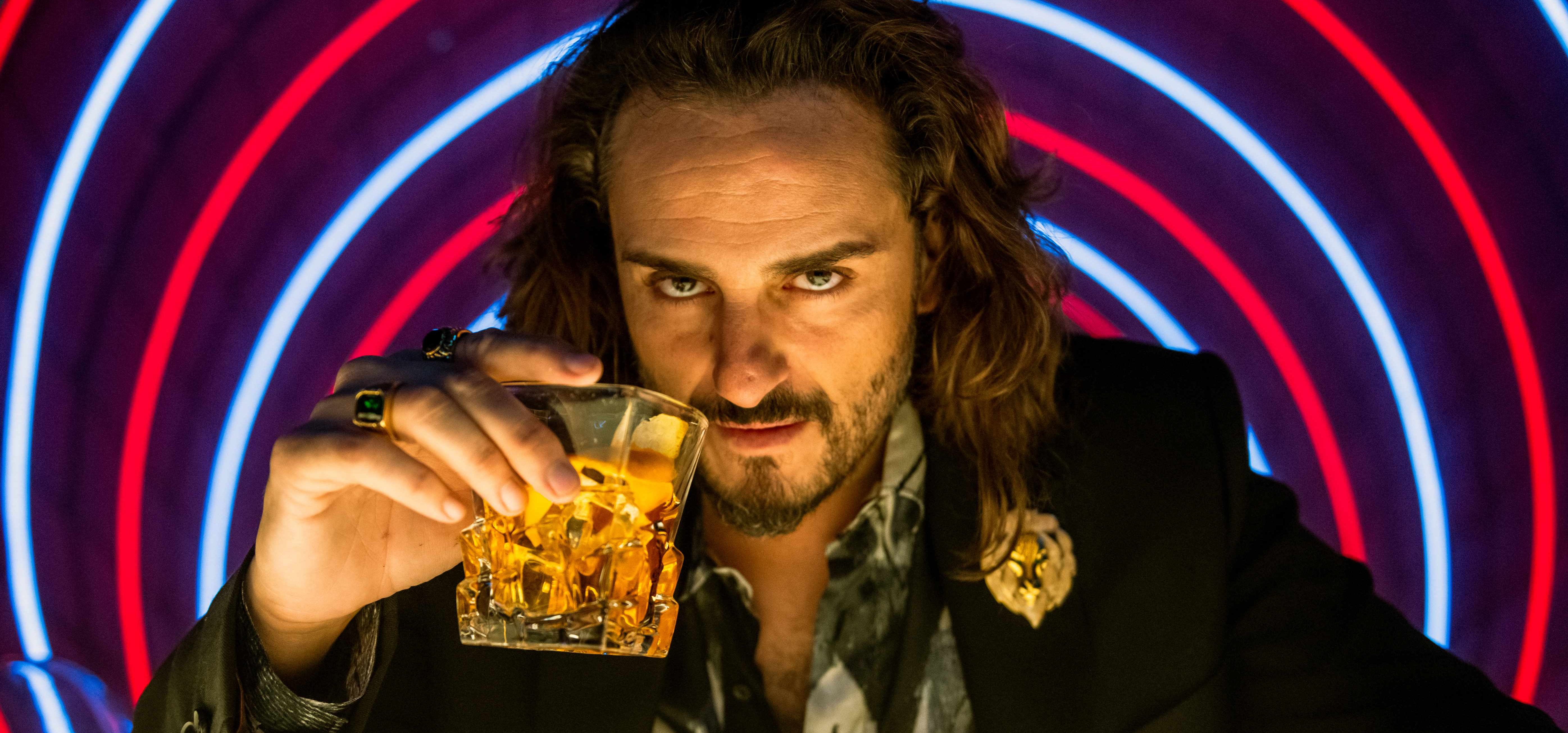 After knowing about the truth of his brother and mother's deaths, Moisés decides to kill Romeo. He joins hands with Coral and Wendy to put an end to the brother owner's life. Even when Romeo realizes that Moisés has turned against him, he hopes that his men will protect him. However, Romeo has never cared for his men for them to stand beside him in the face of an immense threat. Moisés and Coral make it clear that the men have nothing to gain by protecting the brothel owner, which leads them to escape from Las Novias. Since there isn't anyone else at the establishment to save him, Moisés, Coral, and Wendy trap Romeo inside a boiler and sets fire. Romeo, along with his brothel, gets burnt down
Although Gina, Coral, and Wendy have nearly killed him several times, Romeo escapes from every attempt, making him seem immortal in the eyes of the trio. Ironically, he gets killed by a group led by Moisés for committing deeds he could have avoided committing from. There wasn't any reason for him to kill Moisés' brother Christian or their mother, which ultimately infuriate Moisés to lead Coral and Wendy to kill the brothel owner. If Moisés hasn't turned sides, Romeo may have succeeded in killing Coral and Wendy and even possibly Moisés to avoid any threats. His decision to let Christian bleeds to death eventually pave the way for his death.
Why Don't Coral and Moisés End Up Together?
Moisés and Coral always have an intricate relationship. Even while trying to kill each other, they never shy away from acknowledging the fact that they have feelings for one another. When Moisés tries to kill himself, it is Coral who saves him. When Coral destroys her life with her drug addiction, Moisés tries his best to protect her. After killing Romeo, the two of them even acknowledge that they have a future together. As two individuals who suffered immensely, they succeed in understanding each other enormously as well. However, their capability to feel for each other isn't enough for Coral to accept him as her partner.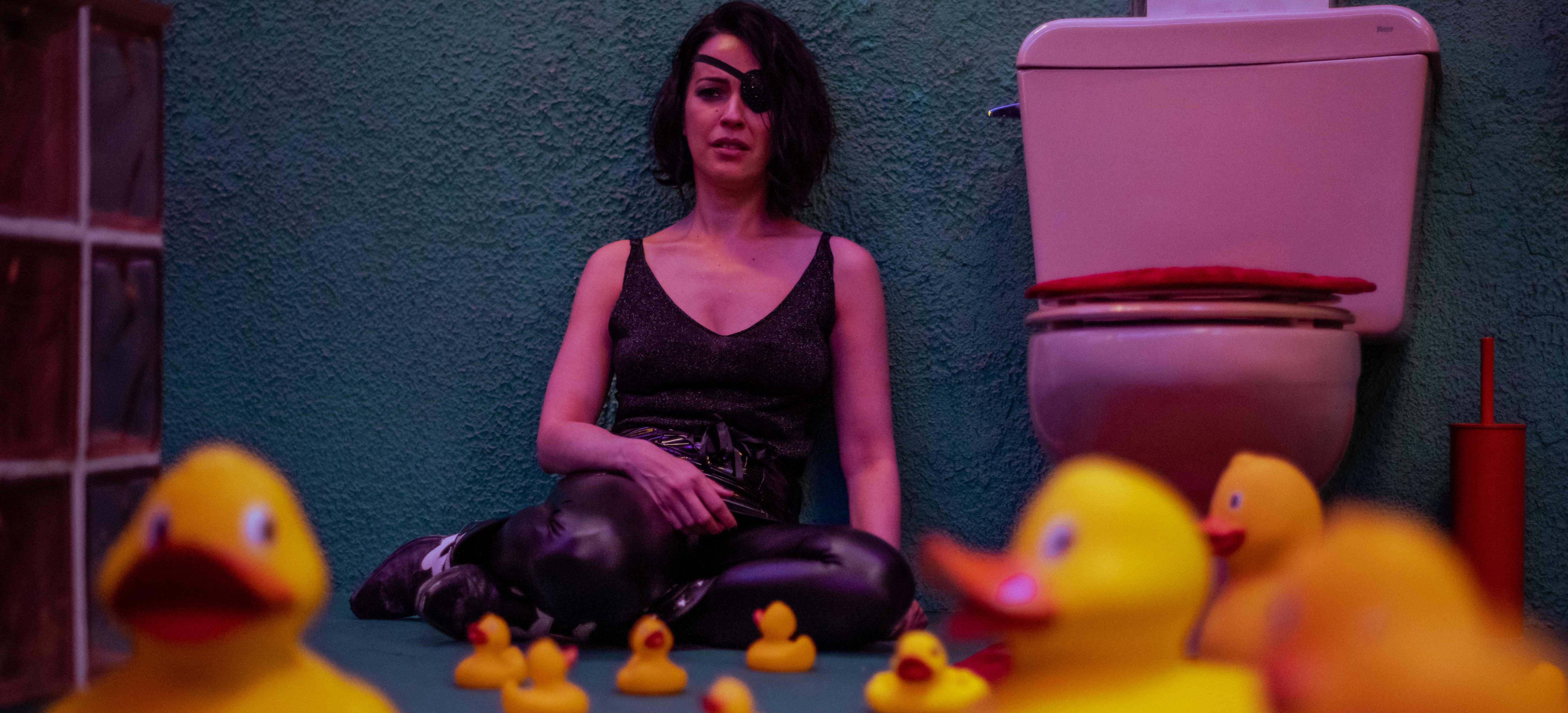 Although Moisés loves her, he has also tortured her considerably as one of Romeo's two henchmen. Coral cannot forgive him for the actions he committed when she was just a prostitute. When he asks for forgiveness, Coral makes it clear that she cannot forgive him since he has scarred her unignorably. After killing Romeo, Coral must want a new life without the painful reminders of the past, which includes her time with Moisés as well. She doesn't want to compromise again by inviting him into her life when there is he can continue hurting her.
Although Coral and Moisés do not end up together, they part ways upon displaying their affection for one another. They both acknowledge how only they can understand the nuances of the struggles of the other. Moisés even lets Coral know that he will change for her to accept him but what stops Coral from committing to him in a relationship is not the future but the past. Moisés realizes that pushing Coral is not going to change her mind. He eventually walks away from her so that they can lead satisfied lives elsewhere, without being together.
Do Coral and Wendy Reconnect?
After settling in Almería, Coral lies to Wendy and Gina about her drug consumption. She lets them know that she has stopped consuming drugs, only for the two of them to celebrate Coral's efforts to stay away from the same. But Coral has been consuming drugs without a stop. When Wendy comes to know about the same, she parts ways with Coral since she doesn't tolerate that her best friend and "sister" has been telling her a lie. She also takes Gina's baby away from Coral since she doesn't trust a drug addict to take care of the baby. However, their separation doesn't last long.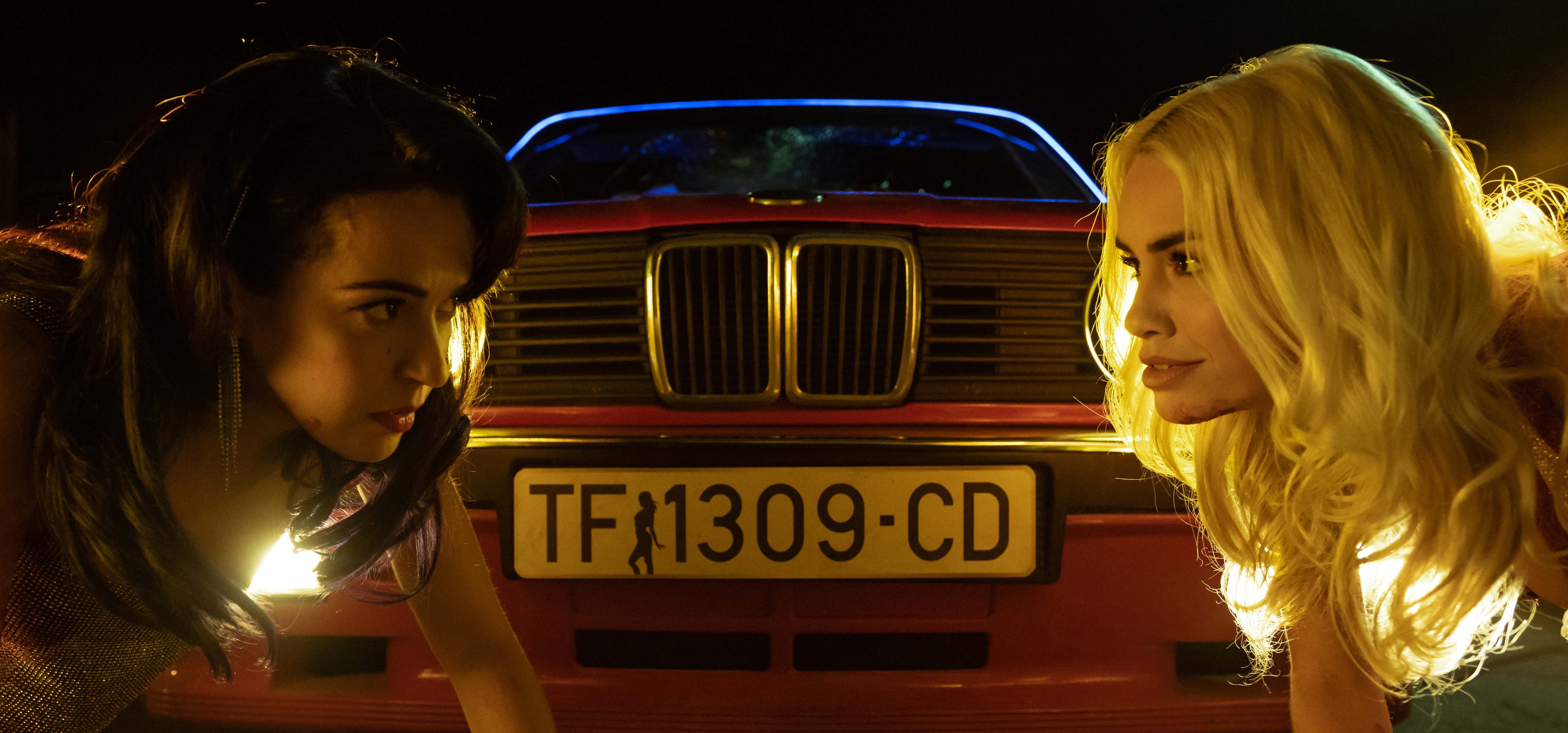 Wendy and Coral eventually reconnect as they team up to kill Romeo. After killing him, the two of them share an intimate and emotional moment, through which Wendy assures Coral that she will always remain her "sister." Although Wendy reacts badly to Coral's addiction, the former is not someone who cannot understand the gravity of the latter's vulnerability. As they both remove Romeo from their life, Wendy must be hopeful that Coral will not be needing drugs anymore to peacefully sleep, which may have played a part in her decision to reconnect with Coral.
Read More: Is Sky Rojo Based on a True Story?