Although a reboot of the 2000s Bravo eponymous series, it is Netflix's 'Queer Eye' that undeniably breaks every bound of the intimate, extreme makeover reality genre with its sheer compassion. After all, it revolves around five experts (the Fab Five) as they help individuals (Heroes) improve their personal space and behaviors to such an extent they can finally live life to their full potential. Amongst them in season 7 was actually Stephanie "Steph" Williams — so now, if you simply wish to learn more about her, her experiences, as well as her current standing, we've got you covered.
Stephanie Williams' Queer Eye Journey
From the moment Stephanie first came across our screens with her bright eyes yet guarded mind, it was evident that being a lesbian in the South had taken its toll on her passionate, loving spirit. Even her partner of six years, Rachel "Rae" McCain, conceded she has grown quite insecure over the years due to the public's general perception, only to begin hiding behind her love for sports. It's not like the former doesn't actually support the New Orleans Saints or Pelicans; it's just that she has gradually made this "superfan" persona her comfort zone identity despite being so much more.
Therefore, because Rae alone hadn't been able to help Steph realize her true worth, and they were soon moving into their first home together for a new beginning, she handed in the nomination. That's when it came to light the latter had gone from a creature of proud confidence to a creature of quiet comfort in the past three years owing to a homophobic incident while she was merely trying to be kind. This solace state included her excessive sports memorabilia/clothes, avoiding new things, and not having any photos with Rae at her father's despite having lived there as a couple for four years.
It thus comes as no surprise the Fab Five asserted Steph was enough precisely as who she was before even helping her see the same through gradual changes in her lifestyle for perception. They actually did so by zhuzh-ing up her wardrobe while maintaining her style, urging her to try different elements, showing her she had support in not only family but also community, and then pushing her a bit further with a new hairdo. The fact they did the interior design for her new home also played a significant role in this, especially as it evidenced her commitment to both Rae as well as sports in the most tasteful way.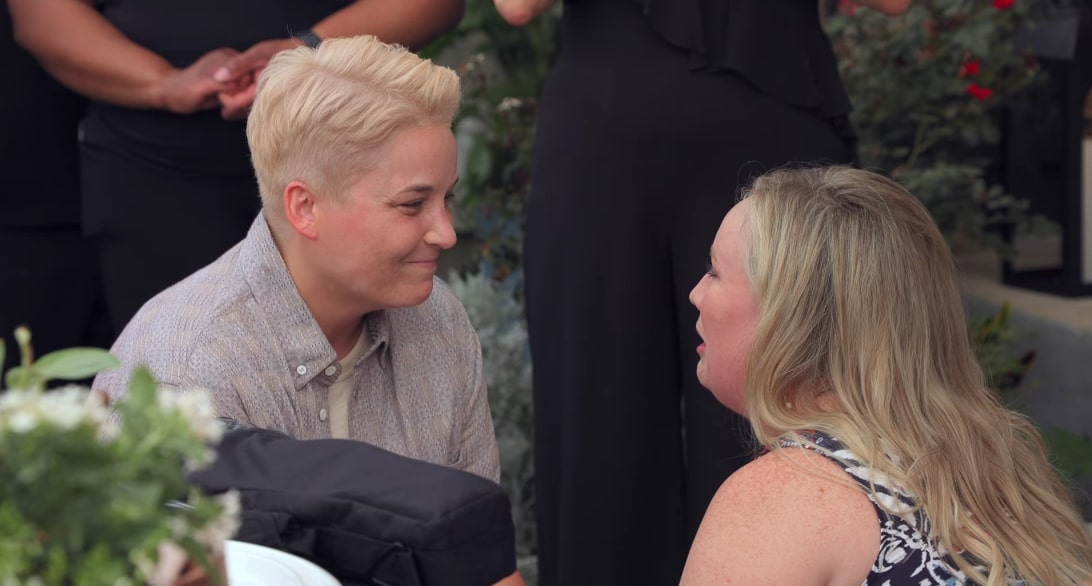 "This has been the biggest blessing of my entire life," Steph tearfully said during the ultimate reveal. "I knew this was going to be a really difficult, challenging process that I couldn't have imagined, as hard as it was. You guys are just… you're amazing. Thank you." However, the truth is none of it would've been possible if she wasn't willing to make genuine changes for the happiness of both herself and her partner, so she definitely deserves to feel some pride too. The best part of her journey, though was arguably the courage she attained to get down on one knee for Rae right in front of all their loved ones at their housewarming party, to which the latter obviously said yes!
Where is Stephanie Williams Now?
It's seemingly been a year since the Fab Five parted ways with Steph as a client, yet it appears as if she has stuck to their every advice and is hence still on the path of balance as well as positivity. She thankfully hasn't let go of her Superfan/Momma Bird identity when it comes to sports, but she has accepted she is so much more as a woman, a daughter, a sister, a partner, and a professional worker. We say "accepted" because her life obviously hasn't magically changed; she now just has a better understanding of the aspects she needs to work on for better satisfaction — it's still a process.
As for Stephanie's exact current standing, from what we can tell, she continues to reside right alongside the love of her life Rachel "Rae" Lynn McCain in the New Orleans metropolitan area, Louisiana. It's actually from here that she serves as a Residential Sales Strategy & Enablement Manager at Cox Communications, a PRIDE ERG (Employee Resource Group) Ambassador, and a Southeast Region Diversity and Inclusion Community Pillar Lead, all the while her fiance works as a Registered Nurse at University Medical Center New Orleans as well as Ochsner Medical Center.
Read More: Where is Speedy From Queer Eye Now?