In the hopes of yielding extraordinary results, ABC's 'Shark Tank' features several entrepreneurial ventures that highlight innovation at its core. The reality television show features intense negotiations, further fueled by venture capitalists interested in securing a stake in businesses with a great future. Season 15 features StormBags, a company that offers a unique solution to households nationwide. With the repeated havoc reigned by hurricanes and floods, these burlap bags become the perfect addition to protect the boundaries of the house. The company's insightful innovation led us to wonder more about its growth. So, if you're also curious about them, look no further because we've got all the answers right here!
StormBag: Who Are They and What Do They Do?
The unprecedented weather disturbances that have wreaked havoc across countless homes in the States propelled Miles and Maurice Huffman to create a unique solution. The father and son team decided to create a product that would protect houses from flooding. Instead of laying down barriers that may prove to be ineffective in extreme weather conditions, the duo decided to create a reusable sandbag that would accumulate the incoming water and prevent people's houses or garages from getting flooded. Using his knowledge as a military surplus store owner, Maurice quickly designed a unique layout for a product that would prevent specific areas from getting flooded.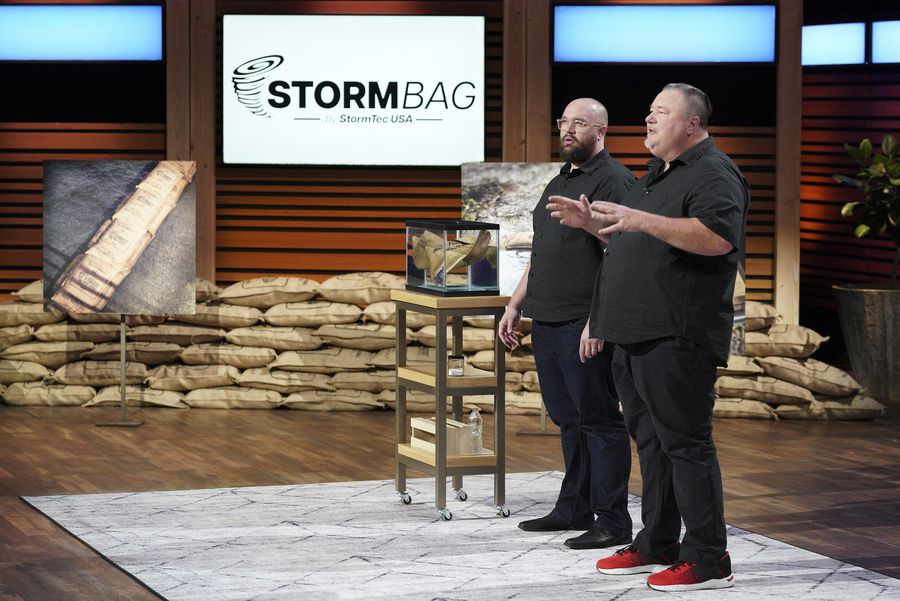 Maurice and his son kickstarted their venture in 2007. Before long, their product started gaining popularity and became huge in demand. The team began selling close to 200 bags in a week for a long time. When Hurricane Irene hit the east coast of the USA in August 2011, the company sold 10,000 units within a week. The innovative design of the StormBag made it irresistible for people who had grown accustomed to weather disturbances. The designed ensured that the bags would measure 23''*13'' when they were dry. However, they could grow to 6 inches tall when they were hydrated. As such, they could soak and hold extreme amounts of water and seal unwanted openings. Even though the bags are not functional and suitable in saltwater environments, they still provide other uses.
For example, the stormbags can be used around trees and bushes for hydration during droughts and dry conditions. Moreover, their lightweight and compact nature made them a speedy solution for emergencies. Eliminating sands and shovels, StormBag by StormTec USA allowed consumers to find a simplistic solution to a grueling problem. Over the years, the company managed to gain traction by selling their products through their website. The unique selling point of these sandbags was that they were reusable. Not only could they be dried out in a few weeks, but they could even be stored and reused. By eliminating the need for environmentally harmful single-use sandbags, StormTec USA managed to provide a better solution in times of weather distress.
StormBag: Where Are They Now?
The company continues to operate under the leadership of Maurice and Miles Huffman. Besides appearing on 'Shark Tank,' the brand has also grown on other fronts. Their products are now available on their website and even on Amazon. Fans and readers can find more information about the product on their Instagram and website. The product differs from common sandbags because the company provides kits designed to cover specific areas.
Sandbags are available for garage, single, double, and even double-wide doors. Each bag is less than $10 per bag. In addition, the company also offers kits that come with polysheets, duct tape and a box cutter to seal openings. A double-wide garage door kit can cost up to $219.99, and a garage door kit with 15 bags can go up to $54.99. The brand also offers interest-free instalments for consumers, making buying easy and convenient. These kits are designed to work as high-tech flood protection systems.
Additionally, these bags are filled with crosslinked polyacrylamide powder, making it plant-friendly and sustainable. When submerged, it can fill up to four gallons of water in mere minutes. The company continues to create new milestones and ensure proper protection for homes across the country. They have been approved by the Department of Homeland Security and FEMA. Not just this, the StormBags have also been tested by the Salt Lake City Bomb Squad and the National Guard of the country. Naturally, several milestones still lie ahead for the company.
Read More: Gently Soap on Shark Tank: Here's the Latest Update on Them