Showtime's 'George and Tammy' recounts the love story of George Jones and Tammy Wynette, both of whom left an indelible mark on country music. Despite their deep love for each other, their story is not a fairy tale. Both of them suffer through some very challenging times and often find themselves in situations where they get trapped as a consequence of some bad decisions. In the final episode of the series, we find Tammy stuck in a marriage with George Richey. The real extent of her captivity is revealed when she fabricates a story about a fake kidnapping to hide Richey's physical abuse. If you are wondering how much truth there is to this incident presented in the show, then here's what you should know.
Was Tammy Wynette Really Kidnapped?
In October 1978, Tammy Wynette gave a press conference where she revealed that she had been kidnapped and beaten by an unknown man. As reported by People, she had been out shopping and when she came back to her car, someone was already inside it. "I felt a poke in my side and heard a man's voice say, 'Drive!' All I could see was a brown glove, a lot of hair on his arm, and two inches of a gun barrel," she said. The man was in a stocking mask, which made it impossible for the country star to recognize him.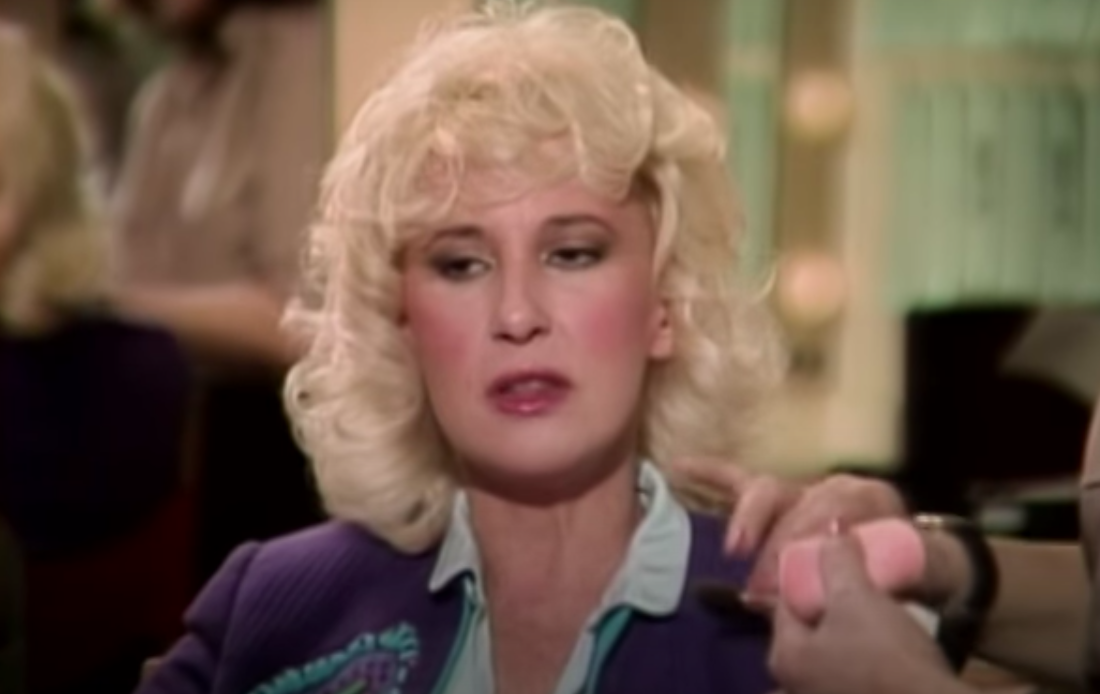 The crime remains a puzzling one because the assailant didn't touch the cash and credit cards that Wynette was carrying at the moment. She was not sexually assaulted, but the man choked her with pantyhose and then brutally beat her, leaving her with fractured cheekbones and several bruises. Wynette was made to travel 80 miles through Tennessee, at the end of which the man left her on the roadside and fled in another car. "He opened the door, held the gun in his left hand, and dragged me out of the car. Then he hit me with his fist. I thought, Oh, God, I'm gonna die," Wynette revealed.
Luckily, Wynette found a house nearby and called for help. The woman who first found her was Junette Young, a fan of Wynette, who was shocked to see her stumbling through the driveway. "I couldn't believe it was the real Tammy Wynette. I wanted to say how I just love her and George Jones together, but it wasn't the time or place to talk about her ex-husband," Young said. As for Wynette, this was "the most terrifying experience of [her] life", and it was times like these that she wished she weren't famous. Still, this didn't break her spirit and didn't stop her from keeping her tour commitments. She recuperated from it and, soon after, performed in front of a packed hall.
Who Assaulted Tammy Wynette?
What makes Tammy Wynette's kidnapping incident a puzzling one for everyone, including the cops who investigated it, is that it was never solved. Wynette and her family reported that they were being targeted for some time before the kidnapping took place. There were break-ins, with intruders leaving abusive slurs like "slut" and "pig" on the walls and mirrors. The bedroom wing of Wynette's house and her tour bus was burnt at different points. One time, someone scrawled eight Xs on the back door, and there was even a kidnapping attempt on Georgette Jones who was only eight at the time.
All these things point toward the fact that someone really held a grudge against Wynette. It was assumed that it might be some fan who was disgruntled after her and George Jones' divorce. It was also postulated that George Jones himself might have been the one to do all of it, including the kidnapping. However, this claim was discredited by Wynette, and later by her daughter. In a conversation with Fox Radio, Georgette Jones said that blaming he father for it was ridiculous.
"My dad would have never done any of that [to us]. He would never put any of us in harm and that was, in my opinion, a ridiculous thought," she said. Rather, she claimed that it might have been George Richey's doing, a claim that she also made in her memoir, 'The Three of Us: Growing Up With Tammy and George', which serves as the source material for the Showtime series. Talking about all the things that happened to them, Georgette revealed that it all stopped "the second they [Wynette and Richey] got married."
A similar accusation was previously made by Wynette's elder daughter, Jackie Daly in her book, 'Tammy Wynette: A Daughter Recalls Her Mother's Tragic Life and Death'. Jackie wrote that her mother once confessed to her about concocting the kidnapping story after she was beaten by Richey. Despite these claims, Wynette never publicly came forward about any abuse in her and Richey's marriage. Richey, himself, never confessed to being involved in the kidnapping or any physical abuse, and no such case was ever made or proved in a court of law.
Read More: Did George Jones Hit Tammy Wynette?