Wrought with irreverent issues, 'Temptation Island' features four couples whose relationship continues to undergo a mammoth of problems. As couples arrive at the island full of young singles, they question whether they can see their relationship through or find romance elsewhere. With heartbreak, affection, and attraction in the mix, couples test the waters of their bond continuously. Released in 2019, season 5 of the reality television show also brought its share of drama to the screens. So, if you're also curious to know which of the couples are still together, look no further because we've got all the answers right here!
Where are Kate Griffith and David Benavidez Now?
Having been together for three years, the sales executive duo from Hoboken, New Jersey, had arrived on the island to navigate the mistrust in their relationship and see whether or not they had a future together. While Kate and David had initially agreed not to be physically involved with other singles on the island, David quickly broke his girlfriend's trust. After David's secret rendezvous with three women, Kate decided to walk away from the show alone. On the other hand, David left the show with Toneata Morgan. However, that relationship didn't last long.
After the season came to a close, Kate and David briefly got back together in 2019. In a since-deleted Instagram post, the duo had elucidated that despite being scrutinized to the opinions of many for their actions on the show, they were doing nothing but playing characters. The deleted caption read, "Now that we are in the real world, the amount of absurd lies and rumors thrown out there by certain individuals needs to be addressed and addressed one time only."
Nevertheless, things between the couple did not work out, and the two separated for good after a while. Since then, David has maintained a private profile and avoids the spotlight. On the other hand, Kate has left behind a life of sales and thus blossomed into an internet creator and a Mindset and Self Actualization coach. She is currently dating Anand J. Sukhadia, an entrepreneur and founder of Om Life Wellness who also hosts the 'Limitless One' podcast.
Where are Esonica Veira and Gavin Rocker Now?
Plagued with trust issues, Esonica wanted to know if her relationship with Gavin was going somewhere or not. Ultimately, the Miss Universe US Virgin Islands ended up cheating on Gavin with Kareem and decided to walk away from the island with her new love interest. However, outside the show, the duo's chemistry didn't blossom as they had initially expected. Esonica and Gavin did not reunite after 'Temptation Island' and decided to explore the horizons of their professional life.
Since then, Esonica has established her business, Forever Royal Cosmetics, and also works as a social media creator. She is also the host of Living Proof TV (LPTV.) As for Gavin, the reality star has since dabbled into acting. His film credits include, 'Trait,' 'Scott Free,' and 'Young Rock.' The entertainment star has launched music as well. As for their relationship status, both Esonica and Gavin are currently single and continue to accelerate in their professional fields.
Where are Ashley Howland and Casey Starchak Now?
The Florida-based couple faced several travails on the show, especially when Casey invoked that Ashely wouldn't mind if they broke up. Upon realizing the irreverent spell of love she was under, Ashley quickly called things off with Casey and instead explored things with Deac Conti and Ben Kbobloch. Despite the drama that came to pass, Casey still decided to propose to Ashley at the final bonfire. However, Ashley ultimately walked away and left the island with Ben Kbobloch.
After the show came to an end, Casey and Ashley hooked up again, which led Ben to break things off with Ashley. Nevertheless, the individuals ultimately went their separate ways and are now exploring different paths. Casey is now an Only Fans creator and has been with Naheliz Gutierrez, a firefighter, and EMT, for over two years. While Ashley had gained a meteoric rise as an Instagram and YouTube creator, she eventually wiped her presence from social media and remains inactive on all platforms.
Where are Ashley Goldson and Rick Fleur Now?
Despite four years of companionship, Ashley and Rick had several travails to navigate. The duo ran into issues as soon as they entered the island because they began to explore connections with other singles on the island. While Ashley found closeness with Kalaan Brown, Rick decided to take things slow. On the one hand, Ashley's relationship with Kalaan became more serious, and on the other, Rick found himself gravitating towards Medinah Ali. Nevertheless, despite the infidelity and trust issues, Rick and Ashley decided to leave the island together, hoping to give their relationship another chance. However, the duo had separated by the time the reunion episode came to pass.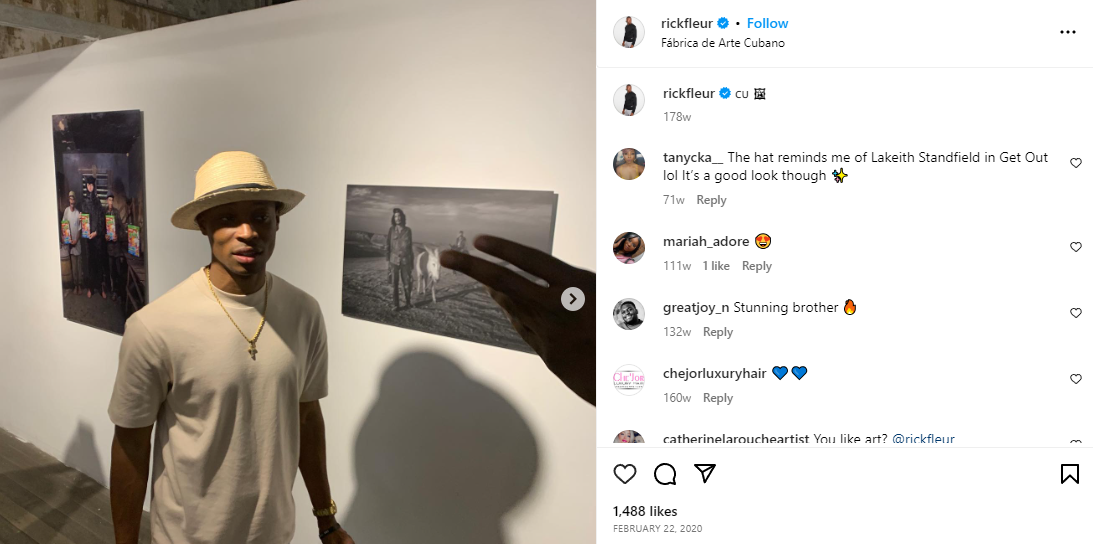 Post 'Temptation Island,' Rick has become a model and sports and entertainment host. Aside from work, Rick also takes time to travel and explore new things. On the personal front, Rick is single and decides to keep his prospective romances under wraps. On the other hand, Ashley became enthralled with television and everything that goes on behind the scenes. Since her exit from the show, Ashley has become a casting director and has worked on dating reality shows like, 'Love Island,' and 'Love Is Blind,' and is currently working with A Goldsun TV. She is also a publicist and likes to remain tight-lipped about her romantic relationships.
Read More: Temptation Island Season 6: Where Are They Now? Who Are Still Together?