'Thanksgiving' is a slasher horror film directed by Eli Roth that follows the story of a mysterious serial killer known as "John Carver," who torments the residents of Plymouth, Massachusetts, during the titular festival. Carver's quest for revenge quickly takes a more sinister shape while the local Sheriff attempts to stop the killer before it is too late. Given the movie's focus on the Thanksgiving festival and a well-crafted plot revolving around a notorious serial killer, viewers might wonder what is the inspiration behind 'Thanksgiving.'
Is Thanksgiving Based on a True Story?
John Carver is not based on any real serial killer — he just shares similarities with screen killers like Leatherface and Slenderman. In fact, 'Thanksgiving' is based on an original concept from writers Eli Roth and Jeff Rendell, who also penned the screenplay. The duo first explored the concept of a slasher movie set during the titular festival in the 2007 double feature film 'Grindhouse' directed by Robert Rodriguez and Quentin Tarantino. The film features a fake trailer for 'Thanksgiving,' which was directed by Roth.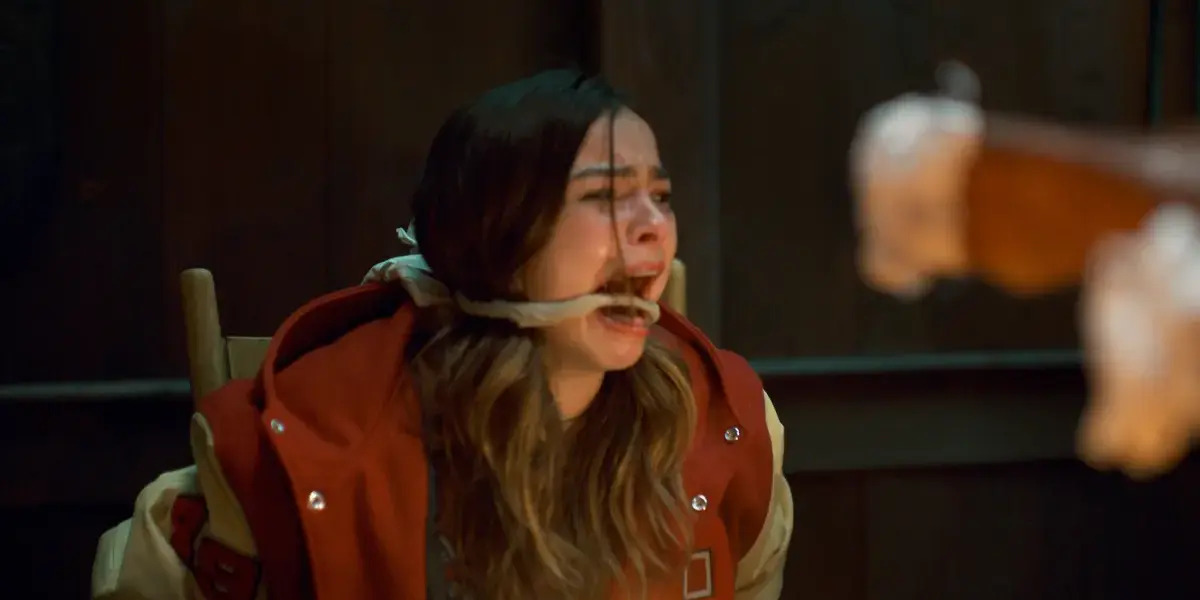 In a 2009 interview, Roth opened up about the concept behind the fake trailer during an interview with Rolling Stone. Roth revealed that he and Rendell enjoyed slasher movies as kids, and their fascination led to them crafting the story of 'Thanksgiving,' which follows a young boy whose father kills his beloved turkey only for the boy to return and take revenge on his whole town. However, when Roth was approached to film a mock trailer for 'Grindhouse,' he and Rendell decided to film the best parts.
In 2010, Roth confirmed that following the positive reception of the trailer in 'Grindhouse,' he and Rendell had started working on a feature-length adaptation of the concept. During a 2023 interview with Collider, Roth explained the challenges behind adapting the original concept into a feature-length screenplay. Roth stated that the rights issues and the Covid-19 pandemic affected work on the project. However, Roth's biggest challenge was avoiding the trailer's offensive and shocking gore.
While speaking with Slash Film in 2023, Roth recognized that the original trailer was offensive and explorative with shockingly gory scenes. "Look, I've been the guy that made something that was offensive and exploitative for the sake of being shocking. I've had that experience. So I wanted to make a movie that was fun for everybody," Roth said. As a result, he and Rendell focused on coming up with surprising story beats and scenes without being offensive and distasteful.
While crafting the screenplay, Roth and Rendell drew inspiration from their personal experiences. The duo grew up in Massachusetts, which serves as the story's primary setting. Roth revealed that Thanksgiving is celebrated on a large scale in Massachusetts, and the pilgrim recreation villages, school plays, and parades in their hometown provided them with material for the horror movie. In an interview with Bloody Disgusting, Roth also noted how the changing notions about Thanksgiving also informed the duo's approach to the screenplay.
"It feels like Thanksgiving was this pure Charlie Brown Thanksgiving when I was a kid, and now it's got this kind of Black Friday tramplings and this tinge of colonialism, too, that it's not the same. For me, that's where it's rich, fertile territory to make a great slasher film. Let's use that as the ground for which we can grow this movie," Roth said in the interview. The same is reflected in the film's narrative, which is set in the aftermath of a Black Friday riot.
Ultimately, 'Thanksgiving' is not based on any real serial killer. The film is based on a little-explored concept from Eli Roth and Jeff Rendell, who expanded upon the world and narrative of source material. The feature film tells a fictional story set around the holiday of Thanksgiving while drawing some inspiration from classic Holiday-themed slasher films such as 'Halloween,' 'Deadly Night at Christmas,' and 'Bloody Valentine.' However, the film is also rooted in Roth and Rendell's affection for slasher horror and their fascination with Thanksgiving.
Read More: Thanksgiving: Was the Slasher Film Shot On Location?