Laden with expertise and a thirst to win, 'The Amazing Race: All Stars' features eleven teams from the previous editions of the show. Marking the 11th iteration of the series, the reality television show premiered in 2007. Hosted by Phil Keoghan, the season follows contestants completing mental and physical challenges all over the world. Like its predecessors, this worldwide race also brought its share of laughs and drama. Years after its release, many are curious to know more about the contestants' lives. So, if you're also curious, look no further because we've got all the information right here!
Where are Eric Sanchez and Danielle Turner Now?
Eric and Danielle were the first duo to return to the show from different teams in the previous season. After developing an interest in each other in season 9, the pair began to date and got together exclusively. However, after their exit from season 11 as winners, Eric and Danielle ultimately walked different paths. Crediting the physical distance between them to be the main obstacle, Eric and Danielle broke up but continued to remain friends.
However, in an interview years later, Eric claimed that he and Danielle were already broken up by the time they appeared in season 11. Following the season's end, the duo met other people. In 2012, Danielle married Christopher Stout. She is now working as a Real Estate Agent and has three children with her husband. Eric has also gotten married and continues to spend time with his wife and family.
Where are Dustin Seltzer and Kandice Pelletier Now?
The former beauty queens from California and New York became known for their efficiency in physical and mental tasks. After their stride in season 10, they reappeared to prove their determination in season 11 and came in second place. The former Miss America competitors have now embarked on different paths. While she was still on the show, Dustin had gotten married to Kandice as her bridesmaid. However, the marriage ultimately ended in divorce.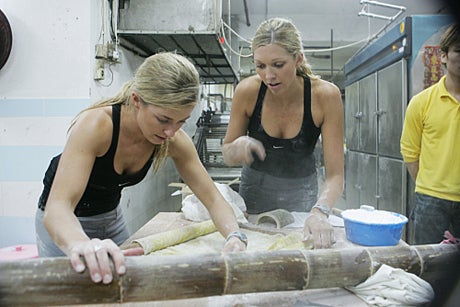 Even so, Dustin is now happily married to Curtis Fowler, and the couple lives in Los Angeles. On the professional front, Dustin is now a practising family and marriage therapist. As for Kandice, the former Miss New York got married in 2018 and welcomed her daughter Collette Elizabeth Halpin in 2022. She has her own swimwear line and provides consultancy to beauty pageant contestants.
Where are John Vito Pietanza and Jill Aquilino Now?
Jon and Jill were dating each other when they first appeared in season 3. However, a turn of events led the two to break up. In 'The Amazing Race: All Stars,' the former couple competed together as friends. Outside their roles as reality stars, the duo have branched out to esteemed positions in life. Jill retired from her position as a Director for Credit Suisse in Equity Capital Markets in 2017. She now spends time with her husband, David Walton and their two children. John is also excelling professionally and is engaged to Jennifer Marie.
Where are Kevin O'Connor and Drew Feinberg Now?
Having broken out on season 1 of 'The Amazing Race,' Kevin and Drew earned the title of the best platonic relationship thereafter. The best friends once again came to the fore in season 11. Prior to their reappearance on 'The Amazing Race: All Stars,' the fraternity brothers had already appeared on 'The Late Late Show with Craig Kilborn,' 'The Wayne Brady Show,' and even had a recurring segment on 'The Rosie O'Donnell Show.'
After appearing on award shows, in magazines and in comics, the two best friends came back to where it all started. Ultimately, Kevin and Drew enjoyed a short jaunt in their second appearance. Even so, the two have continued to create new milestones outside their careers. Kevin is now a forensic accountant based out of New Jersey. The reality star is happily married and is the father of triplets. On the other hand, Drew has completed his duty in law enforcement and has now retired. He likes to travel with friends and family and enjoy leisurely activities.
Where are David Conley Jr. and Mary Conley Now?
Self-proclaimed television aficionados, couple David and Mary, had appeared on back-to-back seasons of 'The Amazing Race.' In 2011, the duo participated in 'Reality Rally,' where they raised funds for breast cancer and even appeared on 'The View.'
However, Mary and David ultimately ended up separating. In 2019, David moved to Twin Falls, Idaho, and got engaged to Jennifer Sprain. Sadly, the relationship did not work out, and he is currently single and based out of Belfry, Kentucky. David now spends his time with his children and grandchildren. On the other hand, Mary moved to Texas with her partner and retired from her job at Family Dollar in 2022.
Where are Rob Mariano and Amber Mariano Now?
While Amber had already enthralled audiences with her appearance on 'Survivor: The Australian Outback,' Rob's appearance on 'Survivor: All Stars' set the precursor for the years of companionship that was yet to come. After falling in love on the show, the couple soon got and consequently appeared on season 7 of 'The Amazing Race.' Shortly after leaving the season, they tied the knot.
When the newlyweds appeared on season 11 of the show, their dynamic became one of the most pivotal themes of the show. Since then, the couple has assumed a major position in reality television and appeared on a number of shows, including 'Survivor: Heroes vs. Villains,' 'Survivor: Redemption Island,' and 'Survivor: Marquesas.'
Over the years, the duo has also welcomed their four daughters, Lucia, Carina, Isabetta, and Adelina. Now in their 40s, the couple has branched out into different fields as well. Robert has his own website where he sells personalized merchandise and has other entrepreneurial ventures too. He has also appeared on CBS's 'Secret Celebrity Renovation.' As for Amber, the reality star has assumed a role outside social media and continues to raise her daughters along with her husband.
Where are Teri Pollack and Ian Pollack Now?
The married parents of two had first appeared on 'The Amazing Race' season 3 and became famous for their bickering and domineering attitude. However, things changed considerably when they struck again on season 11 of the show. Not only did they work on a better rapport, but they also created more progress in their second appearance. As one of the oldest teams to participate in the show, the duo has continued to accrue acclaim.
Having been married for more than 40 years, the duo continues to make new memories together. Since his retirement from Commander of Police Special Operations, Ian has become the CEO of Iris Inc., a covert operations agency specializing in medical malpractice and nursing home abuses. Outside work, Ian and Teri enjoy their time scuba diving, traveling, fishing, and spending time with their two sons.
Where are Joe Baldassare and Bill Bartek Now?
After their lasting impression on season 1, the duo's appearance on 'The Amazing Race: All Stars' enthralled many. As the first same-sex couple and LGBTQ+ racers to compete, Joe and Bill accrued wide attention for their stealth and resolve. After exiting the show, the duo has appeared on 'Reality TV World,' and the 'YATNCAST' podcast hosted by Michael Harmstone and Logan Saunders.
The duo's team namesake Guido had been kept after their pet dog, who sadly passed away a few years after they appeared on the show. The couple has now been together for more than 35 years and is currently based in Waikiki, Oahu, where they spend their time with friends and dear ones. While Joe prefers to keep outside of social media, Bill continues to gush about his partner on Instagram. Bill has also started working as an actor and has appeared in a number of productions, including, 'Dogs 101,' and HBO's 'The White Lotus.'
Where are Uchenna Agu and Joyce Agu Now?
After winning season 7, couple Uchenna and Joyce returned to the eleventh installment of the show but became the seventh to leave the show after receiving two elimination penalties. Having exited the show, the duo decided to get an In-Vitro fertilization procedure to kickstart their family. Alas, the procedure didn't work. Instead, Uchena and Joyce established a charity to help raise funds for impoverished children.
However, due to irreconcilable differences, they ultimately separated. Despite walking on different paths, the duo has continued to remain friends. Uchenna is now working as a Life Coach and Motivational Speaker and has his own page dedicated to the same. He has also appeared in works titled, 'Krazy Meets Karma,' 'Push,' and 'Destinies.' As for Joyce, the reality star has largely kept her life under wraps and last appeared on 'Star Trek: The Next Generation.'
Where are Oswald Mendez and Danny Jiminez Now?
Enamoring many with their friendship, Oswald and Danny became known for their level-headed demeanor on the show. After their feat in season 2, the duo finished stronger in season 11. Outside the reality show, they have also managed to cross more milestones professionally. Danny is currently the Senior Consultant at Reality Check Legal Solutions in Miami, Florida. He has years of experience in legal matters and provides consultation to clients in light of the same.
On the other hand, Oswald is currently serving as the Chief Marketing Officer at Canela Media in New York. As a member of the LGBTQIA+ community, he has continued to rally for social causes.
Where are Charla Faddaoul and Mirna Hindoyan Now?
Charla and Mirna, the cousins from Maryland, reappeared on the show and competed in numerous challenging obstacles, and placed third on the show. Since the show ended, they have accelerated their career and life as well. Charla went on to become an actress and has starred on 'MADtv' 'The Comeback,' 'Battle of the Network Reality Stars,' and 'Celebrity Poker Showdown.'
Charla is now married to David Faddaoul and has a daughter as well. Similarly, Mirna has also expanded her professional and personal life. She is a practicing attorney and has established her own firm in Baltimore. Besides, she is married and is the mother of two children.