Good film adaptations of Agatha Christie books and plays have popped up every decade or so with varying degrees of success. Lately they've been more of a staple on the small screen with a number of British series focusing on her two key detectives – Hercule Poirot and Miss Jane Marple. However, by the end of the year Christie will be back on the big screen with the latest film version of 'Murder on the Orient Express', Kenneth Branagh's big budget remake of the classic 1974 film. Branagh has assembled a stellar cast that includes Judi Dench, Michelle Pfeiffer, Johnny Depp, Penelope Cruz, Daisy Ridley and many others for an updated version of what has become one of Christie's quintessential works. A recent Entertainment Weekly cover story has started to generate interest in what is certain to be one of the big releases of the year but I'm a little guarded in my optimism – there is no possible way to top what Sidney Lumet and his cast did with the 1974 version.
I am hoping though that the new version will be successful enough to prompt another series of Christie adaptions, much as the original 'Orient Express' did. For a while in the seventies and early eighties, all-star Christie adaptations every few years were a cinematic staple. Some were good, some not, but they were all very glamorous, they featured great casts, beautiful locations and enough twists to keep you watching. 1928 saw the first film adaptation of one of Christie's slightly formulaic but well plotted mysteries and over the next 9 decades there have been about 40 more, plus numerous television productions. It's a lengthy list and not everything is available for viewing, but if you want to immerse yourself in celluloid Christie, these are the top Agatha Christie movies. You can watch these best Agatha Christie movies on Netflix, Hulu, or Amazon Prime.
10. The Mirror Crack'd (1980)
This one just barely makes the list – and it's here primarily because 'Goldfinger' director Guy Hamilton, in his first Christie adaption, does well with his all-star cast. You can believe Elizabeth Taylor and Kim Novak as combative movie stars both looking for a comeback, although believing them as Mary Queen of Scots and Queen Elizabeth I (the characters they're playing in the film within the film) may be a bigger stretch. There's also Rock Hudson, Tony Curtis, Geraldine Chaplin and Angela Lansbury as Christie's spinster sleuth Miss Jane Marple. Set on an estate in rural England, it uses a tragic story from the forties involving real-life Hollywood star Gene Tierney as inspiration.
The murder victim here is a guest who is killed at a reception thrown by the film company for the locals, but it looks like the intended victim is actually Taylor. The director is never able to build the suspense, but there are some slight twists that keep things moving – and Lansbury is very good in a role that's not too challenging for her. What the film lacks is a distinctive style – something key to a truly successful Christie film. This one is visually flat and, although set in the early fifties, it seems nobody bothered to tell the costume designer.
Read More: Best Mother's Day Movies of All Time
9 to 6. Murder, She Said (1961)/Murder at the Gallup (1963)/Murder Most Foul (1964)/Murder Ahoy (1964)
I'm grouping these together because they're all directed by British director George Pollock and they all star the incomparable Margaret Rutherford as Miss Marple. Although nothing like the thin, birdlike character that Christie created in her books, the homely and rotund Rutherford is a delight nonetheless. These are not big budget films, but they're entertaining and the post-war British atmosphere and black and white cinematography provide a perfect setting for murder. The best of these are the first two – 'Murder, She Said' and Murder at the Gallup' – thanks to stronger scripts and stories and better casting. But ultimately Rutherford is the reason to give these a try– she's clearly having a wonderful time and it's contagious. The success of these films, along with her supporting actress Oscar for 1963s 'The VIPs', gave her a deserved late career boost.
Read More: Best Slow Cinema Movies of All Time
5. Evil Under the Sun (1982)
More comedic than suspenseful, this is probably the wittiest Christie adaptation and one that could also serve very easily as a travelogue for sun drenched islands in the Adriatic. Adapted by playwright Anthony Shaffer (who also wrote 'Sleuth'), 'Evil Under the Sun' is bitchy, colorful, and well performed. There are a few surprises and twists but the suspense is light – and don't look too closely or you'll see the holes in the plot. But it certainly is fun. It starts off with a murder in Yorkshire and very quickly moves to the Adriatic where eventually there's another murder. Director Guy Hamilton (this is his second Christie film) has pulled together a great cast (again) who are thoroughly enjoying themselves. Peter Ustinov is back for second go at Poirot and leading the bitchy repartee are Maggie Smith, Diana Rigg, Roddy McDowall and James Mason.
Read More: Best Drama Romance Movies of All Time
4. Death on the Nile (1978)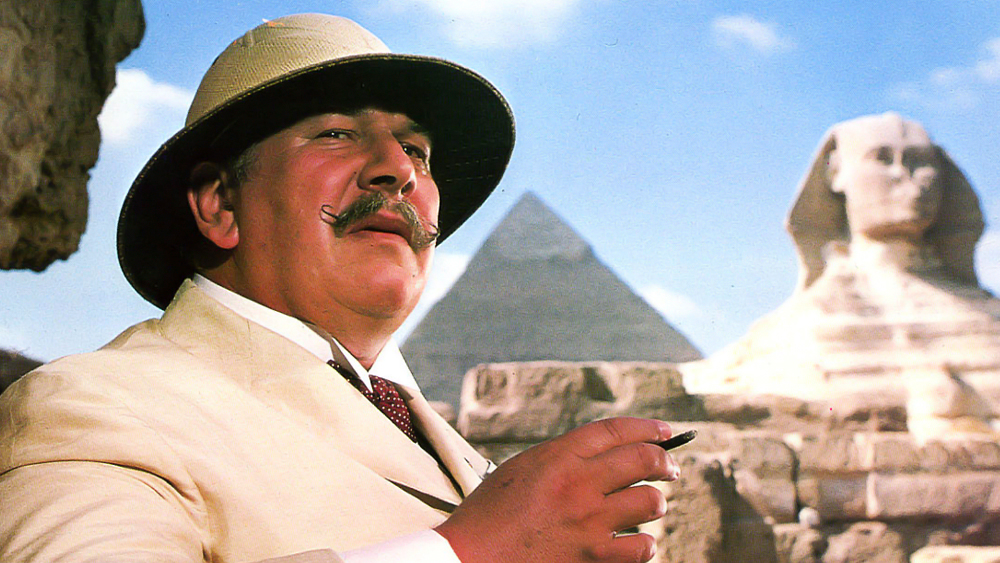 Stunning locales, great plot, and another terrific cast and a stylish journey down the Nile thanks to director John Guillermin. Although somewhat marred by its stereotypical and dated depiction of Egyptians, this is still the best of the post 'Murder on the Orient Express' films. It's a tale of jilted love and revenge and it brings together a group of people who seemingly have nothing in common, but of course there's a thread connecting all of them.
As with all the truly best Christie adaptations, you don't see the twist coming. This is the first of many appearances by Peter Ustinov as Hercule Poirot. If he doesn't reach the heights that Albert Finney does in 'Orient Express', he's still a good, if more lightweight Poirot. He leads a great list of performers – Bette Davis, Maggie Smith, George Kennedy, David Niven, Mia Farrow and Angela Lansbury among others. They're all good, but Farrow and Lansbury take top honors here – Lansbury's performance as an over the top, drunken romance novelist is one of the best and funniest of her career. The fact that this is all played against stunning locations in Egypt only adds to the mystery and enjoyment.
Read More: Best Childhood Movies of All Time
3. And Then There Were None (1945)
Acclaimed French director Rene Clair had one of his biggest commercial success with this American adaption of what many feel is Christie's best work. It's the story of 10 strangers invited to a remote British island for a holiday. The thread that ties this group together? They all have a connection to the death of someone – and the host (never seen) seems to know all their secrets. Very soon, one by one, they are murdered. Before the resolution you're scratching your head trying to figure who's behind all the killing. It's a classic premise and one that Clair films very efficiently with ever mounting suspense.
Although not an all-star cast, the actors are group of well known faces from the era who are usually in supporting roles. Prime among the cast of veterans are Walter Huston as a drunken doctor, Barry Fitzgerald as a judge and Judith Anderson as an acerbic spinster. The remote location, brooding old house, moody black and white photography, and the constant howling of the wind are perfect. This one has been filmed numerous times since, but none of the remakes come close to this.
Read More: Most Realistic Romantic Movies of All Time
2. Witness for the Prosecution (1957)
Billy Wilder's superb courtroom drama with one of the great surprise endings that you truly don't see coming – or least I didn't upon first viewing. Charles Laughton, who is excellent, stars as a barrister who is just getting back to work after suffering a heart attack – and his first case is defending Tyrone Power who's accused of murdering a lonely rich widow. A great deal goes on in the courtroom and behind the scenes, particularly with Marlene Dietrich, who plays Power's wife.
Wilder is working with a very smart script based on Christie's stage play and he's able to build the tension and suspense throughout. He's also gets terrific work out of his cast – particularly Dietrich, Laughton and Elsa Lanchester in a comic relief role as Laughton's nurse. Both Laughton and Lanchester received Oscar nominations (Lanchester should have won) and Dietrich should have been nominated for what is one of her best late career performances. Her icy exterior is perfect here – and helps to set up the climax beautifully. The one weak link is Tyrone Power – never a great actor, he was certainly a stunning looking man in the thirties and forties, but here he looks a little too old and tired to be completely believable as the playboy he's playing. But that's a minor quibble – this is one of the great courtroom dramas and one of Wilder's best films.
Read More: Greatest Criminal Masterminds in Movies
1. Murder on the Orient Express (1974)
A classy, suspenseful and expertly filmed version of a mystery that uses the sensational 1932 kidnapping of Charles Lindberg's son as its inspiration. Released in a year that was the peak of Hollywood's second golden age, this is commercial filmmaking at its best. The film kicks off with a beautiful opening credit sequence that uses black and yellow decor lettering on pink silk and segues to a documentary-style set up of the fictionalized kidnapping on Long Island. Right from the start you're hooked. Visually the film is one of the most beautiful of the era – from its costumes and sets, to the cinematography and Jerry Goldsmith's lush score.
Director Sidney Lumet – one of the most contemporary of directors – is clearly enjoying the opportunity to go back to the thirties provide this visual feast. He's also working with a very good, tightly written script and probably the best all-star cast since 'Grand Hotel' in 1932. Albert Finney (heavily made up) is a great Poirot. He's almost unrecognizable as the brilliant, quirky Belgian sleuth. He's supported by Richard Widmark (who we quickly learn is going to be the murder victim) and suspects Sean Connery, Vanessa Redgrave, Wendy Hiller, John Gielgud, Anthony Perkins, Michael York, Jacqueline Bisset, Rachel Roberts, Ingrid Bergman and Lauren Bacall. Bergman won that year's Oscar for best supporting actress for a relatively brief role and one good scene – but it should have gone to Bacall as the seemingly typical "Ugly American" tourist – this is one of her best performances, particularly once you have everything figured out.
Read More: Best Low Budget Movies