A reality competition series we can only describe as the open blend of 'Bake Squad,' 'Crazy Delicious,' and 'Sugar Rush,' Netflix's 'The Big Nailed It! Baking Challenge' is truly unlike any other. That's because it follows ten amateur home bakers as they attempt to recreate delicious confections for a chance not just to prove their mettle but also to acquire a massive $100,000 cash prize. So now that the first iteration of this incredible 'Nailed It!' spin-off has landed on our screens — let's find out precisely what all its messily quirky contestants are up to today, shall we?
Where is Andy Bisaha Now?
Although eliminated in episode 1 itself because his creation was underbaked and rather pasty, Andy has not let his passion for home-baked goods slip away in any way, shape, or form. This Detroit, Michigan, resident is focusing more on his professional career these days while balancing his personal life as a husband and an aspiring foster parent. After all, Andy is an artist, comedian, editor, filmmaker, and podcaster, who owns Re-Edit Productions, runs his own YouTube channel, co-hosts 'My Brother, My Brother, & Me,' plus sells his original art/apparel on RedBubble.
Where is Jean Silber Now?
Unfortunately, we had to say goodbye to spirited Jean in episode 2, yet she didn't let us feel sad for her for a single moment by conceding she was there for the experience rather than anything else. Therefore, today, this University of Wisconsin-Madison plus Northeastern Illinois University Media/Theatre graduate and retired Baizer Kolar PC bookkeeper is simply leading a quiet life well away from the limelight. She has seemingly been based in Highland Park, Illinois, for the past few decades, surrounded by loved ones in the form of friends, a possible partner, children, and several grandchildren.
Where is Cura Johnson Now?
When Cura stepped into 'The Big Nailed It! Baking Challenge,' she had one dream — to win enough money to have her bakery-cafe business take off in her home state, Indiana. But alas, the Indianapolis resident was booted off in episode 3 before she could achieve the same, only for her to continue on this path with the unwavering emotional support of her family. In other words, Cura is currently running CJ Sweets as an independent vendor, all the while ostensibly retaining her real estate license — she used to be an agent when she resided in Mansfield, Texas, for a few years.
Where is Angie Williams Now?
Born and raised in Philadelphia, PA moved to the RVA happy to bring a @NailedIt win to the Richmond City!! We Nailed It!! pic.twitter.com/tXLzAEZyC8

— Angela Williams (@AngelaW12299868) December 16, 2018
Unlike almost all her fellow competitors, Angela (or Angie) came into this series to learn proper baking skills for her kids, grandkids, and great-grandkids. It's also partly why this 'The JokersWild' season 2 participant had previously featured in 'Nailed It!: Holiday' season 1 alongside her daughter Antoinette, just for them to walk away as winners. Hence, today, it appears Angie is leading a simple, working-class life as a Customer Service Supervisor while almost always being surrounded by her loved ones in Richmond, Virginia.
Where is Travis Smith Now?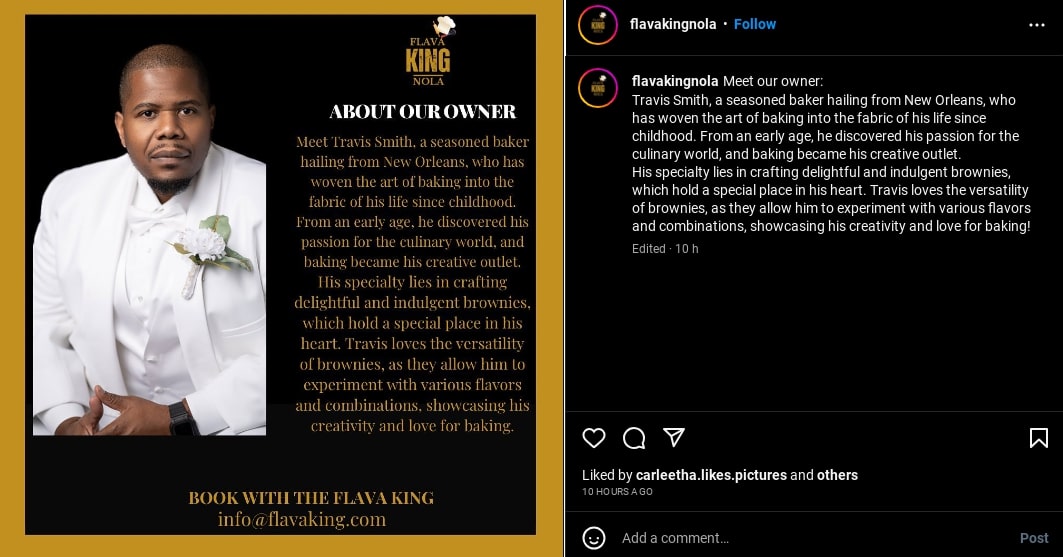 Although it's true Travis primarily used to serve as a secretary at the time this reality show was under production in the summer of 2022, he has since spread his wings to become so much more. In fact, from what we can tell, this renowned, seasoned baker with an undying passion for creating mouthwatering desserts is now the Owner/Head Chef of Flava King in New Orleans, Louisiana. This unique confectionary shop features everything from adorned cookies to rich brownies, from tiny cupcakes to tiered cakes, and from mere pralines to decadent beignets.
Where is Emily Adey Now?
Following the eliminations of Angie in episode 5 and Travis in episode 6 was the unexpected yet fair booting of Littleton, Massachusetts, proud mother of one Emily in episode 7. This young woman's goal was quite similar to her co-contestants in that she came in solely to learn some new skills for her son, too — she didn't have any entrepreneurial desires riding upon winning the prize fund as she'd already been thriving in STEM for years. Therefore, it comes as no surprise this University of Massachusetts-Lowell Mathematics graduate is still based in her hometown of Littleton, where she serves as a Systems Engineer at RTX.
Where is Frank Hu Now?
While there's no denying Frank initially came across as quite a character, he soon proved he truly deserved his spot in this competition by creating one delightfully divine cake after another. Sadly, a lack of punch in terms of the flavors he used ultimately led to his elimination in episode 8, meaning he had reached the top 4 yet couldn't take it further to the semi or the finale. Coming to where Frank stands today, it seems like this San Franciso, California-based Duke University graduate is still pursuing his baking dreams while also serving as a Data Scientist at CALM.
Where is Richard Sanchez Now?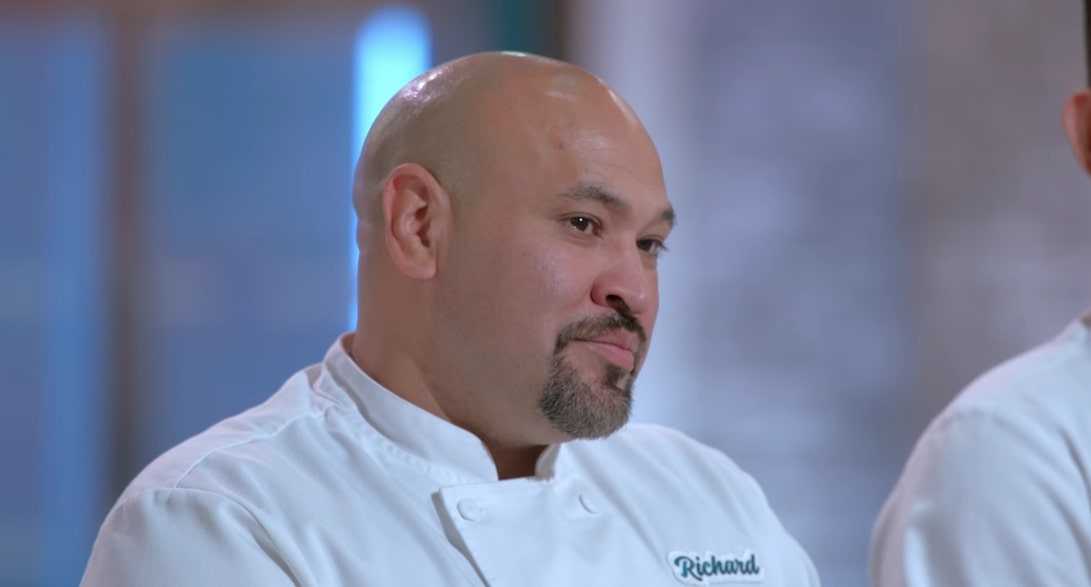 As a father of five young girls, 'Nailed It!: Holiday' season 2 episode 1 winning alumni Richard had a single goal when he applied for this spin-off — earning enough money to give his daughters a better, more comfortable life. However, this aspirational, talented, and skillful Warehouse Supervisor couldn't make things cohesively stick in the end, resulting in his elimination in the semi-finals — he was so close but still so far. Thus, it appears that Richard is staying well away from the limelight to find the perfect balance between his career in the operations industry, his passion for baking, and his care for his daughters.
Where is Georgina Chiou Now?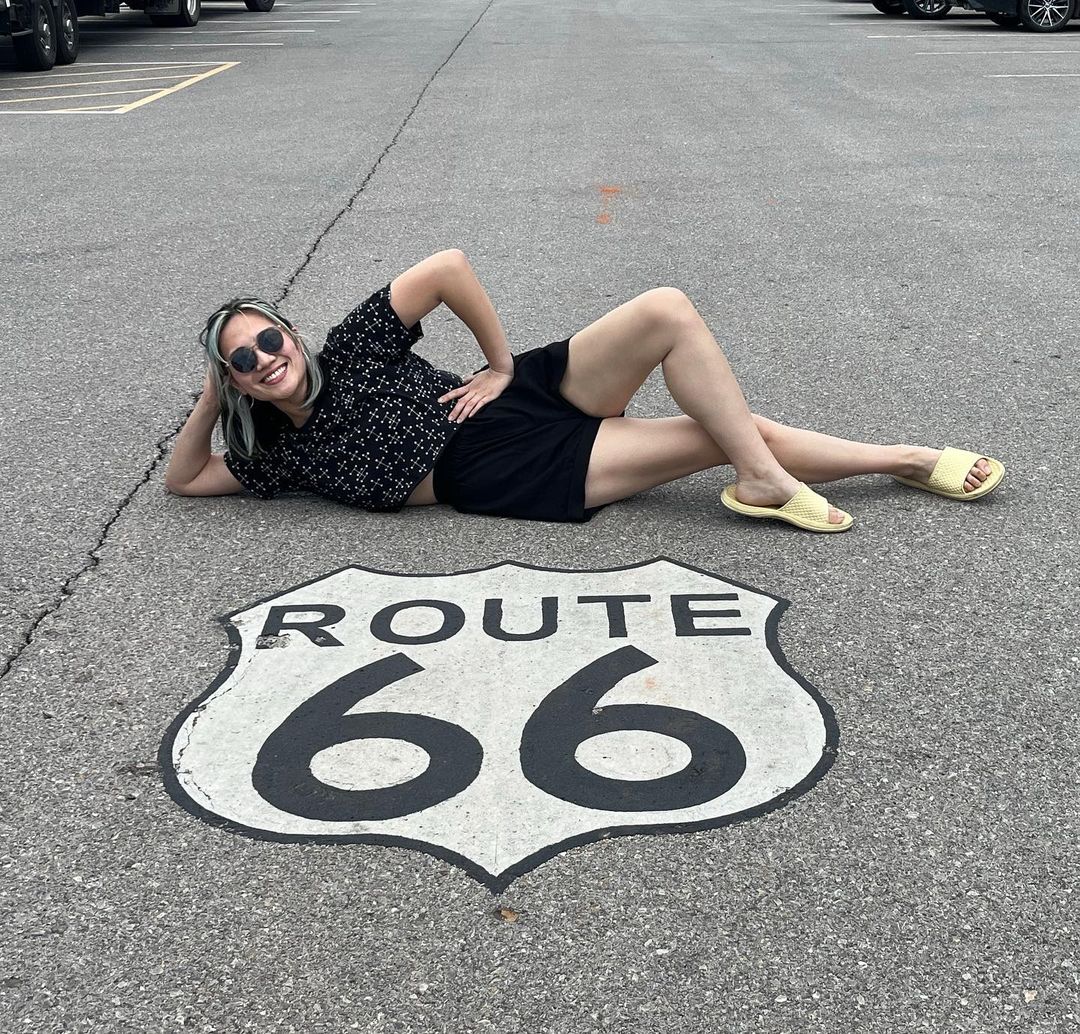 If there's only one word we can ever use to describe Georgina, it would have to be creative due to how she approaches all aspects of life, whether personal, professional, or social. Hence, it was no surprise that she won the Big Cake challenges in episodes five and six and ended her television stint as a runner-up.
While Georgina didn't get any significant cash prize except the $1,000 each from her wins, she did earn bragging rights for the rest of her life. Therefore, the recent University of Pennsylvania graduate continues on a similar path by serving as a Design Consultant at Venture Lab, a Brand Strategist freelancer, and a passionate baker.
Where is Ignoisco Miles De'Juan Now?
With Ignoisco winning the Big Cake challenges in episodes 1, 3, 7, 8, and 9, it was undeniable he had the skill to match his dreams, which is how he eventually earned the final cash prize — his total gains were thus $105,000. So, of course, this Indiana University graduate turned Norwalk, California, resident has since done wonders by establishing his own bakery by the name of BUTTER-uh Sweets. Moreover, Ignoisco continues to work as an actor, dancer, filmmaker, poet, singer, teacher, and writer. He is a Vocal Instructor at Isana Academies and the Camp SOUL Director at African American Arts Institute.
Read More: Is The Big Nailed It Baking Challenge Scripted or Real?