As a baking competition series that we can only describe as the perfect blend of 'Crazy Delicious,' 'Easy-Bake Battle,' and 'Sugar Rush,' Netflix's 'The Big Nailed It! Baking Challenge' is unlike any other. That's because it revolves around ten truly amateur home bakers as they attempt to recreate impressive confections for a chance not just to prove their mettle but also to win a $100,000 cash prize. It's thus filled to the brim with creativity, disarray, light-hearted drama, and mistakes, making many wonder whether any of it is even real — so now let's find out more about the same, shall we?
Is The Big Nailed It! Baking Challenge Scripted?
Ever since 'The Big Nailed It! Baking Challenge' was first announced to the world around mid-spring 2023, it has been billed as a natural, reality, unscripted production through and through. This means that despite its precise planning regarding cast selection, episodic lessons/challenges, and facets like set design, nothing of how things actually pan out is directed or influenced. Plus, since it's a spin-off of the undeniably successful 'Nailed It!', an authentic competition show in itself, there's not a single piece of evidence contradicting the same.
In fact, back in 2021, a now former executive producer of the parent series Patrick Doody admitted to Showbiz Cheat Sheet, "It is all in the moment… Like, the only things that are actually 'written' on the show, if you want to call it that, are 'here's the challenge' and 'here's the thing' — like all those explanations you see. That's all kind of like laid out by our team — our challenge team — so [host] Nicole [Byer] knows what we're going to talk about when she gets it ahead of time and all that stuff. But other than this, once… [the baking time starts], it's just going."
As if that's not enough, Patrick also revealed that although neither Nicole nor chocolatier/judge Jacques Torres sits through entire challenges owing to the long hours it usually takes to complete them, they are always kept in the loop by producers. Even celebrity guest judges are reportedly informed of particular instances if something crazy happens during this period, and it's all done so that there's a sense of continuity when they speak to the contestants later on — or rather, when Nicole ultimately makes a joke about it while judging.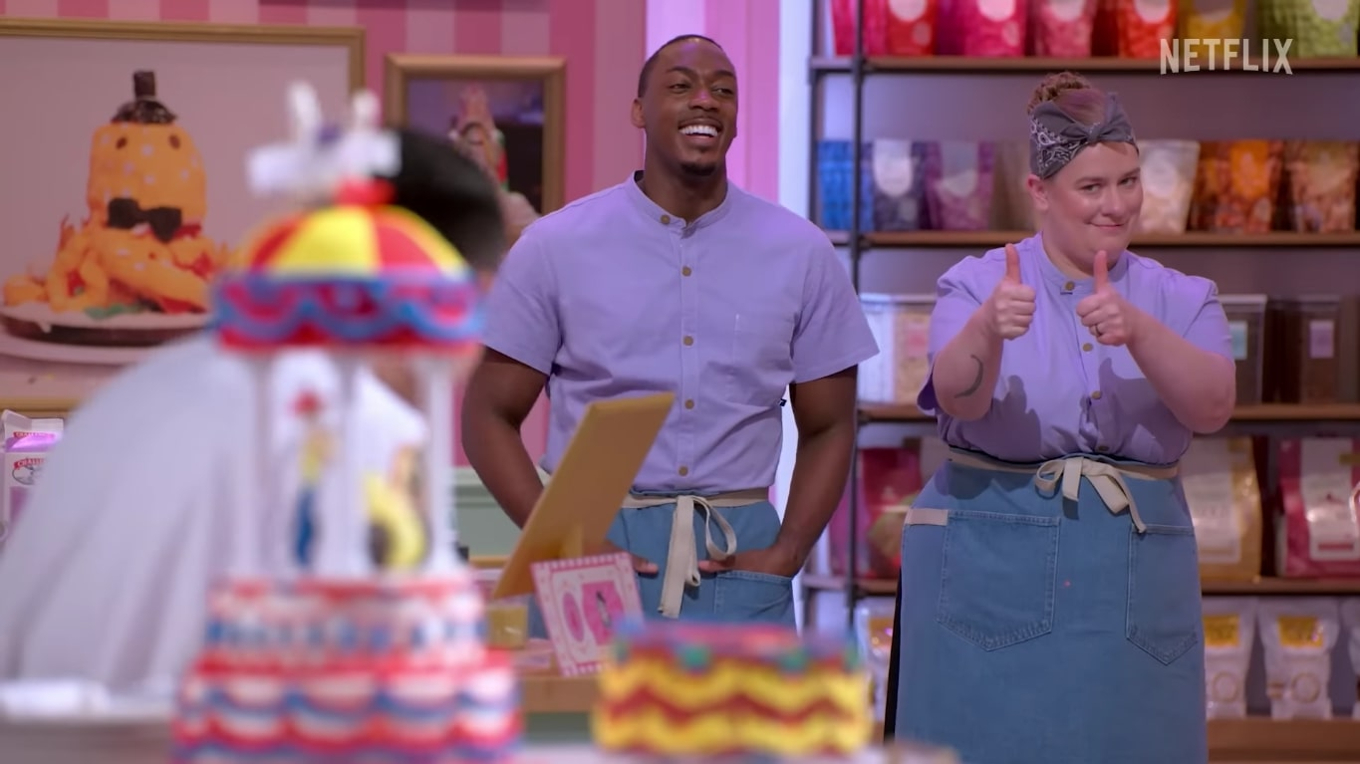 Moreover, and most importantly, this executive inadvertently confirmed that the cast comprises only real home bakers with massive dreams yet little to no professional skill. Therefore, it's safe to say 'The Big Nailed It! Baking Challenge' probably follows this exact pattern, with the sole difference being the addition of dessert expert Erin Jeanne McDowell and chocolatier Robert Lucas.
Yet, the duo's role as coaches and Baking 101 teachers apparently matches how the original show works. They ostensibly give contestants pre-planned lessons in each episode based on the skill they'll most require during the subsequent challenge but go with the flow with their aide when it's time for their "students" to really compete.
In other words, despite the careful planning of each stage and the post-production editing process affecting precisely what we ultimately see on our screens, Netflix's 'The Big Nailed It! Baking Challenge' is as accurate, honest, and authentic as possible. Regardless, even with the essence of this one genuinely making it seem unscripted due to how it pans out, we should mention that you should always take such productions with a grain of salt as you never really know the full extent of producer interference.
Read More: The Big Nailed It Baking Challenge Season 1: Where Are They Now?