'The Con Is On' is the perfect movie to watch after you've had a long day. Not only does it have an ensemble cast that includes Uma Thurman, Tim Roth, Alice Eve, Sofia Vergara, and Maggie Q, but it also presents a quirky and funny narrative. In the larger scheme of things, the plot may not be the most unique one. After all, there are many heist comedies one can choose from. Nonetheless, the rocky dynamic between the characters is commendable. So, if you're wondering what the ending is all about, then we have got your back. SPOILERS AHEAD.
The Con Is On Plot Synopsis
Harriet Fox, who goes by Harry, sells some cocaine to a nun. The cash she receives is to be given to Irina, a feared gangster (who is also in love with Harry). However, Harry gambles it all away and runs away to LA with her husband, Peter, to secure her own life. There, they get in touch with Sidney, a corrupt priest who offers them 40,000-pound sterling if they get some opium delivered for him.
Unbeknownst to them, however, Sidney informs Irina about Harry's whereabouts. In the meantime, the con artist makes her husband get in touch with his ex-wife, Jackie, who is now married to the famous and successful director, Gabriel Anderson. He has gifted Jackie an extremely expensive ring, and the Foxes plan to steal that to repay Harry's debt. Lo and behold, the characters find themselves in precarious positions as the plot progresses.
The Con Is On Ending
Irina finally tracks Harry down and confronts her about the missing money. The latter blames Peter for the entire ordeal and also tries to invoke Irina's love for her. Harry tells the gangster about the ring and states that she is willing to leave Peter for a life with Irina. The pair then kiss. The next day, Peter and Harry go to Jackie's house, and Gina tells them that Gabriel plans on leaving his wife to be with her. At the ceremony, Gabriel wins the award for best director and dedicates it to Vivienne, whom he calls his muse.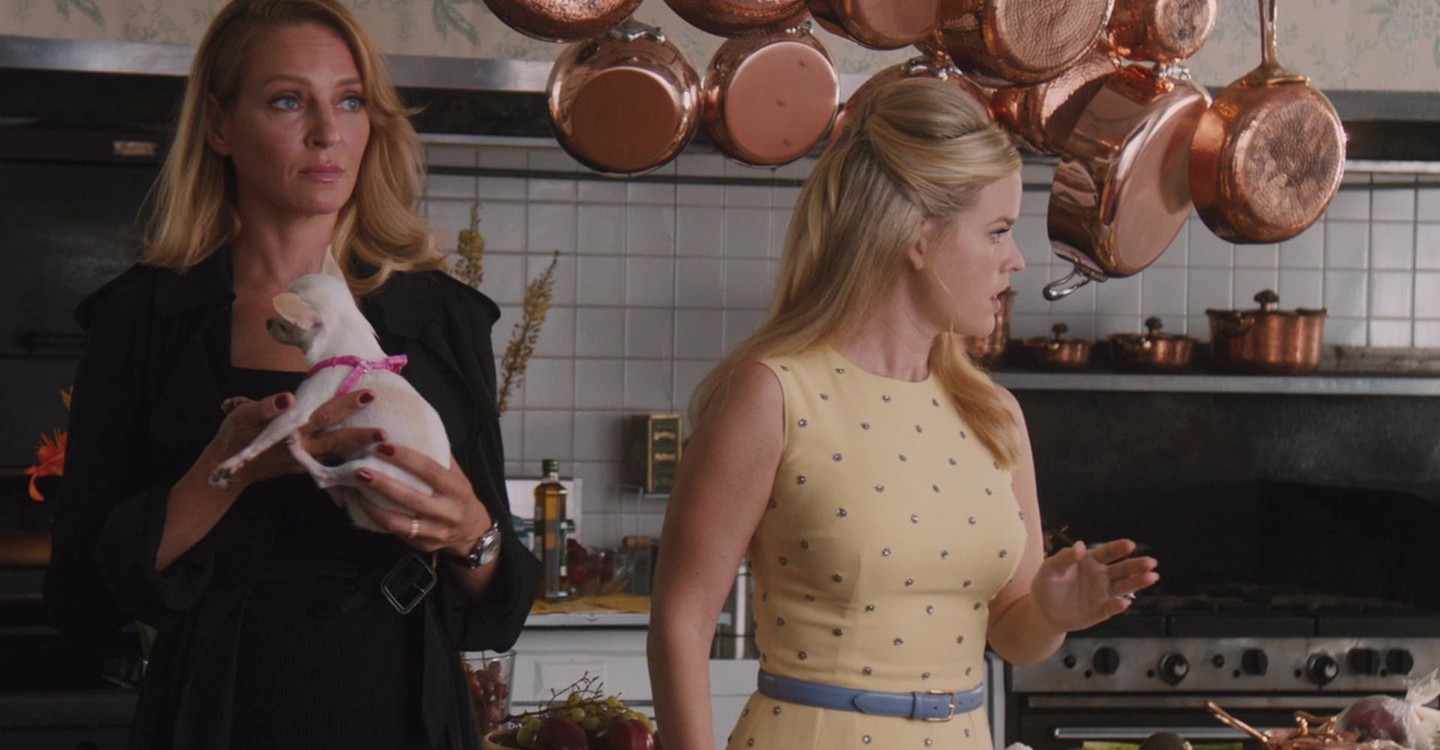 Naturally, both Gina and Jackie are mad at him, and they feel utterly humiliated. The latter comes home and states that she plans to move back to England. When Irina and Sidney show up at Jackie's, Hanz states that he knows all about Harry's criminal past, and so the gangster shoots him. In the meantime, Gabriel walks with Vivienne in the garden. She tells Jackie that they are in love. In a fit of anger, Jackie throws her ring away, and it lands in Harry's drink. Irina realizes that Harry has no intentions of sharing the money, so she chases her down.
Although the con artists try to run away, Irina approaches them and even shoots at Harry. The latter ends up throwing the fake ring to the gangster, following which, the husband-wife duo leave the property. At the airport, Harry tells Peter that she accidentally gave Irina the real ring. In the end, they steal an old man's wallet and board a plane. On the flight, Harry eyes an expensive necklace that one lady is wearing (as if to suggest that she is their next target).
Does Harry Actually Love Peter?
Harry and Peter make for the perfect dysfunctional pair. She has a gambling problem, and he cannot get enough alcohol in his system. The two have this oddly compelling dynamic that somehow works in their favor. However, towards the end, to secure her own future, Harry tells Irina that she is willing to leave her husband for the gangster who loves her immensely. This scene is pertinent because it makes us realize how manipulative Harry really is, even though this facet of her personality is openly discussed at various points in the film.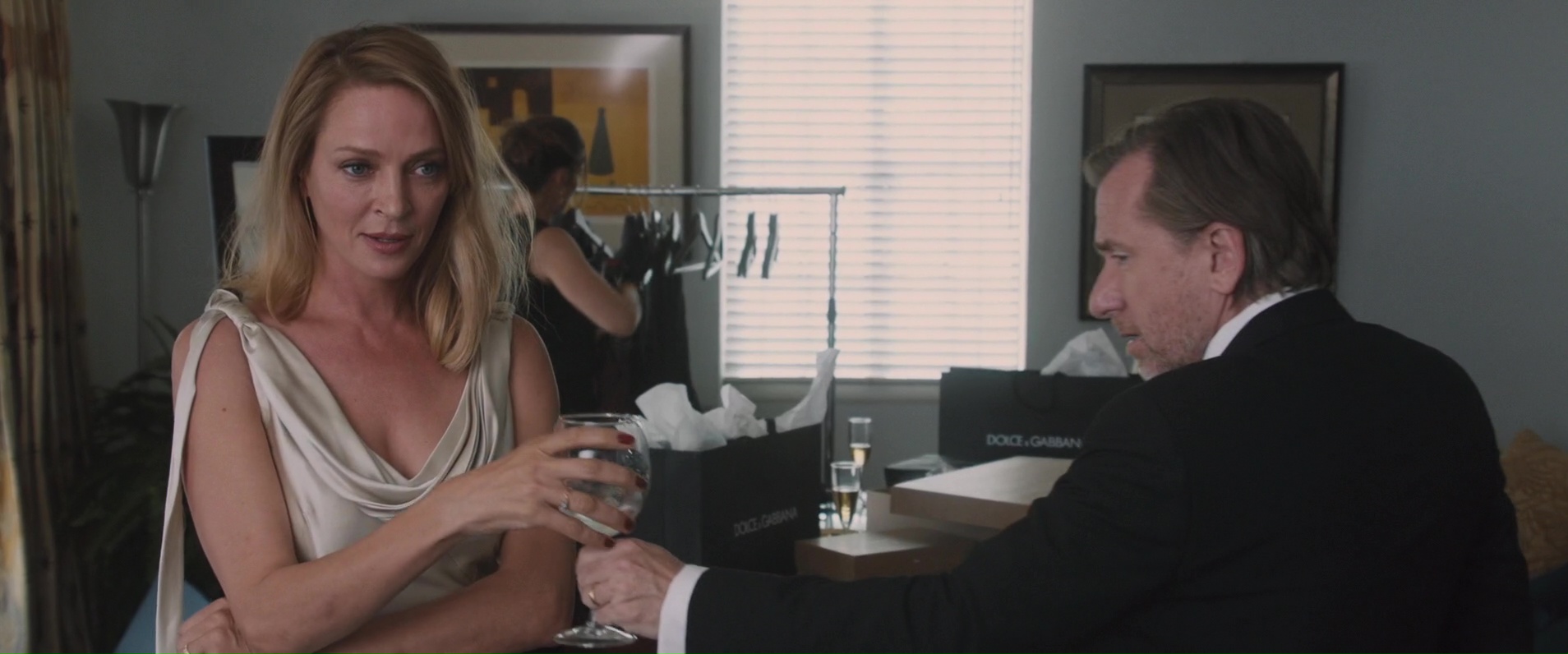 In fact, to gain entry into Jackie's house, Harry pretends to be a dog whisperer. Then, at dinner, the host talks about how scheming and conniving Peter's wife is. Nevertheless, it doesn't really come as a shock to us when Harry goes to Irina and tells her that she is willing to leave her husband. She uses her marriage as a mere bargaining chip. At that moment, however, it really does feel as though Harry wants to run away with Irina.
Even though the former says these things to save her own skin, we can't help but feel as though there is an element of truth in it, especially when you consider that towards the end of the film, Peter and Harry aren't on the best of terms. However, it also seems as though Harry actually does love Peter. Despite all the trauma and ordeals that she has put her husband through, she doesn't desert him. All this while, Harry thinks that she has the real ring on her person.
That ring, which is priced in the millions, is supposed to be the couple's source of income for the next many, many years. Their entire future would be set. Harry could have left Peter and faced no instability. After all, she has the ring and can do anything with it. However, Harry prefers to stay with her husband. She only realizes that she has the wrong ring after having made this decision. So it's not as if she's with Peter just for the sake of survival. For whatever it's worth, they do stick by each other through the good times and the bad.
Read More: Is the Con Is On a True Story?