Apple TV+ 'The Morning Show' season 3 takes viewers back to the cut-throat world of news reporting as we follow Alexandra "Alex" Levy (Jennifer Aniston) and Bradley Jackson (Reese Witherspoon) as they navigate workplace politics and ethical dilemmas while reporting life-changing news from across the globe. Season 3 also introduces Jon Hamm's billionaire businessman, Paul Marks, who is proving to be the peak of capitalist aspirations and a thorn in Cory's side. Given Marks' business interests in the series, viewers must wonder if the billionaire is based on Elon Musk and Jeff Bezos. If you are seeking answers about the inspiration behind Paul Marks, here is everything you need to know! SPOILERS AHEAD!
Is Paul Marks Based on Jeff Bezos and Elon Musk?
The third season premiere of 'The Morning Show,' titled 'The Kármán Line,' introduces the character Paul Marks. Actor Jon Hamm plays the role of Paul Marks, a billionaire interested in purchasing the UBA network. Hamm is known for his role as the enigmatic but troubled advertising creative director Don Draper in the period drama television series 'Mad Men.' Hamm's other credits include films such as 'Top Gun: Maverick,' 'No Sudden Move,' and 'Baby Driver.' In 'The Morning Show,' Hamm portrays a fictional character named Paul Marks, who bears some resemblance to real-world billionaires.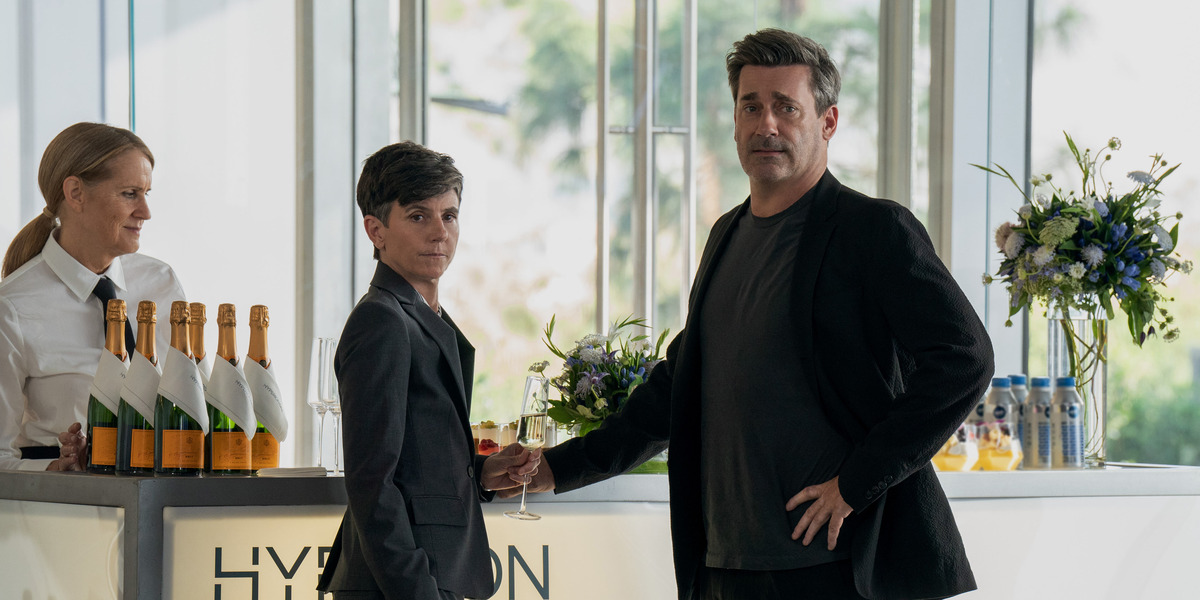 The first episode firmly establishes Marks as an uber-wealthy figure with a personal interest in space tourism, with his company – Hyperion, focusing on the same. It is also stated that Marks is looking for NASA contracts. As a result, the series draws parallels with Amazon's founder, Jeff Bezos. Bezos is also the founder of Blue Origin, a human spaceflight startup, which has also been contesting for NASA contracts.
Similarly, the space exploration angle of Marks' character is reminiscent of Tesla founder Elon Musk, whose space engineering and telecommunications company SpaceX is already known to have several NASA contracts under its belt. Besides being filthy rich like Bezos and Musk, Marks is also interested in purchasing a reputed media network. In reality, Bezos is known to have purchased The Washington Post. On the other hand, Musk bought the social media platform Twitter and rebranded it as "X."
While the business interests of Marks appear similar to those of Bezos, the character's physical appearance and personality seem to be modeled after Musk. The most glaring similarity between Marks and Bezos is the plot point of Marks launching himself into space on a private spacecraft, a feat performed in real life by Bezos and British business magnate Sir Richard Branson.
Marks' comments about working tirelessly with his engineers and sleeping on his factory's floor are reminiscent of anecdotes shared by Musk. The first two episodes of season 3 firmly establish Marks as a fictional character representative of modern American aspiration-driven capitalism, which Bezos and Musk highly propagate. The series also makes several humorous references to real-life billionaires by shedding some light on Marks' past, portraying him as a self-made billionaire who shines as a symbol of the "American Dream" while pursuing his conceited capitalist goals.
All things said, Marks is not directly based on Jeff Bezos or Elon Musk, despite the similarities between fictional and real-life billionaires. The show's makers have also not commented about Bezos and Musk being an inspiration for the character. Instead, Paul Marks seems to be the show's interpretation of the modern space research-obsessed billionaires with deep pockets who are not against manipulating the media for their personal gains.
Moreover, Hamm's charming performance captivates the audience, making the character his own and differentiating it from the real figures. In an interview, director Mimi Leder praised Hamm's ability to add layers to the character. Leder revealed the character was created to force all the characters to introspect and change the UBA. However, Leder admitted that the series also tries to mirror real life, especially with Marks' role in the story. Hence, it is safe to say that Marks was at least partially inspired by real-life billionaires.
Read More: What Happened to Mitch Kessler? Did Steve Carell Leave The Morning Show?