The tale of familial complications, as depicted in Xavier Dolan's Canadian-French show 'The Night Logan Woke Up,' is excellently executed, compelling the viewers to put themselves in several characters' shoes and live out their experiences. As matriarch, Madeleine "Maddy" Larouche's death leads to estranged sister Mireille's return into her brothers, Julien, Denis, and Elliot's lives; it paves the path to a thrilling exploration of the family's dark past, bringing buried secrets to the surface.
Within this intense exploration of childhood trauma, the narrative depicts complicated relationships with such authenticity that viewers are bound to wonder about the story's origin. Therefore, if you're curious to know if the show is based on a true story— or something else— here is everything we know about it!
The Night Logan Woke Up's Inspiration
'The Night Logan Woke Up' is not based on a true story. Instead, the show, originally titled 'La Nuit où Laurier Gaudreault s'est Réveillé,' is an adaptation of an eponymous play by Michel Marc Bouchard. Xavier Dolan, who helmed this series as the writer and director, has previously showcased an inclination toward Bouchard's work in his filmography. In 2013, Dolan adapted Bouchard's play 'Tom at The Farm' ('Tom à la Ferme') into a self-starring psychological thriller film and presented a thrilling transformation of Bouchard's work.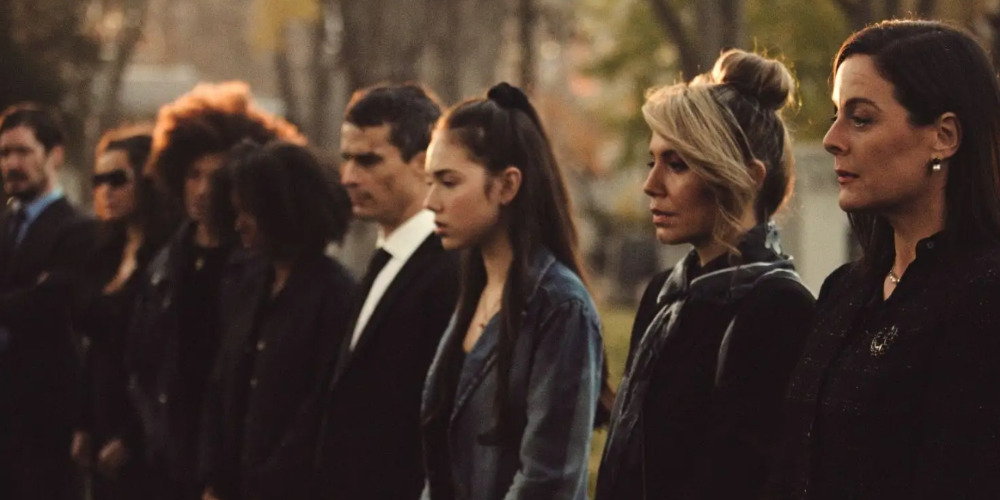 With 'The Night Logan Woke Up,' Dolan strives to achieve something similar by taking Bouchard's play and expanding upon its world. Centering around protagonist Mireille Larouche, a renowned Thanatologist, returns to her hometown to embalm her mother's dead body and confronts her family's past in the process. Dolan first encountered this play in the summer of 2019 and decided to make a TV series out of it.
Having grown up on American TV shows, such as 'Buffy The Vampire Slayer,' 'Smallville'' and 'Sopranos,' Dolan has long held a fascination for TV shows and an interest in creating one. As such, after Bouchard's play caught his undivided attention shortly before the 2020 pandemic, the director decided to adapt the story into his directorial debut TV series.
Bouchard's 'La Nuit où Laurier Gaudreault s'est Réveillé' is a few hours long and takes place within the closed doors of an embalming laboratory. However, for his show, Dolan wanted to explore the atmospheric feel of the 1990s and decided to take things a step further. Similarly, the director was interested in exploring the Larouche siblings' characters and touched upon their faults and grievances. As a result, Dolan's show goes into great depth for each character and brings an authentic study of their psyches.
By doing so, Dolan infuses a unique authenticity into his characters, allowing the audience enough space to see reflections of their own experiences. Nevertheless, the characters never shed their own definitive framework and remain consistent in their ups and downs, which helps them come across as genuine, fleshed-out people. Alternatively, the story's subject matter of a taut family reunion proposes a universally relatable topic.
Encompassing this advantage of the show, Actress Julie LeBreton, who portrayed Mireille in both Dolan's show and Bouchard's play, said, "It's very interesting to see like what happens to these characters, how a secret that can seem to you know banal or anecdotic can actually completely change the course of a whole family's life and even affect those who didn't go through that period. Like the character that Xavier [Dolan] plays in the show [Elliot]." The actress continued, "So it's really about the communication problems. Even though they love each other, there's just this wall that's built between them."
Therefore, peddled by his genuine fascination with Bouchard's 'La Nuit où Laurier Gaudreault s'est Réveillé,' Dolan brought the playwriter's characters to the screen in a new and refreshing light. His expansion upon the life and tragedy of the Larouches paints an intimate picture that many viewers will find realistic and relatable despite its lack of basis in any particular real-life people or events.
Read More: The Night Logan Woke Up Ending, Explained