Created by Danny McBride, HBO's 'The Righteous Gemstones' isn't necessarily a satire on religion but on megachurches and televangelists. The plot revolves around the eponymous Gemstones, a family that has made an absurd amount of wealth by exploiting religion. The series takes place in a transition period for the family, when the patriarch, Eli Gemstone (John Goodman), is set to retire from his position as the lead pastor of the Gemstone Salvation Center. This leads to a feud between his three children.
In season 3 episode 4, titled 'I Have Not Come to Bring Peace, But a Sword,' Karl and Chuck find acceptance among the Gemstones. When their father, Peter (Steve Zahn), comes looking for them, they seemingly decline to go with him. Meanwhile, Kelvin (Adam DeVine) faces demands from the parents of the members of his youth group to remove Keefe from the youth group, and it becomes increasingly tough for Judy (Edi Patterson a) to keep her infidelity a secret from BJ (Tim Baltz). Here is everything you might want to know about the ending of 'The Righteous Gemstones' season 3 episode 4. SPOILERS AHEAD.
The Righteous Gemstones Season 3 Episode 4 Recap
The episode begins with Keefe preparing to address teens and their parents during an "Ice Cream and Wiener" party thrown by the church's Teens United initiative. However, the man from whom Keefe brought all the adult merchandise in one of the previous episodes recognizes and comes to speak to him. This puts him in an awkward position with the church and its followers. The parents demand that Keefe be removed from the youth group. After Kelvin's siblings speak to him, he reluctantly moves Keefe to the immigration division, just as Martin Imari had suggested.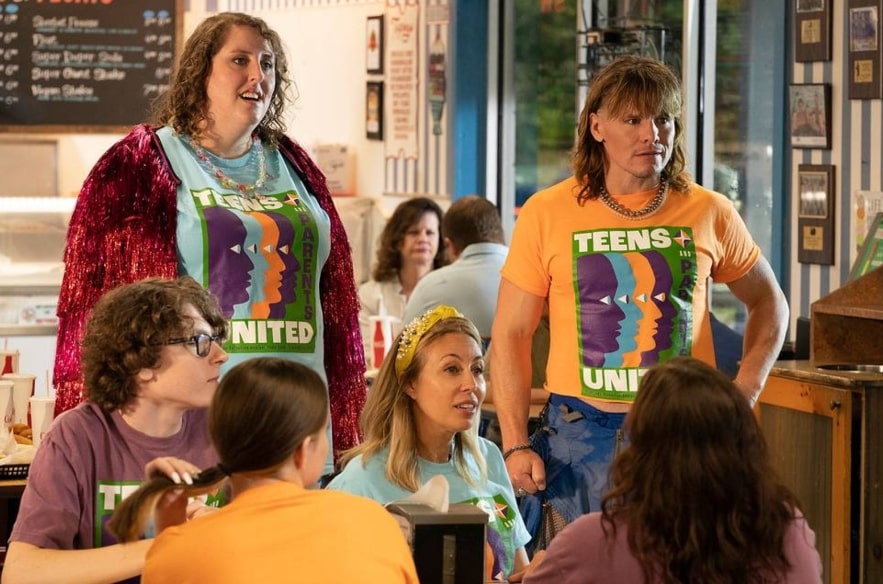 When the narrative shifts to Jesse (McBride), he is getting ready to be inducted into the Cape & Pistol Society, a secret organization of megachurch leaders. Jesse boasts to Amber about how he has been inducted into the organization at a younger age than his father had been, refusing to acknowledge that he wouldn't be there if it weren't for his father. After the ceremony, he gets into an argument with Vance Simkins (Stephen Dorff), during which Eli realizes that Jesse was behind the attack on Vance. After Jesse curses multiple times, even though it is not allowed within the halls of the Cape & Pistol, one of the members puts on a mask and slaps him twice.
Meanwhile, the subplot involving Baby Billy (Walton Goggins) veers in an interesting direction. He somehow finds out about the Cape & Pistol Society and where its headquarters are located. He shows up after Jesse's induction, wanting to pitch the idea of Baby Billie's Bible Bonkers to other megachurch leaders, but Jesse is dismissive of his uncle's plans. This is when he cryptically speaks about resurrecting Aimee-Leigh. Later, Baby Billy gives a presentation of his plans to Jesse, showing him how he intends to use hologram and 3-D technology to make it seem that Aimee-Leigh is performing with him. As Jesse watches a holographic version of his mother sing, he becomes emotional.
The Righteous Gemstones Season 3 Episode 4 Ending: What is the Montgomerys Planning?
When the episode begins, Chuck and Karl attend Sunday church at the Gemstone Salvation Center with their mother and seem to be swept away by the massiveness of the glitz and glamor around them. Afterward, the Montegomerys go to lunch with the Gemstones at their customary place, where Peter shows up. He claims that one of his followers, Lucas, informed the authorities about the militia. Peter asks his sons for forgiveness, urging them to come back with him. He declares that he now has a new camp.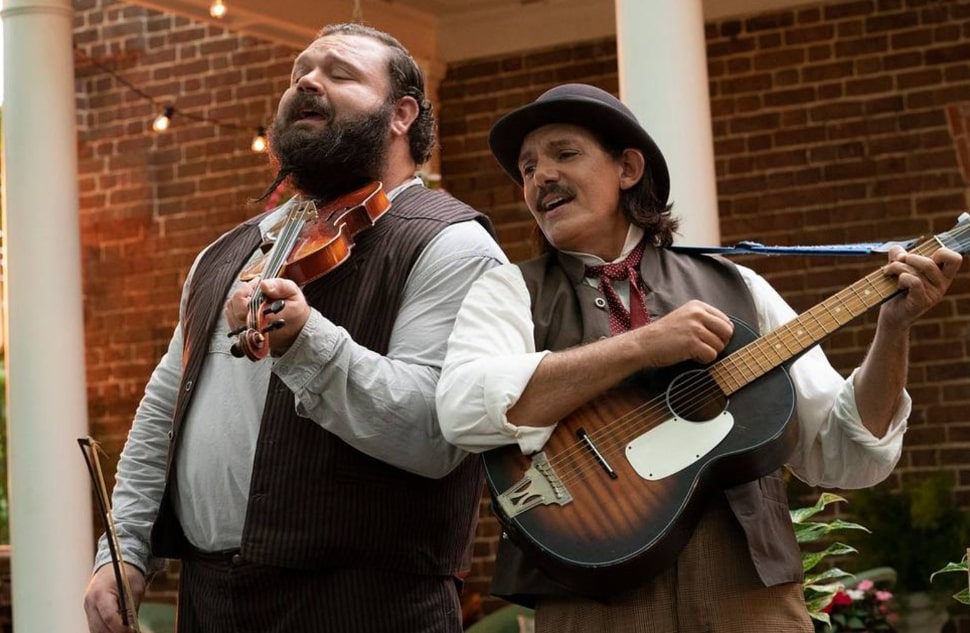 Eli helps May-May mend her relationship with her two sons; Karl and Chuck even sing for their mother. May-May admits that she has been envious of Eli and Aimee-Leigh's close relationships with their children. This prompts Eli to remark that May-May shouldn't confuse dependency with love. That night, Jesse finds his second son, Pontius, having sex with his girlfriend, prompting him to give a long lecture about trust. Meanwhile, Karl and Chuck steal 5,000 pounds of ammonium nitrate from the Gemstone compound and drive out in a truck. They meet up with their father, and it becomes apparent that their interaction with their father earlier was an act. In fact, Peter sending his people after Karl and Chuck, believing that they were the ones who told the FBI about the camp's location, could have been an act as well.
We earlier see Karl and Chuck creating explosives with ammonium nitrate under the pretext of killing pests. Peter is a domestic terrorist. After his sons bring the substance to him, he makes it clear that he intends to hit back at the federal government with it.
Does BJ Find out about Judy's Infidelity?
In this episode, BJ finds out about Judy's infidelity. In an earlier episode, Judy gave Stephen $10,000 so he would accept her decision and stay away. Predictably, that doesn't work, and in this episode, he sends suggestive texts and photos to Judy, making the latter react in frustration. Stephen is also married, and it has been already established that the relationship is abusive.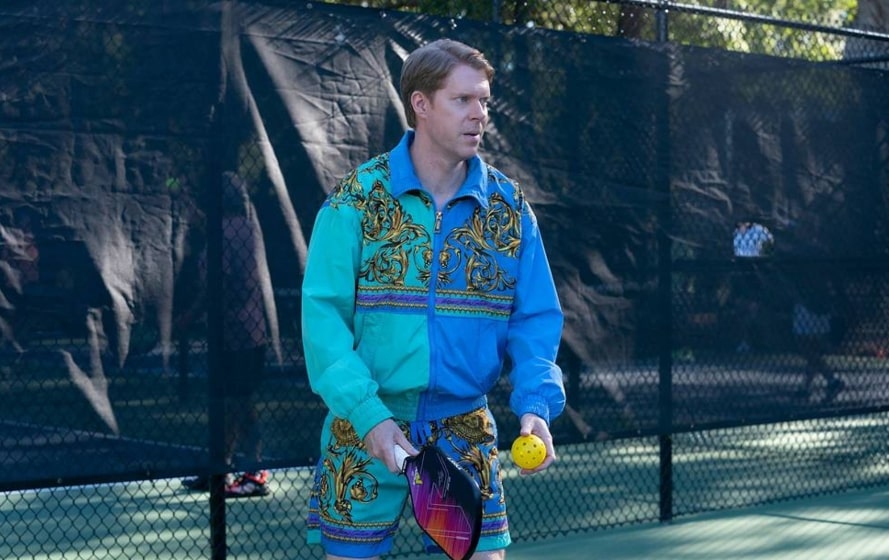 After Judy tries to shut him out, Stephen hits back. He shows up while BJ is preparing to play pickleball and volunteers to be his partner. Soon enough, Stephen starts speaking about his sexual escapades, making BJ uncomfortable. When Judy learns about this, she meets up with Stephen to tell him to stop. This is when BJ shows up there as well. It turns out that Stephen called them both there to reveal the truth. The episode ends as BJ deals with his shock.
Read More: The Righteous Gemstones Season 3 Episode 3 Recap and Ending, Explained