HBO's 'The Righteous Gemstones' is not necessarily a satire on religion itself but rather on the groups that financially exploit people through religion. The focus here is almost exclusively on televangelists and megachurches. The series revolves around the eponymous family that runs their megachurch out of Charleston, South Carolina. Immensely rich because of the donations they receive from their patrons, the Gemstones run their church like a company.
However, they are at the receiving end of the ire of the people they left behind. The third season introduces several new characters in the narrative, including an older version of Eli's (John Goodman) younger sister, May-May, who lives out of a dilapidated church until episode 3 before Eli convinces her to come live in the Gemstone compound. It seems that there is history associated with the church, May-May, and the Gemstone family. Here is what we think on the subject. SPOILERS AHEAD.
What Happened to May-May's Church?
We are introduced to May-May in the cold opening of the second season premiere. In 1968, Eli returns home after threatening a man for Glendon Marsh. Although the focus is on the relationship between Eli, who is a teenager at this time, and his father, May-May is present in the scene. Eli refers to her as "Mary" while telling her to shut up after she lets out a loud and odd laughter after hearing an argument between her brother and father.
An adult version of May-May also appears in the cold opening of the third season premiere. This scene is also set in the past, though several years after the scene mentioned above. Aimee-Leigh (Jennifer Nettles) steps away from her family for a smoke when she sees May-May approaching her with a wrench in her hand. Before she can get over her surprise, May-May swings the wrench.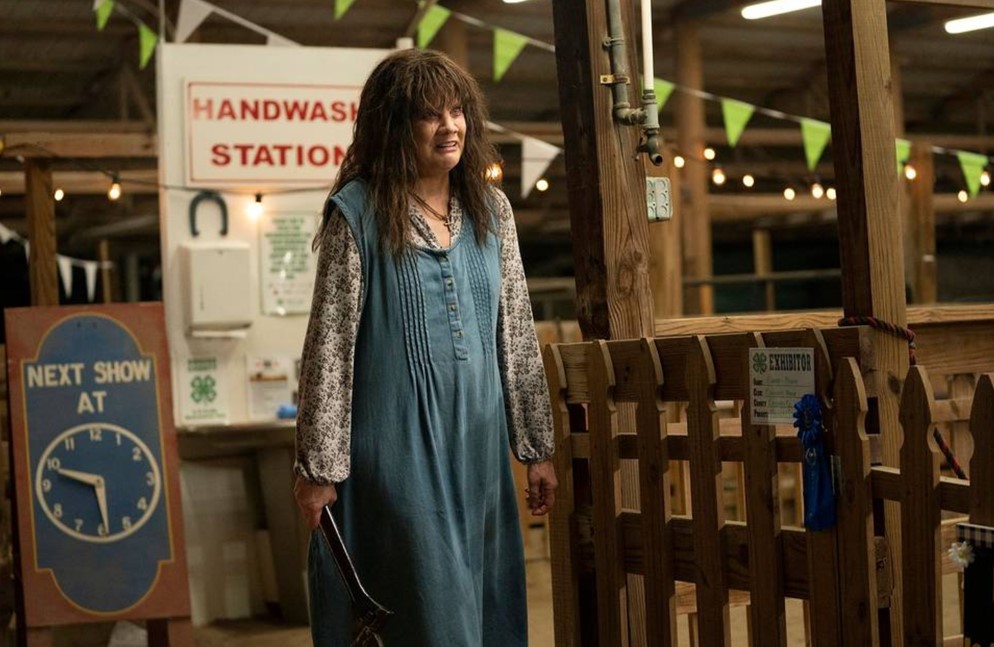 Fortunately, Aimee-Leigh is able to absorb most of the power behind the blow with her hands and pushes the other woman off. With blood streaming down her face, Aimee-Leigh starts running, with May-May hot on her trail. But before she can kill her brother's wife, May-May is hit by a car. Surprisingly, Aimee-Leigh looks down at the woman who attacked her with pity, implying that something must have happened between the two women in the past that has led May-May to act this way. This has been alluded to a few times in the early episodes of season 3.
When May-May comes to Eli begging for his help with her two sons, who are now part of their father's militia, he initially refuses, likely remembering how May-May attacked his wife. But the fact that he does help her probably indicates that he feels guilty for what happened. That church likely belonged to Roy, May-May and Eli's father; Eli left it behind and created his empire of the Gemstone Ministries. This left May-May to pick up the slack. We know that her husband, Peter (Steve Zahn), isn't a good man. It's entirely possible that he abused her.
Perhaps, May-May harbored the same feelings toward Aimee-Leigh that Baby Billy did toward Eli: Resentment and envy. She probably thought that Aimee-Leigh took her brother away from the family so they could build the Gemstone Ministries while she toiled under her father's moral beliefs.
If this is true, that church not only represents May-May's current financial conditions but also how far the Gemstone Ministries has diverted from the path of faith and altruism. Roy once told Eli that the only thing a pastor needs is a congregation, and he had lived by that rule while Eli hadn't. This placed all the responsibilities of the church on May-May's shoulders.
There is little doubt that the church will play an important role in the narrative in the third season. In episode 3, Eli helps May-May wipe the floor off the place. It is perhaps his way of acknowledging his past mistakes and demonstrating his willingness to rectify them.
Read More: The Righteous Gemstones Season 3 Episode 1 Recap and Ending, Explained