Helmed by 'Logan' director James Mangold, 'Ford v Ferrari' is a sports drama film based on the real life events at the 1966 24 Hours of Le Mans race in France. The film focuses in particular on American automotive design virtuoso Carroll Shelby and his British race car driver Ken Miles as they attempt to do the impossible by building a car that could compete with the exceptionally dominant Ferrari racing team.
Plot Summary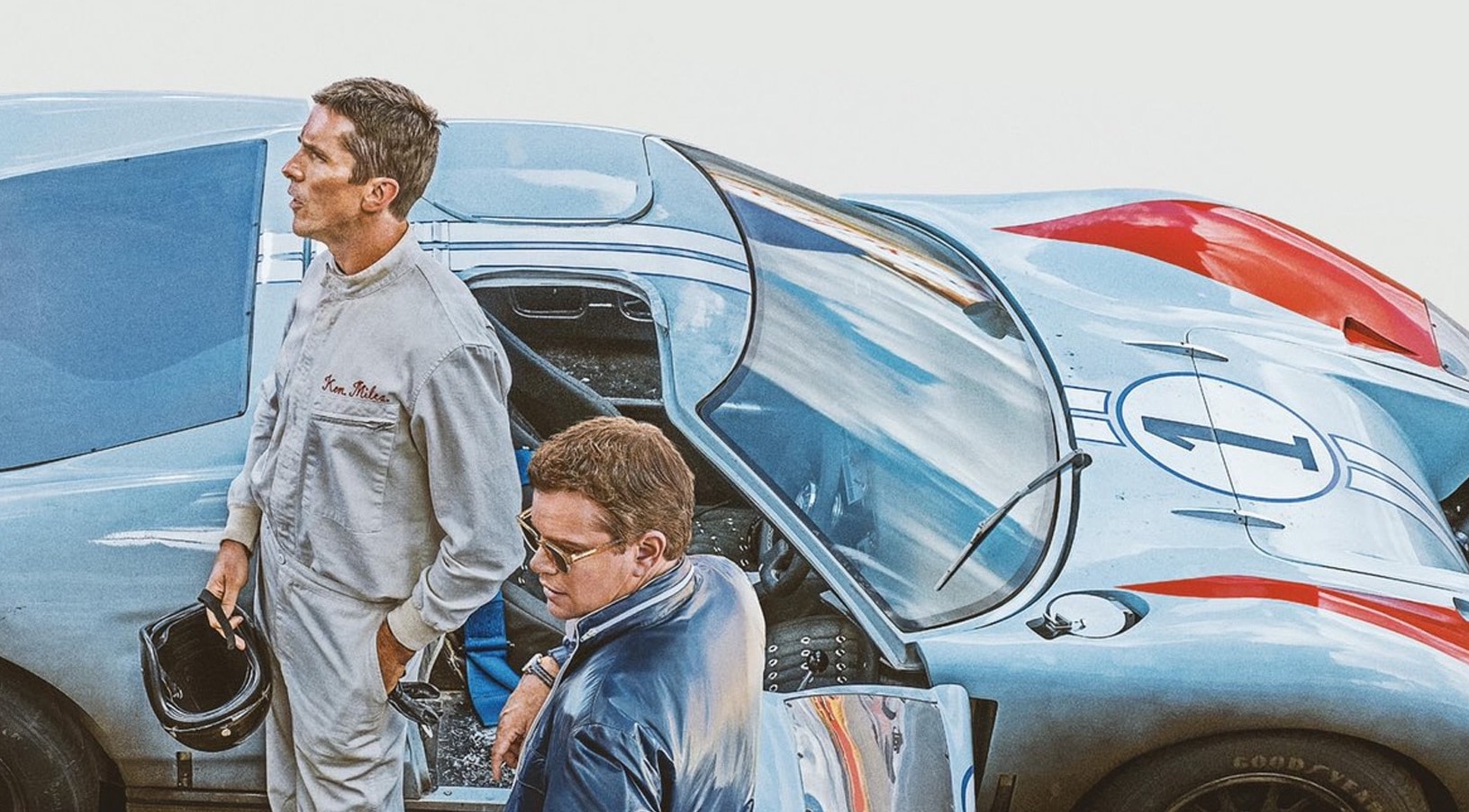 The year is 1963, and Ford's proposed buyout of Italian sports car giant Ferrari falls through after Enzo Ferrari walks out of negotiations. President of Ford Motor Company, Henry Ford II is furious and pours ridiculous amounts of money into Ford's racing division with the express goal of creating a car capable of beating Ferrari's best on the race track. To this end, Ford Vice President Lee Iacocca hires Shelby Automobiles owner and expert car designer Carroll Shelby and a hot tempered British race car driver named Ken Miles.
The two of them get to work testing and modifying the prototype Ford GT40 Mk I race car until it is ready for the track. The 1964 Le Mans race is just around the corner and Ford opt to send Phil Hill and Bruce McLaren to race in lieu of Miles, but it ends in humiliation for Ford when none of their cars manage to make it to the finish line.
Shelby and Miles batten down and get to work on the Ford GT40 Mk II, and after innumerable sleepless nights their hard work is vindicated when Miles powers to a first place finish in the Daytona 500 endurance race. Now brimming with confidence, the duo set their eyes on the ultimate prize – the 1966 Le Mans.
After a somewhat shaky start involving a faulty car door, Miles rallies brilliantly to take the lead, setting all sorts of lap records and even beating Ferrari driver Lorenzo Bandini in a duel on the Mulsanne Straight. The all new GT40 Mk II proved to be so far ahead of the competition that the race ended up with three Ford cars in the top 3 positions during the final stretch. Seeing three Ford cars in the first three positions, Ford Senior Vice President Leo Beebe orders Miles and Shelby to slow down their car in order to line up with the other two Ford cars for an iconic three car photo finish.
While Miles is against such a thing initially, he complies, but lamentably misses out on a first place podium finish since McLaren started out 20 meters behind Miles at the start of the race. Despite this, Miles remained eternally grateful to Shelby for giving him the opportunity to race at Le Mans.
Two months later, Miles dies in a tragic accident on the Riverside International Raceway when his brakes fail while testing the Ford J-Car.
The Life of Carroll Shelby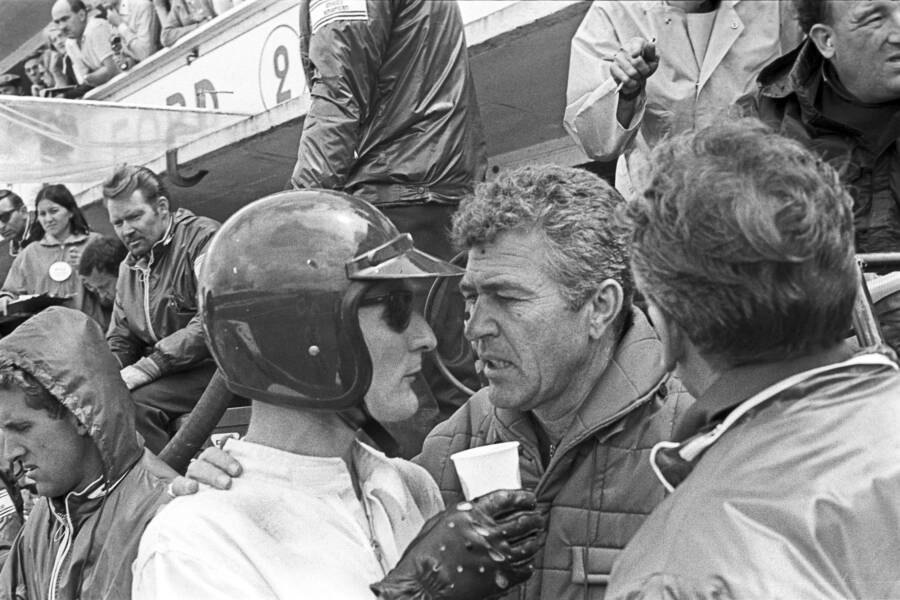 While he is portrayed by actor Matt Damon in 'Ford v Ferrari' the real Carroll Shelby was born on 11 January 1923 in Leesburg, Texas. A man who wore many hats throughout his lifetime, Shelby started out as a part time chicken farmer before he made his name in the racing circuit winning multiple awards and distinctions including the Sports Illustrated's Sports Car Driver of the Year in 1956 and Driver of the Year in 1957. The highlight of Shelby's racing career was his win in the 1959 Le Mans race as co driver for Aston Martin.
When a mysterious heart ailment ended Shelby's career as a race car driver, he transitioned very naturally to designing and building his own high performance race cars. The first car he designed was the legendary Cobra Roadster, the car that won the Grand Touring world championship not long after.
Shelby's work got him noticed, and pretty soon Ford Vice President Lee Iacocca approached Shelby American to fix their GT40 racing car. Shelby, in turn, hired British driver and mechanic Ken Miles, and the two of them powered Ford to victories at Daytona and the 1966 Le Mans before Ken Miles untimely death in car testing crash incident just two months after Le Mans. Ford won Le Mans once again with Shelby American in 1967, and the GT40 continued proving its worth in the years beyond that as well, winning in 1968 and 1969.
Shelby went on to work with Chrysler as well and was inducted into the International Motor Sports Hall of Fame in 1992. He even went to have a second stint at Ford after he participated in Ford's 100 Years of Racing Festival in 2001. Shelby died May 10 2012, after failing to recover from a bout of pneumonia.
What Ford v Ferrari Got Right About Carroll Shelby
For a Hollywood movie, 'Ford v Ferrari' is surprisingly accurate to the true version of events. His relationship with Ken Miles is portrayed in a very authentic manner, with Carroll having very fond memories of working together. The scene in the movie where Shelby sticks his neck out for Miles in front of Henry Ford II is also based on true events.
The movie's portrayal of the end of the race during the climax is accurate, as the real life Leo Beebe did, in fact, order Miles to slow down in order to stage a 3 car photo finish.
What Ford v Ferrari Got Wrong About Carroll Shelby
For all its attention to detail and attempts at authenticity, 'Ford v Ferrari' does get a few things wrong. First of all, while Matt Damon an excellent job portraying Carroll Shelby in the movie, the 5 feet 10 inch actor is not particularly physically reminiscent of the 6 feet 3 inch Shelby.
Carroll Shelby was also a very infamous womanizer, something the movie didn't really address in any capacity. He got married a total of 7 times during his lifetime, with nearly all of them ending because of his infidelity. He was in the process of divorcing his 7th wife when he died in 2012.
There is no confirmation on whether the semi reluctant fight scene between Shelby and Miles portrayed in the movie ever actually happened, and the same goes for the scene in which Shelby and Miles come up with their entire race strategy in a diner.
Perhaps the most egregious inaccuracy in the film would be its implication that Shelby and Miles built the car that won 1966 Le Mans in just 90 days when the truth is that it took much closer to 3 years. Shelby also had an existing feud with Ferrari before linking up with Ford, and his Daytona Cobra Coupe had won the GT class in 1964 Le Mans, coming 4th overall.
What Ford v Ferrari Got Right About Ken Miles
For the most part, 'Ford v Ferrari' is remarkably faithful to the real time version of events, with only a few Hollywood-isms sprinkled here and there in between. The film's accounts of Miles' successes at Daytona and the 1966 Le Mans race are fairly authentic, as is the portrayal of the competitive friendship he shared with Carroll Shelby.
The story behind Miles' agonizing second place finish at Le Mans is also largely true, with Ford Senior Vice President Leo Beebe later confessing to having had regrets about the whole situation.
Miles' death scene near the end of the movie is also a fairly reasonable recreation of what actually happened to the real Ken Miles on that fateful day.
What Ford v Ferrari Got Wrong About Ken Miles
Even the most faithful of Hollywood biographical adaptations are not exempt from a bit of Hollywood flair, and 'Ford v Ferrari' is no exception. While undoubtedly entertaining, the fight scene in the movie between Miles and Shelby involving Shelby hitting Miles over the head with a Wonder Bread does not seem to have any basis in reality.
The film's implication that Shelby and Miles built the Le Mans ready Ford GT40 Mk II in just 90 days is outright false. In reality it took closer to three years, with Miles and Shelby working off a prototype worked upon by John Wyer before them.
The diner scene in the film when Shelby and Miles work out their entire race strategy in dramatic fashion is also very likely not based on any real truth. At the very least, it is a gross exaggeration.
Miles' nail biting duel against Ferrari's Lorenzo Bandini during which the two engage in a stare down on the Mulsanne Straight is another bit of Hollywood dramatization, as it would be an extremely foolish thing to do while driving a vehicle at speeds of over 200 mph.
Ken Miles' Kiwi co-driver Denny Hulme is barely mentioned in the movie 'Ford v Ferrari', despite playing a significant contributing role in his successes at the 1966 Le Mans.
While Christian Bale portrays Ken Miles as a hot tempered grouch in the movie, there is not much evidence to suggest that the real Ken Miles was as abrasive as his movie counterpart.
The Crew Behind Ford v Ferrari
'Ford v Ferrari is directed by James Mangold and written by Jez Butterworth, John Henry Butterworth, and Jason Keller. The movie stars Matt Damon as Carroll Shelby, Christian Bale as Ken Miles, Caitriona Balfe as Mile's wife Mollie Miles, Jon Bernthal as Lee Iacocca, vice-president of Ford, Josh Lucas as Leo Beebe, Senior Vice President of Ford, Remo Girone as Enzo Ferrari and Tracy Letts as Henry Ford II.
Read More: Movies Like Ford vs Ferrari