The unbridled passion for creativity and excellence drives entrepreneurs in 'Shark Tank.' The reality television show features intense negotiations between investors, otherwise known as 'Sharks.' The fifteenth iteration of the series features TOAST-IT, a venture helmed by two Venezuelan sisters. The company disrupts the food industry by producing healthy snacks with high nutritional value and unique flavors. Given their growth and creativity, we decided to find out more about the business. So, if you're wondering the same, look no further because we've got all the answers right here!
TOAST-IT: Who Are They and What Do They Do?
Even with flourishing careers in Miami, sisters Maria Fernanda Cabezas and Maria Corina Cabezas missed one thing dearly – their mom's cooking. With an acute shortage of hearty and fulfilling nutrition, the sisters decided to embark on a journey. The deprivation of home-cooked meals led Maria Fernanda and Maria Corina to launch a product that resonated with the flavors and traditions of their Venezuelan heritage.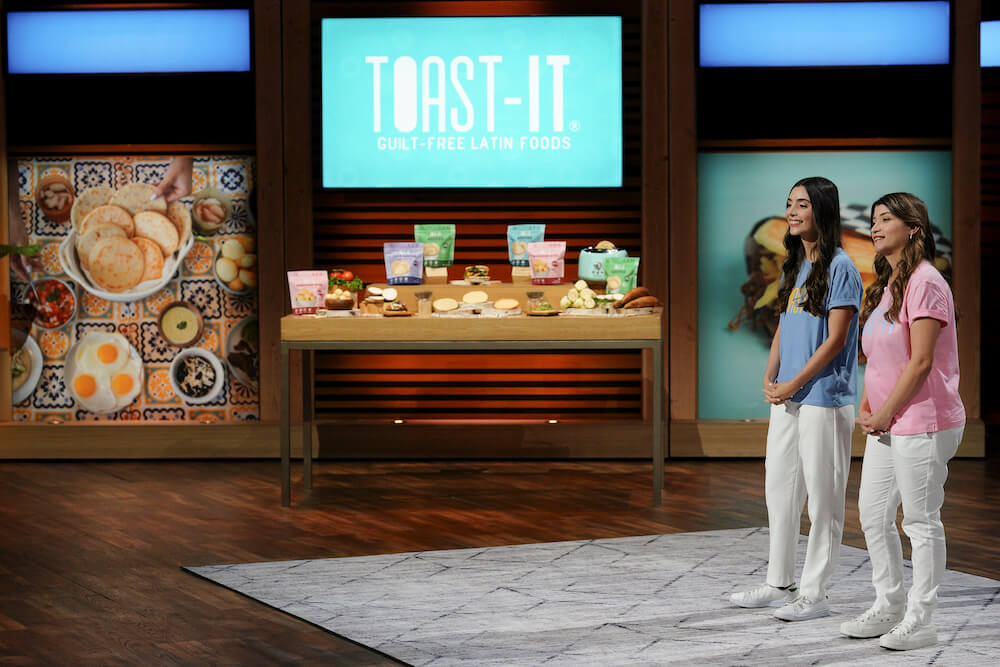 While the Miami-based food company was kickstarted on account of heartfelt reminiscence, it created a Latin American treat that wasn't just convenient but also well-suited for nutritional requirements. Channeling the mouth-watering flavors commonly accompanied in Venezuelan cuisine, Maria Fernanda and Maria Corina left behind their booming careers in technology and finance to kickstart an entrepreneurial venture. The sisters used the influences of their heritage and juxtaposed them with a basis that would cater to a key demographic in the market.
The sisters launched TOAST-IT in 2019 after they came up with the perfect concept that honored Venezuelan culinary traditions but also kept the busy American lifestyle in mind. The brand released ready-to-toast arepa, their flagship product that's derived from a pre-cooked cornmeal flour known as Masarepa. These arepas are authentically Latin and are thicker than tortillas in size.
The product's unique selling proposition is that it is free from gluten, nuts, sugar, and preservatives. Moreover, it adds great nutritional value to meals as it is protein-rich. The arepas are special as they can be combined with an array of toppings varying from ham to avocado and even sauteed veggies. With as little as 120 calories per serving and zero trans fat, the arepas make a great snack option for countless. The flavor profiles include chia, flaxseed, and cassava root.
TOAST-IT: Where Are They Now?
With a unique blend of ingredients that caters to taste and takes care of health, TOAST-IT has managed to win the hearts of countless consumers. Besides making an appearance on 'Shark Tank,' the two sisters have led their entrepreneurial venture to new heights. Fans and consumers can now find their arepas in Walmart, Publix, Winn Dixie, and Whole Foods Market. The women have also added another category to their list of products and explored their expertise in Latin-American cuisine.
The sisters recently curated Pandebono Bites, which are nutritional balls of tasty cassava and cheese. Like their previous editions, these bites are also healthy and nutritious. With just 120 calories per serving, the snack offers 4g of protein and becomes a healthy alternative as it contains zero trans fat, preservatives, or sugar. The gluten and nut-free product contains 15 mini pandebono and is priced at $5.59, making it the cheapest addition to their list of products.
Available across 700 stores in America, TOAST-IT continues to scale new heights. In addition to their ever-evolving popularity among consumers, the brand also details the growth and development of their company on their online channels. Fans and readers can find the latest updates about the company's success on their blog and social media platforms. Besides working with retail chain stores, consumers can also order their delicious treats through their website. The brand offers countrywide shipping for customers who cannot avail of their Arepas and Pandebono Bites in their nearest stores.
Read More: Gently Soap on Shark Tank: Here's the Latest Update on Them