Putting their speed, skill and creativity to the test, Bravo's 'Top Chef' chronicles the journey of twelve chefs who compete in a series of challenges to walk away with the title and prize. The cooking show features a string of tests intricately designed to assess the abilities of the trained chefs. As the trained professionals try to impress the panel of food and wine experts, they find that walking away with the prize may not be as easy. Released in 2006, the first iteration of the reality television series, which took place in San Francisco, features an intense competition for the coveted prize. Years later, fans have grown curious to know more about the contestants. So, if you're also wondering more about them, then look no further because we've got all the answers right here!
Where is Harold Dieterle Now?
Having won the competition, the chef went on to achieve new heights. With years of experience under his belt, Harold kickstarted his restaurant in 2007 with his business partner Alicia Nosenzo. In 2020, the duo launched their second West Village restaurant, Kin Shop. In addition to exploring contemporary Thai cuisine and conventional flavors, their restaurants have accrued wife renown. Besides his feat in the industry, he has also earned worldwide acclaim. He is the Principal at HD Hospitality and Consulting. Harold has since appeared in several broadcasts and even published in eminent publications. On the personal front, the chef enjoys equal happiness with his wife, Meredith Lynn Davies and son, Hank.
Where is Stephen Asprinio Now?
Despite losing the top spot on season 1 of the Bravo cooking show, Stephen returned to compete on 'Top Chef: All Stars.' In addition to losing out on the title twice, he has remained one of the most contested figures on television. However, the chef has since achieved new heights and is no longer a "villain," as seen on television. The chef went on to open his restaurant Forte di Asprinio in South Florida, which even earned a mention in the top 10 restaurants of the Gayot Restaurant Guide. He has since become an acclaimed sommelier, too. The chef's newest launch includes AquaGrille in Junor Beach. Besides this, he also works as a Principal Consultant for SA Hospitality Enterprises in New York City.
Where is Andrea Beaman Now?
After the competition, Andrea has continued to interweave healthy living with food. The internationally acclaimed Natural Foods Chef is also a thyroid expert and devotes her excellence to helping people achieve holistic methods of alternative healing. Besides this, the renowned chef has also won several accolades for her contribution to the culinary industry.
The Instagram, YouTube, and TikTok creator is a private health coach and even hosts her podcast. Besides this, she regularly publishes nourishing recipes on her blog and releases informative articles on healthy living. She encourages her audiences to take the path of natural healing and has even conducted sessions on helping people achieve respiratory strength. When she's not working, she likes to spend time with her furry friend.
Where is Tiffani Faison Now?
After the competition, Tiffany went on to explore the horizons of her abilities in the culinary industry. The tireless advocate for the LGBTQIA+ community went on to establish Sweet Cheeks Q, a Texas-style barbecue restaurant in Boston. Besides working as the owner and head chef of the eatery, she has also explored other avenues of success. The television personality has judged Food Network's 'Chopped' and has even appeared on other cooking shows. The restaurateur has even appeared in the 'Curated Cuisine' podcast.
With a significant following on her social media platform, the chef regularly posts unique recipes and mouth-watering delicacies for fans to replicate. Most recently, she is collaborating to release a tasting menu at Tribeca hotspot Khe-Yo. Besides this, Tiffany also enjoys life with her partner and spouse, Kelly Walsh, and their rescued pup – Ernie.
Where is Brian Hill Now?
Despite losing out the top spot, Brian was not deterred. The chef has since continued to garner praise for his acumen in the kitchen. He went on to appear in 'Bar Rescue' and was a regular chef on Food Network's 'Private Chefs of Beverly Hills.' Besides his appearances on reality television, Brian also launched his food truck in Los Angeles in 2010, named Comfort Truck. Most recently, the chef opened his restaurant in Tuscon, Arizona, called Chef Brian's Comfort Kitchen. The television personality is also devoted to his family and enjoys life with his loved ones.
Where is Candice Kumai Now?
Having gained renown for competing as the youngest chef in the competition, Candice has continued to climb the ladder of success. Besides weaving her intersectional heritage to produce unmatched flavors in her cooking, she has also earned renown for her work in television. The star appeared on Lifetime's 'Cook Yourself Thin,' 'Iron Chef,' and 'Selena + Chef' and even participated in an initiative led by former Secretary of State Hilary Clinton.
Besides this, the best-selling author has penned seven books on healthy living and nutrition. Some of her latest works include: 'Kintsugi Wellness: The ,' 'Clean Green Eats: 100+ ,' and 'Cook Yourself Sexy: Easy.' The reality TV star has also been the face of several eminent publications like Vogue and Cosmopolitan and regularly appears on news segments. Fans and readers can also view her latest projects with renowned celebrities on her Instagram account.
Where is Ken Lee Now?
Failing to impress the judges with his sauce, Ken Lee became the first cast member to get booted from the cooking show. Since his time on the show, he continued to keep his life under wraps. However, after a brief absence from social media, Ken reemerged and began giving masterclasses at the New School Cooking Academy. Since then, he has kept his life outside public scrutiny.
Where is Dave Martin Now?
After securing the third position in the competition, chef Dave Martin went on to scale his abilities exponentially. He has since appeared on 'Chopped' twice and published his cookbook, 'Flavor Quest.' The chef currently helms the operations of his consulting company, Chow Down Inc. Besides this, he also teaches cooking classes at The Culinary Loft in SoHo for Oracle and MTV Executives.
The culinary trailblazer works with the University of Illinois to design dining programs. He plans on creating a healthy food line for children. The television personality even manages his private catering company, As You Wish Catering and released his latest book 'The Tequila Diet.' He also enjoys domestic bliss with his wife, Heather and their family.
Where is Miguel Morales Now?
With a flair for creativity, Miguel's affable personality was as much a major presence on the show as his cooking. Besides his performance on the show, Miguel returned to work with Banquet Tournant Mandarin Oriental Hotel. Shortly after, he took up the Sous Chef position at the Hard Rock Hotel in New York. He is currently working in the same position. On the personal front, Miguel also enjoys happiness with his wife and daughter, Michelle.
Where is Lisa Parks Now?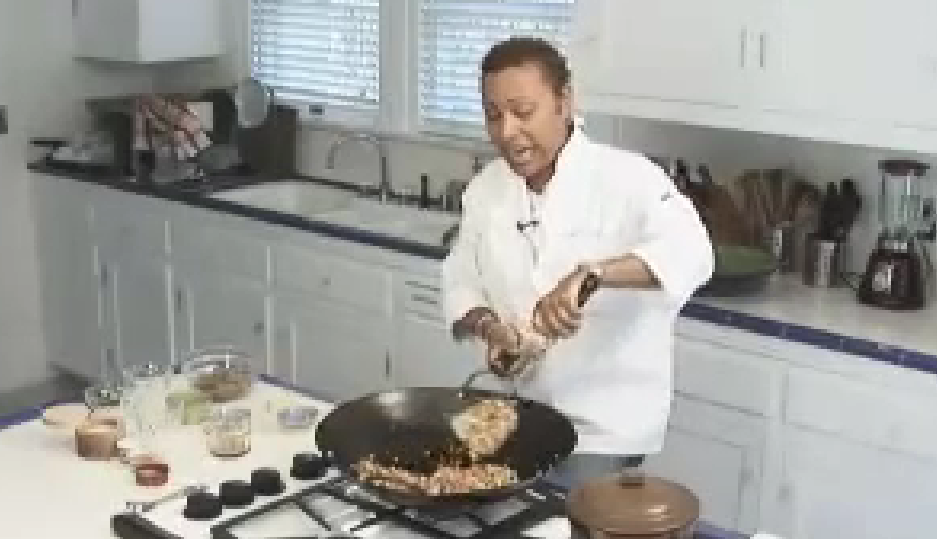 While the frontrunner consistently displayed her skills in the kitchen, she was ultimately eliminated after her Japanese street food dish failed to hit the brief. The chef went on to co-author, 'If You Wanna Get a Man, Learn How To Cook Book.' Despite keeping her life under wraps, the television personality time and again delivers personal addresses and even works as a keynote speaker.
Where is Cynthia Sestito Now?
Owing to her father's ill health, Cynthia had decided to quit the season of her own volition. Despite the brief period of health issues that enveloped Cynthia's time, the chef has since evolved as a culinary trailblazer. Cynthia established her private catering company called CYNFULLFOOD. She became a celebrity chef and appeared on Netflix's 'Cooked with Cannabis.'
Not just this, her resoter of clients includes Beyonce, Chris Martin and Scarlett Johannson. She even partnered with Grey Goose to create a farm-to-table feast, appearing on 'The Today Show' and cooking on 'Access Hollywood.' The chef hopes to complete her autobiography and pen her intersectional experiences as a chef and television personality.
Where is Lee Anne Wong Now?
Unrelenting to challenges and impediments, Lee Anne consistently displayed her skills and abilities in the kitchen. After the show, the New York Native went on to relocate to Honolulu, Hawaii. Here, the International Culinary Centre graduate earned wide renown. Besides this, the television personality also appeared on several shows for The Food Network and Cooking Channel. She has also appeared in cooking competitions as a panellist and guest judge several times.
Besides working as the Executive Chef of Koko Head Cafe, Lee Anne also helmed the operations at Papa'aina Restaurant, a treasured establishment attached to the historic Pioneer Inn in Lahaina. However, in an unexpected turn of events, the chef ended up losing her restaurant in the Maui fires in August 2023. The chef has since arranged a GoFundMe page to restore the establishment. Nevertheless, she has also devoted herself to serving others in times of distress. Lee Anne is now cooking meals for local victims at shelters. She is also working to raise funds and awareness for emergency feeding. Fans and readers can find out more about the program here.
Read More: Is Top Chef Scripted or Real?